When the news broke that my team and I were heading to France for the 2016 European Championships I couldn't believe my luck. Four weeks in one of the most beautiful countries documenting a brilliant tournament for Soccer AM Online and celebrating with thousands of passionate fans! After all, it's the fans that make football the incredible sport it is, right?
I tried to remind myself that when less than 48 hours into the competition, I peered out through a glass door as bottles sailed like missiles through the sky towards a tightly knitted row of riot police and fully grown men dropped to their knees vomiting through their mouths and noses before a second cloud of tear gas engulfed them once again.
In less than five minutes the beauty of the Vieux-Port de Marseille had been reduced to scenes that resembled a warzone. So this is football?
Although the international news of trouble here in France has been overwhelming it represents a mindless minority that both encourage it and engage in it. The rest of us? We're still having a great time and I've collated five examples that may well restore your faith in the fans of the beautiful game.
Donning England's indigo blue Euro 96 away shirt printed with 'Gascoigne 8,' Jordan immediately earns a number of points for retro quality. HOWEVER, he ups the stakes, refusing to put his beloved City in the corner and ops for a pair of 1992/94 LCFC home shorts. Oh, but Jordan isn't done yet. Just drop those eyes, if you can, to the pulled up Adidas socks (way to keep those whites white Jordan) and matching adidas flip flops, which he insists are for both style and comfort.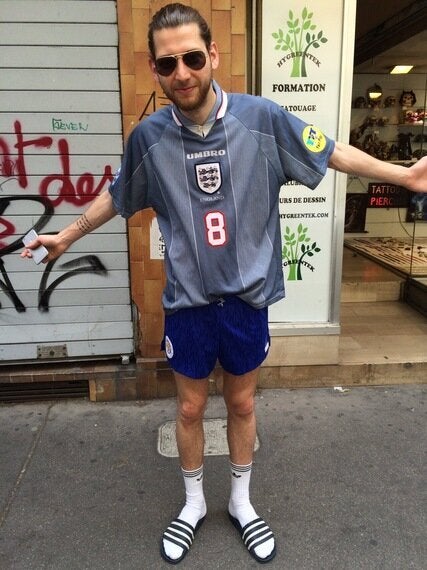 Picture the scene...the Euros start in 2 days, your new England shirt arrives with its royal blue trim and you want to add the finishing touches by having your hero's name embroidered on the back, much like good old Jordan. So you rush to your local sports shop and put in your request for "RASHFORD." Somewhere along your travels to The Velodrome, Marseille for England's opening match against Russia you discover it's been mistakenly subbed down to "RASHFRD," instead of locking it back in your suitcase you decide a mere typo won't stop you wearing it with pride!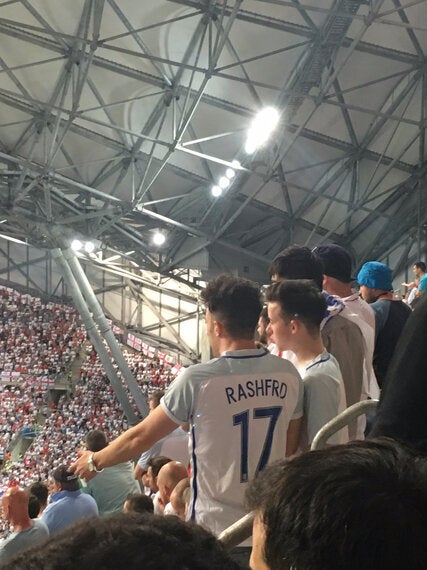 It doesn't matter which competition, it doesn't matter which country, Jamie Vardy's STILL havin' a party! #SquadGoals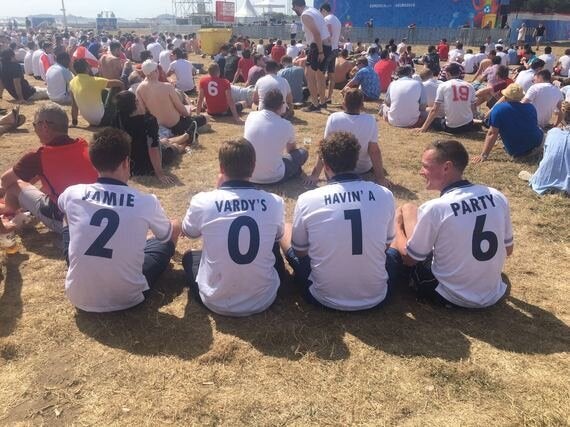 These Roy Hodgsons in various different scenarios made my day in Marseille, from Roy on holiday in his Hawaiian shirt holding an England flag in a plastic bag to Crusader Roys with St.George's cross emblazoned across their chests.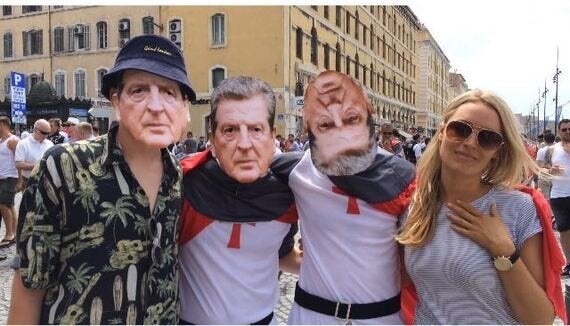 I bumped into them again at the game that evening when England were leading Russia 1 - 0 and as we eagerly awaited the final whistle, Crusader Roy declared: "We're playing really well, as long as we don't give away a stupid..." GOAL...93rd minute, 1 - 1.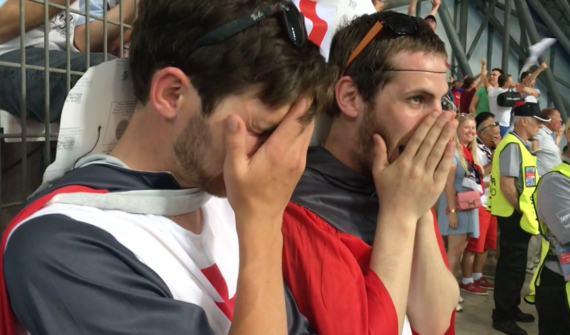 As the smoke cleared at the Old Port of Marseille and the silhouettes of bodies in various different states of health began appearing again, one stood out. Coming towards our glass door, that had protected me and the strangers behind me from tear gas and various pieces of flying glass, was a tall man in short white tennis shorts, a white polo shirt and a large curly wig holding a guitar. His appearance didn't seem to phase anyone as we let him in and instead of his best John McEnroe impression he began to bellow out the chorus of Oasis Don't Look Back in Anger. Forgetting the mess outside and remembering what events like this are all about we sang together and laughed our heads off.
So if you're losing faith that the best part of football is the fans then i've coined you a phrase: Forget the minority and remember the McEnroes. Catchy.
Follow Laura's adventures in France with Soccer AM at
https://www.youtube.com/Socceramofficial
https://www.facebook.com/SoccerAM/
https://twitter.com/socceram
Related