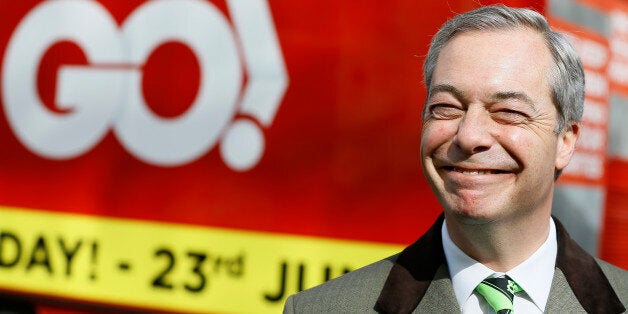 Researching and interviewing for my new book The Brexit Club made one thing absolutely clear - the various Eurosceptic campaigns were full of huge egos, dark plotting and deep suspicion.
The purpose of the book was to chart how the various Leave campaigns became established and then operated over the preceding year.
In the wake of the 2015 General Election, two main groups were established.
Vote Leave was deemed to be the Westminster-savvy operation, able to lobby journalists and politicians to help get the 'right' messages out to help Brexit win the day in the referendum.
The Nigel Farage backed-Leave.EU - which was then followed by Grassroots Out - was more focused on the ground campaign and mobilising activists across the country.
Those at the top of both groups had a seemingly endless number of meetings from May 2015 onwards to talk about merging into one single campaign. Hotels, bars, and even a cruise ship played host to formal and informal talks about the two camps joining forces. The talks never went anywhere for one, simple reason: Nigel Farage.
Vote Leave deemed him to be toxic, and felt that he would turn off any floating voters. They simply could not stomach a campaign that had him playing a key role.
While Farage was seen as "toxic", a different word was repeatedly associated with the man running Vote Leave's campaigning activities.
More than one person I interviewed said that Dominic Cummings, the former advisor to Michael Gove, treated people with "contempt".
Such was his combative and dismissiveness nature of those who questioned him, one MP actually walked out of Vote Leave to set up a rival group - Grassroots Out.
Indeed, it was only because of the actions of Tory MP Bernard Jenkin, who successfully moved Cummings from Vote Leave's board, that the organisation didn't collapse entirely in January because of ill-feeling in the group.
With Farage not being used by Vote Leave, he was able to do what he does best - get out into town halls across the country and fire people up. The rallies that he held under the Grassroots Out banner - and also under his own 'Say No To The EU' events - helped bring the referendum to the people. It must not be underestimated how vital those rallies were, as it showed people across the country who were thinking of voting Leave that they were not alone, and Brexit was not just the view of Daily Express readers or right-wing trolls on Twitter. It also helped tremendously that Tory and Labour MPs were happy to share a stage with the Ukip leader. Even Cabinet minister Chris Grayling appeared at an event, as did future Brexit Secretary David Davis and soon-to-be International Trade Secretary Liam Fox. These appearances were hugely symbolic as it showed Brexit was going mainstream.
The other benefit of having Farage separate from Vote Leave was it gave the official campaign plausible deniability of his actions. The most obvious example is the Breaking Point poster unveiled a week before the vote. It appalled most people - even before the murder of Jo Cox MP later the same day - but what it enabled Vote Leave to do was talk about immigration in a way it had struggled to previously.
In the final week of the campaign Boris Johnson was enthusiastically talking up the virtues of an Australian point style immigration system - a proposal that had been in Ukip's 2015 General Election manifesto.
Yet the fact the man many expected to be the next Prime Minister was now aping Ukip policies was hardly mentioned, as his announcement was so much palatable than using refugees to score political points as Farage had been doing days before. Farage was the bad cop, Johnson was the good cop.
That's not to say that Vote Leave weren't averse to a spot of bad cop themselves. Don't ever let anyone tell the official campaign didn't explicitly say £350million should all be spent on the NHS post-Brexit. The group's very first billboard of the campaign made that point explicitly and unequivocally.
What came through very quickly during the interviews was how little the Leave activists - particularly Farage's gang - were concerned about the official Remain campaign. Both Vote Leave and Leave.EU were more focused on the actions of their rival Brexiters than those on the other side of the argument.
Both groups thought the others did not really want to win. Vote Leave believed Ukip were positioning themselves for a narrow defeat and hoping for an SNP-style surge in Westminster seats.
Farage and Leave.EU were convinced the former Tory advisors and lobbyists running Vote Leave wanted to lose respectably and then get given plum jobs in Downing Street.
I believe both sides wanted to win - perhaps because the notion you would produce either that Breaking Point poster or those Turkey leaflets in an attempt to lose is just too much cynicism for me to comprehend.
Of course, Leave's victory was a narrow one. My view - and it is not one shared by most of those in Vote Leave and Leave.EU - is that without both campaigns playing their part the UK would not have voted for Brexit on June 23. Farage and Leave.EU/Grassroots Out fired up the activists and the core vote and provided a dose of fear - of unlimited immigration, of an increasingly powerful and undemocratic Brussels bureaucracy - which was needed to motivate voters.
Vote Leave also came out fighting with Project Fear of its own, mainly when it came to Turkey joining the EU (they would call this Project Fact), but thanks to Boris Johnson, Andrea Leadsom and Gisela Stuart they also injected some optimism into the campaign.
Without Boris Johnson and Vote Leave, there would have been too little hope; and without Nigel Farage and Leave.EU/Grassroots Out, there would have been too little fear.
That was Remain's big mistake: they had Project Fear, but no Project Hope.
Related