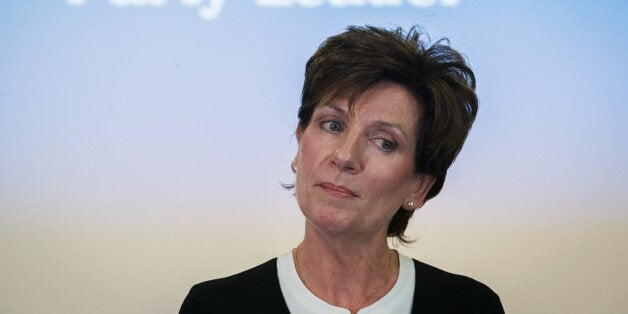 Diane James never wanted the job.
It was supposed to be Steven Woolfe who would take over from Nigel Farage, but as questions over his eligibility to stand in the contest became louder, James was pushed to the front.
While hardly a household name, James did have some profile. She nearly won the Eastleigh by-election from the Lib Dems in 2013 - a result which, for many, suggested that Ukip could become a force in Westminster as well as in Brussels. In 2014, Farage identified her - as well as Suzanne Evans - as his likely successor.
But by the time Farage did properly stand down, it was clear that Ukip's future lay in sweeping up votes in Labour's heartlands by presenting a patriotic, working class voice.
Manchester-raised Woolfe was the perfect fit for such a task, but his inability to get his house in order - leading to his disqualification from the contest for submitting his application forms late - meant he was ruled out.
James was actually in France when the leadership application deadline closed, and her physical distance from the rest of the party continued as she refused to take part in any leadership hustings, instead running her own events.
After being crowned leader, James gave a bizarre press conference in which she said she didn't really have any policies, and to come back to her in 100 days time.
Her whole pitch was based around a 'steady-as-she-goes' style of leadership, which at a time when Ukip was facing an existential crisis in light of the Brexit vote was misplaced.
During her very brief tenure as leader her enthusiasm for the job did not grow. James kept her distance from many of her MEPs, some of whom were angry that she did not take part in the hustings.
She ducked out of appearing on Question Time last week, despite it being held in Boston, Lincolnshire - the area of the country with the highest majority of Leave voters (75.6%).
More than one Ukipper began to wonder if she would even last the 100 days she had promised at that first press conference as leader.
Her resignation after 18 days will - again - provoke laughter from many of Ukip's opponents. But those in the Labour party should not laugh too hard.
With James now gone, it will allow the party to elect a leader who can truly take them on in those northern, working-class Labour heartlands.
Deputy leader Paul Nuttall - who was supposed to have stood down but is yet to be replaced - would be an excellent candidate, but he didn't want to job three months ago and there is no suggestion he would change his mind now.
That means Steven Woolfe could walk into the role. He is comfortable on television and popular with his colleagues, and his numerous errors when he planned to stand earlier in the summer will have made him more focus.
Indeed, Ukip would do well to plump for a coronation not a contest, which would again leave them rudderless just at a time when they need someone to plot a new course for the party in this 'Brexit means Brexit' world.
Related