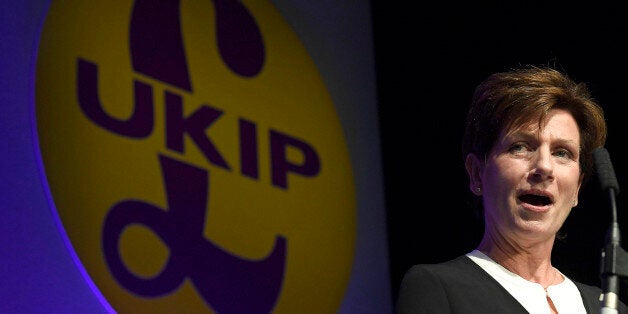 That was the question occupying the minds of many Ukip activists as they gathered in Bournemouth for their annual conference.
Having achieved their primary goal - indeed, for many years, the party's only goal - of getting the UK out of the EU, what happens now?
There are contrasting views. Steven Woolfe - the man tipped by many to be successor to Nigel Farage as party leader until he failed to get his nomination papers on time - believes the answer is campaigning on social mobility.
That theme is echoed by outgoing deputy leader Paul Nuttall, who wants the party represent the "patriotic working-class".
Yet Farage's replacement is miles off that description. Diane James is as southern and middle-class as you can get, and comes across as throwback to the days when Ukip's main support base was deemed to come from retired Colonels living on the edge of Salisbury Plain.
Can she really push the party forward in traditional Labour supporting areas?
Her victory speech was solid, but hardly inspirational. Aside from some good lines about Theresa "Magpie" May (so-called as she has apparently nicked Ukip's policies on grammar schools and defence spending) it was rather flat. James talked about professionalising the party and making it an election-winning machine. It was a speech you would expect to come from a party chairman, not a party leader.
There were no big, new ideas, no rhetorical flourishes, no promises to cause an earthquake in British politics.
Her main focus was Brexit - as you would expect - but there was very little else. If Ukip wants to be a serious party going forward, if it does indeed want to become the "official opposition", it needs to present a more varied set of policies than Brexit, grammar schools and spending two per cent of GDP on defence.
In a fringe event, Ukip MEP Tim Aker talked about the importance of pavement politics, and how only by earning people's trust at a local level will Ukip get the votes in General Elections.
He is, of course, correct - it was a model successfully pioneered by the Liberal Democrats for many years - but when he started talking about bigger issues, it became a muddle.
Does Ukip want free trade? If so, that means more exposure to globalisation and a decrease in certain UK industries - particularly manufacturing.
Does it want protectionism? One way to help produce productivity at home is to whack huge tariffs on goods coming into the country. But this rather goes against the classical liberal views espoused by many of its members.
One woman in the audience of a fringe event shouted out: "We used to be the workshop of the world and make the best quality goods."
True, but the world is a very different place to when the UK experienced the industrial revolution. Products can be made a fraction of the cost in China and other countries.
The only way the UK could compete is by huge tariffs, or drastically cutting production costs in this country - reducing energy charges, lowering or even abolishing corporation tax and, inevitably, getting rid of workers rights such as the minimum wage. That is hardly a series of pledges likely to win support from the masses.
But these big existential questions the party needs to deal with - stay true to its libertarian roots or adopt a more protectionist model which appeals to its new working-class supporters?
There was scant evidence that Diane James had answers to these questions. Indeed when she was pressed on which direction she would take the party, she asked for 100 days to come up with some ideas. Usually, leadership candidates comes up at least a broad vision before they stand for election.
Anyone looking for a vision of where the party should go, should catch up on Paul Nuttall's barnstorming farewell address. He told the party what they didn't want to hear - and was applauded for it.
The bitter battle for designation as the official Leave campaigns between Ukip-backed Leave.EU and Vote Leave in the EU referendum had created a "cancer in the heart of the party" Nuttall said.
He called for an end to infighting, an end to factionalism, an end to choosing between supporting Farage or Ukip MP Douglas Carswell.
Unite or die was the message. In its own way, it was reminiscent of Neil Kinnock's 1985 Conference speech to the Labour Party - also delivered in Bournemouth - in which he too pleaded with members to focus on "the people" outside of the hall.
Despite winning a standing ovation, Nuttall's call fell on deaf ears. James first act as leader was to tear up the conference agenda and ban Welsh Assembly member Neil Hamilton - a political rival of Farage - from speaking from the stage.
Also cut was a section where the defeated leadership candidates were due to address activists.
So much for unity. So much for a new leaf.