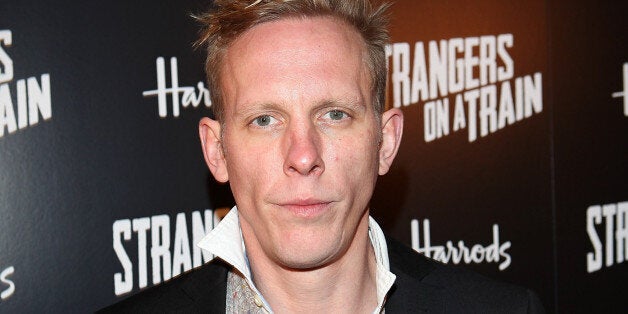 So the exceptionally talented actor and part time musician, Laurence Fox, has a new career. That of comedian. That's the only conclusion I can draw from last week's Telegraph headline "I am a working class actor on the minimum wage, insists Fox."
Harrow educated and alumnus of the Fox acting clan, Lawrence is now insisting he is in fact working class and has revealed to us all that he is currently working for the minimum wage.
The drive behind the article is his opinion that it is the large salaries leading actors take which make projects so expensive, and therefore other actors are quite lowly paid. In that claim he may well be correct in his assertion. He refers to a friend of his who was paid a fee of £70,000 on a film, a sum most actors would dream of earning. I'm rather amazed that he isn't drawing on his own personal experience of making several series of the highly successful "Lewis" for ITV. Let me hazard the most conservative of guesses. I suspect Fox was paid at least £120,000 a series and very probably significantly more. So it might not be an act of detection requiring the powers of Detective Sergeant Hathaway himself to work out that Fox has probably got some money left in the bank, a situation most actors find rare, if not unheard of. This is probably the very reason why he can afford to work on the current independent film that he is making for "the same pay as the lowliest of the film crew".
It's great that he's doing this, and that he is giving his considerable talents to enhance a small independent project that otherwise may not have been made, but it is time to ask Fox to open his eyes and get real.
Lawrence, just because you're working for a very low salary does not mean you are working class. Being working class is to do with an awful to more than how much you are paid.
Working class is to do with your roots, your upbringing, and the opportunities presented or denied you earlier in life as a result of your birth. The working class actors currently running the #actorawareness campaign about lack of opportunity for them in the acting world and the high cost of going to drama school are not people who started their life by being educated at Harrow and throwing the opportunity away over "something to do with a girl". They are young actors and actresses who seem to be locked out of the profession which demands payment at every opportunity. They can't afford to live in London where the work is, and yet they can't afford to constantly travel to London if they base themselves outside. Many of them are saddled with heavy debt from their drama school training and the living expenses of three years at college. They don't have a long time to give it a go. These days it's increasingly likely that if actors have not started to make money within the first three or four years of their career, they will consider moving on into something that earns them some cash and gives them some self dignity. All sorts of businesses are benefiting from people who have had that most excellent of trainings, a drama training.
I'm pretty sure that there are few casting directors worth their salt who, when faced with a new script set in what might be termed 'working-class surroundings", pick up the phone to dial Lawrence Fox's agent. I suspect he might not be first choice for the long lost Tilsley brother in "Coronation Street" or for a poor son of the soil in "Emmerdale".
Perhaps Lawrence is making that ultimate actors mistake-thinking that because he is an actor, he can play everything. Well done Lawrence for taking part in this lowly paid film, and I hope your salary ("the same as the lowliest of the film crew") is keeping you in sandwiches and cigarettes. And here is a free tip for future success - know what you are and sell it.
And working class you ain't, me old mucker.