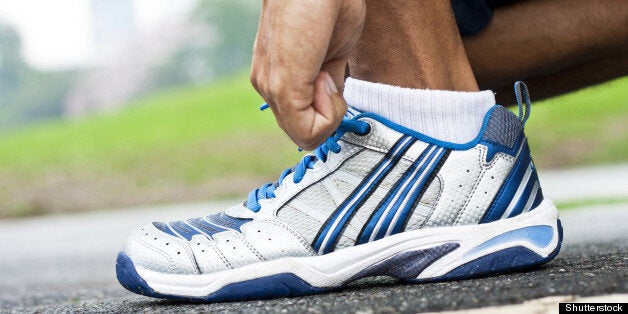 "The arms have got to pump, the knees have got to come up high," howled Steve Cram, gorging the lip-mic as he bellowed Mo Farah into history on the final straight of the 10,000 metres late last summer. It was a remarkable night for British sport. It also left many of us pondering what it would be like to take part in a genuine distance event.
But which one should I conquer? A triathlon? Preposterous. A marathon? Too far. A half marathon? Still a bit testy. A sprint triathlon? Nope. Once around the block? Tempting...
A sprint triathlon it was then, comprising a 750m swim, 20k on a bike and a leisurely 5k road run. Two hours tops, I'm thinking. The training has been simple. One day I run 5K (on a treadmill in the gym watching Sky News). Another day, I swim 750m (in a nicely heated indoor pool). Another day, I cycle 20k (sat on a stationary bike in the gym watching Sky News).
Come the 27th and the Virgin Active London Triathlon, I simply have to put these three disciplines together in one single effort, aided by bravado and some Maxifuel carbohydrate gel kindly donated by the sponsors of this little escapade.
Then there's the wet suit. Again, we shall meet only on the week of the race. Should it not fit the other competitors will find themselves in the awkward position of being led into the Thames by a man in underpants and goggles.
Last week I was given a brief guide on nutrition for the race. Eat a high-carbohydrate breakfast (porridge), sip electrolytes for the rest of the morning, hook a couple of "carb" gels to the bike for the ride, drink more electrolytes in the saddle and, by the time I get to the run, I should be good to go.
That's the theory. No doubt I'll be hobbling into the final section holding both knees, complaining of some distant football injury, while competitors twice my age breeze past muttering "amateur" under their steady, regulated breaths.
I know it's not a difficult race, and the only real test is to finish but hopefully the day will prove enjoyable enough to tempt a greater distance in the future. It's always easier going to the gym when you have a purpose. Training is a good habit - more for the mind than the body in my case - but any focus that makes those lunchtime trips more rhythmic is a good thing.
The American philosopher William James said: "Most people never run far enough on their first wind to find out they've got a second." In my twenties I definitely had a second wind. Maybe that's what appeals to men about doing a distance or endurance race in their thirties and forties - it temporarily masks the obvious decline of the body. Also, as hard as a triathlon is, it's far easier than chasing an 18-year-old winger up and down an 11-a-side pitch every Sunday morning for a season.
Taking on your own triathlon challenge? Try Maxifuel, preferred endurance sport nutrition brand, to maximize your performance and beat your best. For more information visit www.maxifuel.com