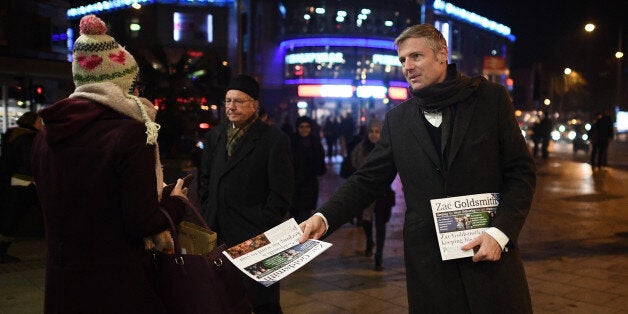 This blog is adapted from the 1 December edition of the Waugh Zone morning briefing, which can be read here. You can sign up to receive the email every morning here.
I'm not sure if I've mentioned this before, but I happen to live in the constituency of Richmond Park. It's a seat that ranges from Mick Jagger's millionaire Richmond bling, through stolid middle class mock-Tudor Kingston, to council estates in Ham and New Malden.
As the punters scraped the ice off their car windscreens this morning, I just wonder what impact the freezing weather will have on turnout. And whether that mythical beast 'differential turnout' will swing the verdict. December by-elections are a rarity in Britain and you've got to be pretty motivated to go out to vote today.
Zac Goldsmith has undoubtedly been a popular and diligent constituency MP and his huge 23,000 majority looked impregnable a few weeks ago. But given that Heathrow is a score-draw between him and the Lib Dems, will his personal appeal be strong enough to get out his vote? Do people turn out in by-elections to show support, or to show their anger? Which is real real protest vote here, one against May on Heathrow or against May on 'hard Brexit'?
The Lib Dems took the surprising step yesterday of releasing canvass returns (always a dangerous business) claiming they were not just neck-and-neck but narrowly ahead. They've won the garden ground war (with many more billboards) and the leaflet air war, and think enough people want to register a protest over 'hard Brexit' to get their voters out. But when it comes to actual doorstep canvassing we've had just one knock on the door from both parties.
Some Corbyn supporters are hoping Zac survives (and Labour's vote could be the crucial difference) because the last thing they want is the Lib Dems to be seen as the automatic anti-Tory alternative in the south again. Getting squeezed by the Libs in the south and UKIP in the north is a nightmare for many of the PLP too. Some Jez loyalists also fear a Lib Dem victory will force May to shelve plans for a snap general election.
Sources locally are saying it could be within 2,000 votes either way. With just 8 MPs, the Lib Dems may have gambled they have nothing to lose in over-spinning their chances of victory. If they fail, it will be reminder that their better bet is steady regrouping through council seats rather than the sugar rush of by-election victories of old. The problem is that they are addicted to that sugar as it helps fuel morale and profile nationally. One party old hand tells me that if the LibDems lose, it will be because they failed to get their candidate Sarah Olney in place much sooner.
If Zac loses, there will be more than a bit of bathos in the fact he turned up to his last hustings meeting an hour late with ripped trousers after an aide - driving Zac's car - collided with him in a strange incident. All very Oliver Letwin. Curiously for someone who prides himself on transparent politics, Zac has also made virtually no mention of his pro-Leave views (he's even more silent on the topic than he was in the Mayoral election). If he really thinks Brexit is a liberation (as a majority of Brits do, don't forget), why not say so on his leaflets?
After a year of trashing his own brand in a divisive Mayoral bid, he knows he's facing a Zexit from Parliament. Let's see if he hangs on - and if the 'personal vote' matters more in by-elections than it seems to in general elections.
Paul Waugh is the executive editor, politics at The Huffington Post UK