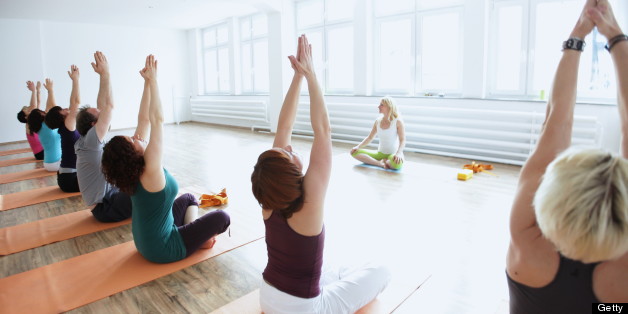 Getty
Welcome to the first Huffpo post! Very exciting very exciting...if you've read my bio already, I'm part-way through an 80-days fitness challenge - trying out a new fitness activity every day for 80 days, in the hopes that someone somewhere might be inspired to try out a new Fitivity and showing what a fun and fit world we can live in!
Previous blog posts with pictures can be found here
Apologies if the dates are a bit mixed up, there's a bit of lag with the posts but the classes are being done, fret not my little ones.
Day 56 ! TRXCore @Heartcore
Hidden gems are the best (closely followed by iced gems, fondly remembered from those happy break-times at school, around the same time when I could order 2 McDonald burgers at the weekend - but never a meal, the drink and fries were a waste of money, said Mummy and Daddy - without having to suffer the consequences or guilt. God bless youthful metabolism).
In my many (many) hours spent on google (why has someone not created a search engine for drop in fitness classes?), I thought that I had come across pretty much all the general fitness studios in London. We are on Day 56 after all. Day 46 Diva Dance was only 10 days ago, can you believe? Day 33 Aerial Silks, only a few weeks and Day 6 Pole Dancing, well that, and Day 1-3 Fatcamp,a lifetime ago!). But nay, NAY, I tell you, only last week my friend tells me about a place called Heartcore, which does reformer pilates, this great barre-class, a kettlebell class and a TRX class, which I hadn't heard of yet. Gasp, I tell ya.
TRX Suspension - those black and yellow straps with loops at the end that hang from any heavy-and-fixed-to-floor-objects, looking a bit like luggage belts (or some strange contraption designed for torture). You've seen them. You didn't know what to do with them. You ignored them.
Well, let me what you can do with them. You can, actually, torture yourself with them. If pain is weakness leaving the body (grr! She-Ra!), I am thrilled that those innocent-looking straps caused so much weakness to leave my body this morning. I am pretty sure I had no weakness left by the end, which was pretty awesome. If you're going to stop reading here (but why?) the takeaway is go try the class - it's hard (in a good way), you're body will burn (in a good way) and I'm guessing muscles will ache tmrw (in a good way)!
Cool, calm and collected, Instructor Richard from Hungary peacefully called out exercises as us 5 girls grunted and groaned more than the Sharapova vs. Larcher De Brito match. The most tricky exercises (for me) were those that involved your feet in the loops and facing down - i.e. being in a press-up position with your feet suspended. Now, I was proud to say that I could do a full press-up and could hold my own in the press-ups section of any bootcamp / circuits session. But after trying a couple of exercises with feet suspended (alternating straight press-ups with pikes/downward dog kind of poses), I realise that there is still a long way to go. When your legs are suspended, the whole body needs to work doubly hard to balance and stay strong. I shamefully had to stop mid-way through some of the exercises because I just.couldn't.go.on. Upper body exercises with the TRX, involved leaning at an angle and using the straps to pull your body up (like a rower or bicep curl) or lean it forwards with your arms outstretched above your head.
But now, post workout (and celebratory post-workout lunch of silk handkerchief pasta with white Bolognese sauce mmm mmm!), I'm thinking that it was such a good core workout that if I tried that a couple times a week, I will have abs of steel and can actually become She-Ra. So I have decided to go back one day, maybe after the 80 days are finished, I will drag The Boy, who appeared to scoff when I explained how challenging the class was, along. Ha, he'll be sorry...
The Need To Know:
- Where: Heartcore Chelsea (http://www.heartcore.co.uk)
- Nearest Station: Sloane Square (6mins)
- When: 2-3 TRXCore classes a day, 7 days
- How Much: Single class £27 (ouch) but they let you try first class for free and have multi-class packages which make it cheaper
- Special Note: Other studios at Notting Hill, Kensington and Hampstead!
The Want to Know:
- Who's it For: For those who don't like messing about with weak toning classes
- Sweat Scale: 7/10.
- Strength / Cardio / Flexi / Tone: Strength and toning
- Complexity: 7/10
- Fun Factor: 6/10. It's more serious toning than happy faffy fun.
- Changing Facilities: A few lovely showers, incense-filled toilets and lovely changing areas. Probably much nicer than your bathroom at home.
- Instructor Inspiration: 7/10. Solid class from a solid teacher - just remember when you're hating him that he's doing it for your own good!
The Stats:
- Total Time: 53mins
- Calories Burnt: 218
- Average Heart Rate: 108bpm
- Max Heart Rate: 158bpm