Despite the fact that there are 10.5 million people in 70 countries in Savings Groups all over the world and a mountain of research data to match, there is almost no scientific research on the impact of Savings Groups and skills training on incomes - the holy grail of poverty reduction.
Yet I and almost everyone working in this area know that Savings Groups and skills training raise incomes. Take Odette, one of our Savings Group members in Rwanda. Thanks to her Savings Group and the business skills she learned there, she now runs a successful tailoring business and is mistress of her own small sewing school. The money generated has doubled the family income.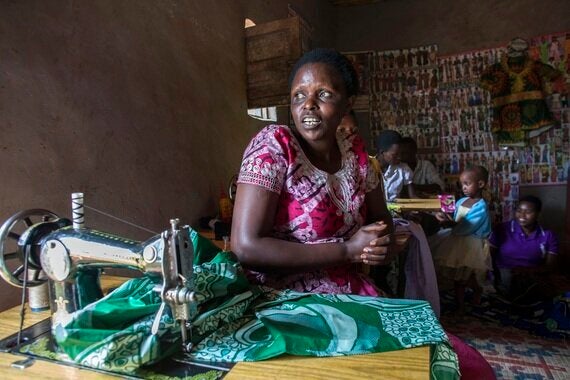 Odette Mukarusagara | Tailor | Kiziguro, Rwanda (photographer: Georgina Goodwin).
Odette was part of our joint program with CARE Rwanda to graft Hand in Hand's business and entrepreneurship training on to some 3,000 of CARE's Village Savings and Loan Associations (referred to hereafter as 'Savings Groups'). Savings Groups and business training are both integral to the Hand in Hand program so this would be a chance to establish the added value of business and skills training. Together, went the plan, we would create 80,000 sustainable jobs over three years - most of them for women.
My team from Hand in Hand Eastern Africa joined forces with CARE Rwanda staff to blend our two methodologies into one program. Fast-forward to last month's publication of the independent program review. Instead of creating 80,000 jobs we'd created 115,000, raised average incomes by 75 percent and uncovered a formula that could have implications for millions of Savings Groups members worldwide.
Exceeding our jobs target was nice. But what was really interesting was that project members earned an average monthly business income of US $49 - 75 percent more than those in the Comparison Group (who did not receive the business training).
What is more, 79 percent of Hand in Hand business trainees reported investing in household assets such as livestock and equipment over the last 12 months. Only 49 percent of Comparison Group members said the same.
None of this would have been possible if CARE Rwanda hadn't so graciously implemented Hand in Hand's business training - at least not nearly as quickly or cost-effectively.
Access to CARE's pre-existing Savings Group infrastructure gave the project a massive head start. Here, after all, were thousands of groups, mobilised, established and raring to go. When all was said and done, Hand in Hand's business training had reached 4,390 groups and 130,000 group members versus targets of 3,000 and 100,000 respectively.
Ten-and-a-half million. That's the number of Savings Group members worldwide.
Together with CARE Rwanda, Hand in Hand has proven it's also the number of opportunities to create jobs, raise incomes and improve lives - cheaply and quickly.
Context is everything, of course, and Rwanda's growing economy no doubt played a role in the program's success. But at the very least the Savings Group-business training partnership model deserves trialing in another location.
Savings Groups are a hugely effective tool but Savings Groups with business training are better.
Hand in Hand is hosting a seminar at the London School of Economics on 5 December to discuss the above findings.