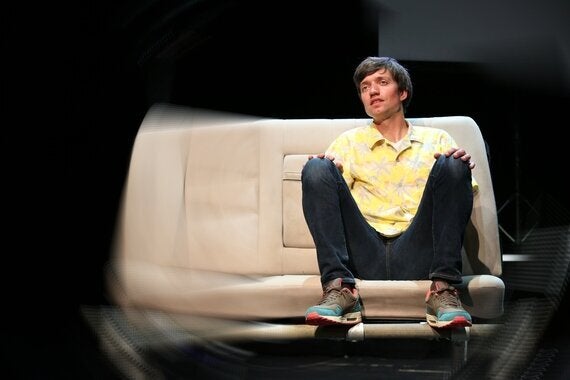 I've long extolled the merits of spoken word and Simon Mole has previous for pushing, twisting and manipulating the boundaries of the art form.
His latest spoken word theatre piece, No More Worries, sees Simon Mole collaborate with Peader Kirk to tell the story of two unlikely travel companions, Kieran and Paul, travelling across austerity Britain, as both deal with their own respective traumas. It's a much more ambitious project than Mole's previous play, the excellent Indiana Jones & The Extra Chair, but on this evidence Mole is more than up to the challenge.
Kieran is a man trapped somewhere between his past and his future, keen to escape his current situation and his dead end town but plans to tour around the world seem fanciful at best. Until he meets Paul, a mysterious man in his 50s and Olive (his VW camper van) who open Kieran's eyes to more modest travelling ambitions than the caipirinhas of Rio but nonetheless as eye-opening.
The show is littered with frequent references to Kerouac and the comparisons are never more prescient than when describing the excess and euphoria of a wild night. Combined with the clever use of lighting and sound, Mole's eloquent words seem to flow and find a rhythm similar to some of the most famous passages of Kerouac's seminal novel, On The Road. Not dissimilar to Kerouac's work, the play also touches on the destructive nature of sentimentality and travelling as a form of escapism.
A few technical cues were ever so slightly late and the odd decision to not sit in the VW chairs when describing life in the VW van was jarring and pulled you out of the narrative for a moment. But those minor quibbles aside, Mole was on top form, punctuating the mounting melancholy and tension with well timed and impeccably observed humour. Once again, he's proven himself to be an engaging presence on the stage and a gifted writer off it.