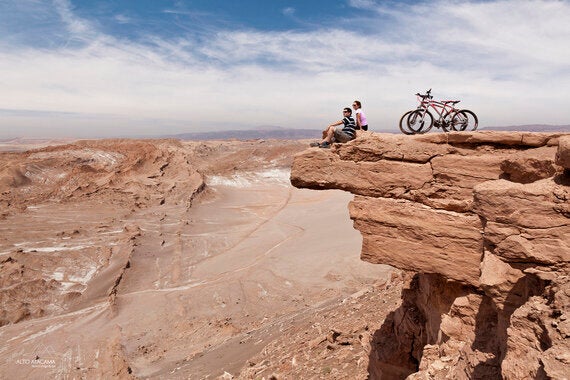 From the highest place I'm ever likely to go at 5000 metres, I head for the driest place in the world the Atacama Desert and a new country on The Petra Trail, Chile. Although, it didn't live up it's name. Arriving in a fleece and down jacket, I did a double take to see people wandering around in shorts and t shits, the temperature changes are incredible but San Pedro de Atacama has the electric blue skies I've come to expect every day but it's a lot warmer. The Atacama is the driest hot desert in the world, 1000 kms of land on the pacific coast, west of the Andes. The average rainfall is about 15 mm a year, although some places here never receive any rain at all. I think I want to live here ! Even more so when I arrive at my hotel THE ALTO ATACAMA DESERT LODGE AND SPA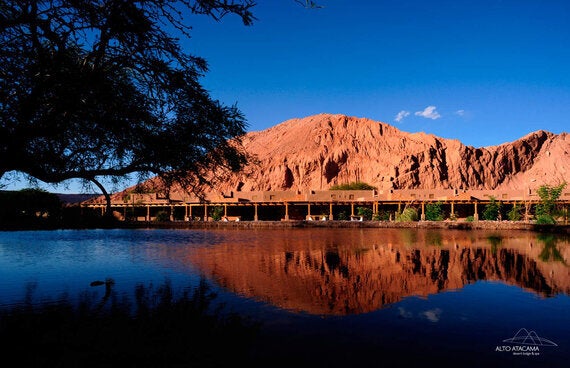 At first glance, it's rather like a arriving at a swish spa in Arizona or Utah, the natural surroundings and red rock formations are very similar. However, there's still a very South American feel to it, pisco sours served in the bar and a resident flock of llamas and an alpaca. Located in the lush Catarpe Valley, just over a mile from the plaza of San Pedro, the design of the hotel was influenced by local village architecture to blend seamlessly into the environment. The hotel is all about the setting, sweeping views and tranquility. They value privacy so much, that rather than having one large swimming pool, there are a serious of smaller concealed plunge pools and plenty of places to reflect and enjoy the surroundings.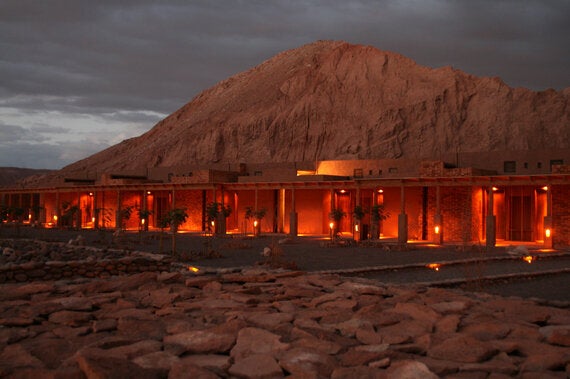 This is not to say that the hotel is not extremely social with over 35 excursions on offer from visits to the Tatio Geyers, (another highest, the highest geysers in the world), swimming in the aquamarine salt waters of Laguna Cejar, watching the sun set from the Valley of the Moon (although the whole environment resembles the moon) and viewing peroglyths etched on rocks in the Rainbow Valley. Having already seen plenty of jewel-coloured lakes, snow covered volcanoes and flocks of flamingoes in the Eduardo Avaroa reserve in Bolivia the day before I opted for the latter tour, to be honest having no idea what a petroglyth was. According to wikipedia, petroglyths (not to be confused with petrographs!) are " pictogram and logogram images created by removing part of a rock surface by incising, picking, carving and abrading!, so now you know. After days of photographing awesome scenery it was good to do and see something a little different and the locals have charmingly painted in a picture of a rabbit or llama in red paint below their ancestor's actual rock carving just in case you can't make out what it is.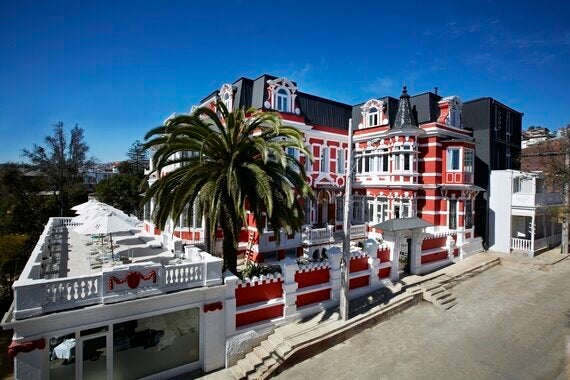 Finally, after weeks at high altitude I was back at sea level again in Chile's second most important city Valparaiso and staying in one of Valparaiso's most iconic national monuments, the Astoreca Palace recently opened as a new luxury boutique hotel, HOTEL PALACIO ASTORECA. Originally a 1920s era Victorian mansion, the eye catching and colourful building is one of the most photographed in town and it's not difficult to see why. It's one of the few hotels in Chile that claim national monument status and boast's Valparaiso's top restaurant the Alegre Restaurant, a Wine Cava, even a library stuffed full of poetry books, it's a definitely a hotel for the cultured. Hotel Palacio Astoreca is dramatic in every sense from it's high ceilings and bright red colour to it's breathtaking views . The eclectic urban landscape lies below you like an amphitheatre with mural covered buildings clinging to the hill sides.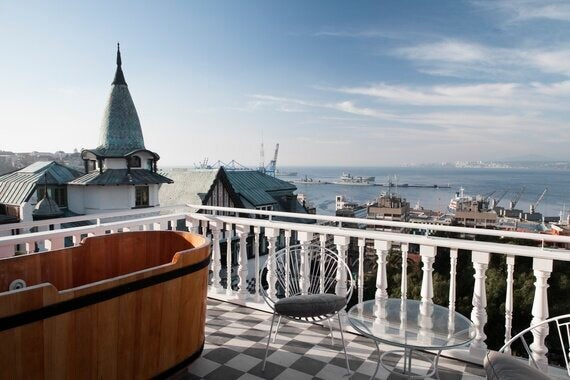 Chile's cultural capital is a little bohemian, a port city on a bay with unbelievably steep hills and a trolley system instantly reminding one of San Francisco. There are also funiculars "street elevators" to take you up the hills, trust me to be there on a a day when the city was on strike and they weren't working. I've discovered dulce de leche, a caramelised confection and a staple of Chile and Argentina. It's stuffed in every cake, between biscuits and spread on toast. I can see that this highly calorific treat is going to be The Petra Trail downfall so a walking work out was definitely needed. Valparaiso is altogether a little bit crazy and the 612 or "O" bus is the craziest ride in the city, speeding through the hills, its the fastest and perhaps scariest way to see the town. What's more the city is full of stray dogs, they seem to be everywhere so be sure to look where you put your feet.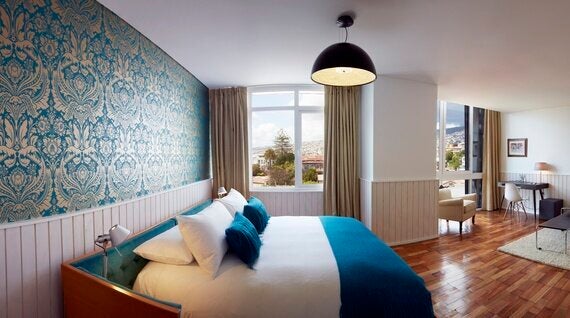 New Years Eve is a good time to be in Valparaiso as tens of thousands of revellers pack the streets for an all day party that culminates in one of the word's most spectacular fireworks displays. If I wasn't in Sydney watching the fireworks this year, I'd definitely be back in Valparaiso, watching from one of the best spots in town my room or the terrace at the Hotel Palacio Astoreca.
Related