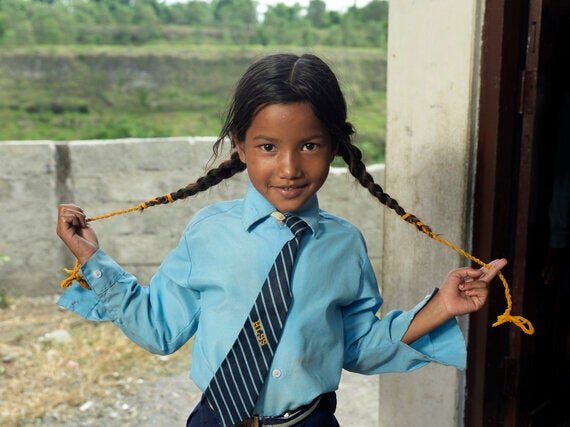 It's fundamentally wrong that there remains such huge inequality in the world between women and men.
It's wrong that women do two thirds of the world's work but only earn 10% of the world's income.
It's wrong that discrimination still exists in all parts of public, political and social life.
This remains a global issue. No country in the world can claim to be a truly equal society. Even when progressive policies are in place, we have not seen enough improvement in the day-to-day of women's lives.
When my own mother started working in the UK, companies would force women to resign within six months of getting married because the assumption was they would get pregnant. She was only allowed to work part-time in other roles, because a whole range of full-time jobs were for men only. She had to leave school before her brothers.
Gender inequality is a lack of freedom epitomised by unequal power relationships and unequal opportunities. It's staggering that the world has accepted the status quo for so long. Given how ingrained this is, challenging the imbalance is a difficult task.
We must remember that equality for everyone is a basic human right, so the fight for gender equality must start with protecting and empowering women's rights.
I can't speak on behalf of women around the world, but as CEO of VSO, I can say how our education programmes have empowered women and girls and have helped level the playing field.
When women are able to earn and control their own money, when they can access healthcare and education and when they are enabled to make their own decisions, the whole community benefits.
We can't attain equality until we address the root causes of this injustice, ie, tackling the real barriers that women still face in every aspect of their lives. Whether that's preventing early marriage, supporting them to start a business or making local healthcare more accessible.
We don't tackle gender inequality in isolation. We address its root causes in all our programming - livelihoods, education, health and governance. Quite frankly, you can't do good development without engaging half of the world's population.
For us at VSO, working with volunteers and local partners is key. They bring new insights and perspectives reflected in our programmes and they stand in solidarity with women who are fighting against a range of issues.
We work in Nepal where volunteers are building the 'Sisters for Sisters' programme through a network of role models who encourage girls and families to prioritise education. As a result, nearly 8,000 girls are being kept in school.
In Mozambique, we are working with mining organisations on the economic empowerment of the widows of migrant miners, through micro-loans and business enterprise training. Now they have the means to provide for their own families and are better prepared to manage life's difficulties.
In Rwanda, our volunteers are working with students, parents, communities, education leaders and Teachers to develop an inclusive education system so that girls with disabilities can access a quality education.
I want all of our staff and volunteers, men and women, to observe 'International Women's Day' and think about what more they can do to address gender inequality in all its guises.
The Sustainable Development Goals are a new set of poverty eradication goals that all governments agreed to at the UN last September. They reaffirm our focus on gender equality and inclusion for all. By embedding the principle of inclusion in everything we do, VSO is committed to becoming a leader in inclusive development.
We will investigate and act upon any gender challenges facing our own organisation, the delivery of our programmes and within our VSO family. Gender equality will be at the heart of everything we do and everything we are.
Inequality disempowers us all. How can we eradiate global poverty without everyone having the opportunity to take charge of their own destiny?
Not least, I want my daughter to grow up in a world that's entirely different to the one her grandmother struggled in.
Related