Touching down in Bangkok last Saturday night, I was apprehensive and morbidly curious to witness first-hand how Thailand's capital would be coping in the wake of King Bhumibol Adulyadej's death.
The news had been announced just forty-eight hours before, in a televised address to the nation which stated that a one-year mourning period would take place across Thailand. What would it be like to be a tourist in a country mourning their greatest national treasure? He was not only the world's longest-standing monarch in history, but a sort of demi-god to many of his people, credited with maintaining peace and alleviating poverty in Thailand.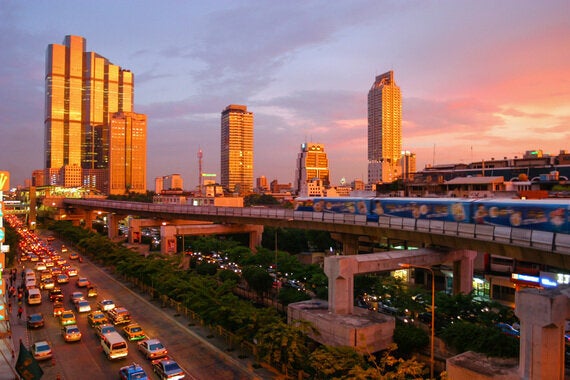 As western media had reported, Bangkok had come to a standstill. The shift in atmosphere compared to when we were last in Thailand six weeks ago was sensational: Despite being a Saturday night in tourist season, the streets were ghostly and deserted. The bars and clubs on Bangkok party capital Khao San Road, usually buzzing with loud music and trashy tourists downing cocktail buckets, were eerily quiet and sometimes even boarded up. Those which were open operated as ghosts of themselves, without music or any form of entertainment. Seven Eleven, the supermarket found on every street corner, had stopped selling alcohol after a certain time. As I looked around, it suddenly occurred to me that almost everyone was dressed in black. Even Bangkok's infamous traffic jams seemed quiet and subdued. Was I just looking for signs of mourning everywhere?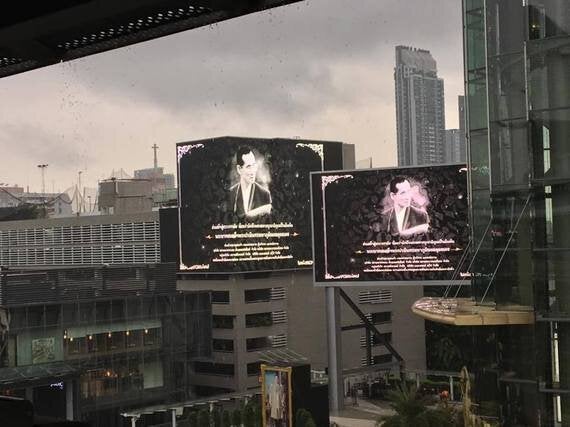 Courtesy of Jonathan Chambers
Billboard advertisements everywhere had hastily been replaced with a black and white photo of the king in his youth, captioned with an obituary in Thai. Television screens, shop windows, websites and even ATM machines contained the same solemn message of his death; the crippling sadness of the Thai people was impossible to escape even for a moment, and it felt as if a part of their identity had been lost forever.
The task of finding somewhere to eat seemed selfishly trivial at such a historic moment, but we were hungry after a long day of traveling, and the problem became increasingly real as we explored the mourning city. Walking past two restaurants I'd earmarked as potential dinner options and finding them to be closed, we headed to Chinatown, which thankfully was as heaving as ever.
What I was not prepared for however was the notable clamp-down on security. As we queued for our pad thai, there was a definite sense, even among the relative normality of this tourist hotspot, that the city was on high alert. Police lined every street corner of Chinatown's bustling streetfood market, and their expressions were hard and cold. Even the uniformed attendants on the Skytrain seemed on edge, yelling with unnecessary fervour at anyone who stepped across the yellow line too early.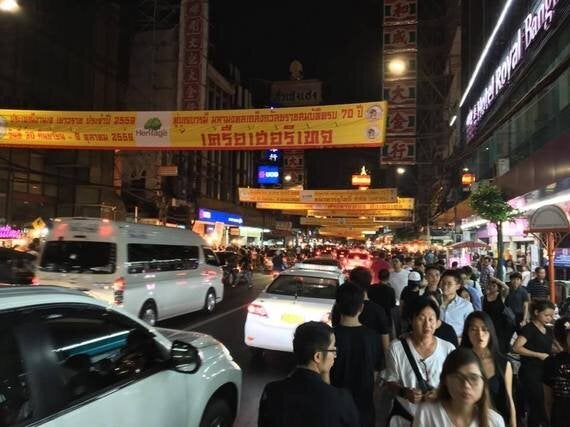 Courtesy of Jonathan Chambers
Thailand has been under military rule since a coup in 2014, when a military junta was established, and tensions seemed to be running high. Clearly the death of the king, who had been a bastion of stability during the past seventy years of political turbulence, had implications for national security as well as patriotic sentiment.
As a tourist in a city I had previously (if naively) seen to be an energetic metropolis of ancient temples, markets and modern glitz, I felt uncomfortable. What does Thailand's future hold without this iconic figure? After the official mourning period is over, will the hordes of party-goers continue to flock to ping-pong shows and debauched full moon parties as usual, or will King Bhumibol Adulyadej's death mark a more permanent change in Thailand's attitude towards the outside world?