Until someone actually invents the Time-Turner from Harry Potter or even the time-stopping watch from Bernard's Watch, choosing what to see at the Edinburgh Festival Fringe is always going to be a bit of a headache.
There will be times you spend over an hour stuck in a glorified cupboard, watching a comedian die on stage (not literally, but perhaps it'd put them out of their misery if they did). Meanwhile, as you pack up to leave the city and trudge home sleep-deprived, you'll hear great things about acts you missed, giving you serious FOMO. Don't let this be the year you let a brilliant show slip through your fingers - give one of these acts a try. You won't regret it.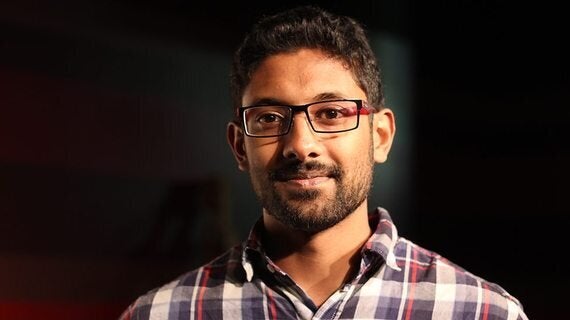 Hari Sriskantha: Like Breath on a Mirror (15:20-16:00 - Laughing Horse @ The Counting House, Venue 170)
He may only be 27 years old, but Hari's immortality-themed Fringe show has marked him as one to watch, not least because he's covering a very different topic to his peers. At pains to point out he isn't just Romesh Ranganathan 2.0, Hari's set mainly covers death and legacy, bemoaning the lack of decent serial killers these days.
Like Breath on a Mirror really comes into its own with a range of laminated graphics and analytical joke breakdowns. There's even an Excel graph, which isn't exactly a traditional stand-up prop, but is honestly much funnier than it sounds, making you think about throwaway one-liners. With a background combining physics and software development, it's unsurprising Hari has such attention to detail, but he also puts the audience at ease and is a natural performer. The show zips by, despite an oppressively hot and small attic venue, and you'll leave with a smile on your face.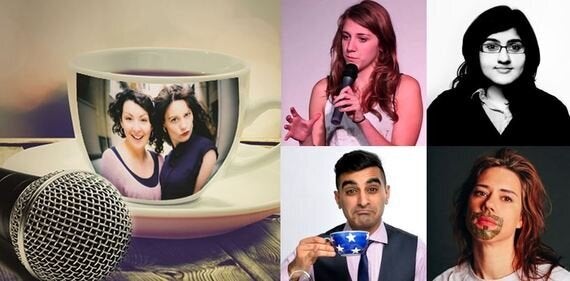 2 Girls, 1 Cup... Of Comedy (22:20-23:20 - Just The Tonic at The Caves, V88)
With a different selection of up-and-coming comedians every night, this revue show is the gift that keeps on giving. Hosted by comedy duo Sam and Helen, who also present a weekly show on Hoxton Radio, the hour is fast-paced and effortlessly funny. Line-ups over the last few nights have featured Lolly Adefope, Sinead Wheeler and Russ Peers.
I managed to catch the excellently deadpan Sarah Keyworth (Funny Women finalist 2015, Amused Moose semi-finalist 2015), followed by sharp and sassy Bisha K Ali (Funny Women finalist 2013, Laughing Horse semi-finalist 2014), and the surreal Lou Sanders (Amused Moose Laughter Awards semi-finalist 2014). The bill was topped off by Tez Ilyas (Leicester Mercury New Comedian of the Year nominee 2013, BBC New Comedy Award finalist 2011), as seen on Radio 4's The Now Show. His debut Fringe show looks at British Muslim identity - a difficult topic but, if this taster was anything to go by, one that delivers genuine belly laughs in between asking big questions.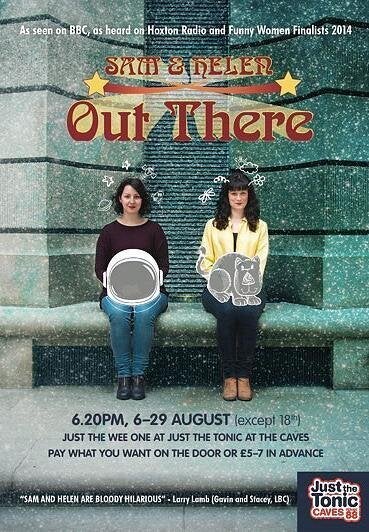 Sam and Helen: Out There (18:20-19:20 - Just The Tonic at The Caves, V88)
This second offering from Sam and Helen (Funny Women Award finalists 2014) is worth seeing in its own right, as our two compères get to take over the stage properly. Out There focuses on the boundaries we impose on ourselves and our fear of the unknown, whether that be on an everyday level or on a mind-blowing existential level. Whilst Sam seizes the topic as a chance to impress astro-hunk Brian Cox with her knowledge of what's 'out there' in the ever-expanding solar system (a lot of places named after chocolate, as it happens), Helen looks at the pros of expressing yourself in public. What's the best way to deal with the idiot playing loud music on the train? Start a dance party, obvs.
The two ladies' individual sets work well together and they add audience challenges into the mix, dividing the room into two competing teams. With a pair of ethical pants up for grabs, and the chance to get 'out there' and face your inhibitions, you've got nothing to lose by volunteering to go on stage. Except perhaps your centre of gravity in challenge number one.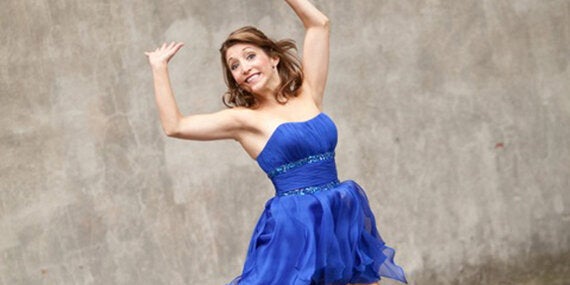 Christina Bianco: Party of One (19:20-20:20 - Assembly George Square Gardens, V3)
You've probably seen Christina Bianco's impersonation of Idina Menzel singing Let It Go, but you may not realise this Broadway star has long been capable of taking on a shedload of famous singers and actresses. Christina describes her life in impressions, reads from Barbra Streisand's unintentionally hilarious book, My Passion for Design, and works her way through an alphabet of vocal talents. Let's face it: this is the only time you're likely to witness Stevie Nicks, Dora the Explorer and Katharine Parkinson of The IT Crowd in the same room.
Unless you're both a Broadway aficionado and a lover of chart music, you may not recognise some of the figures she replicates (I'm not sure the older audience members knew Iggy Azalea), but you'll still enjoy her chameleon-like abilities to switch genres and decades in the blink of an eye. She's also known for turning songs on their head, demonstrating how Julie Andrews would sound singing Bang Bang, or how Celine Dion would interpret Bruno Mars' Grenade. Supported by a strong backing band, Christina rightfully receives a standing ovation after belting out so many pitch-perfect hits and delivering a whole host of celebrities in just 60 minutes - probably the best value for money you'll get at the Fringe, even if they're only present in spirit.
If you've seen a Fringe show that should have made this shortlist, shout about it in the comments section.