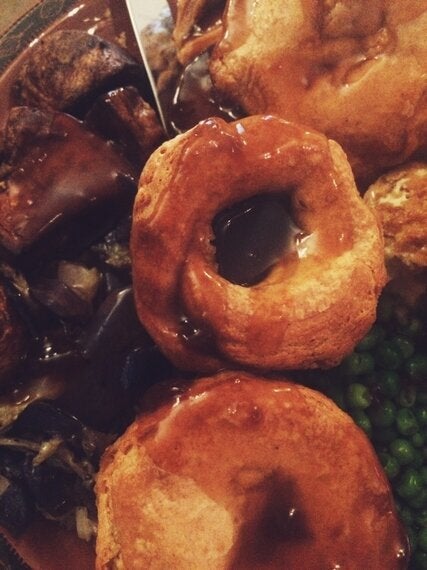 I used to adore Yorkshire Puddings before I became vegan, as do most Brits. A staple of a Sunday Roast dinner and definitely up there with the ultimate comfort foods. I've tried various recipes for vegan Yorkies and while all nice in their own right, some even looking just like the original egg laden puddings, none have actually tasted the same. Until now.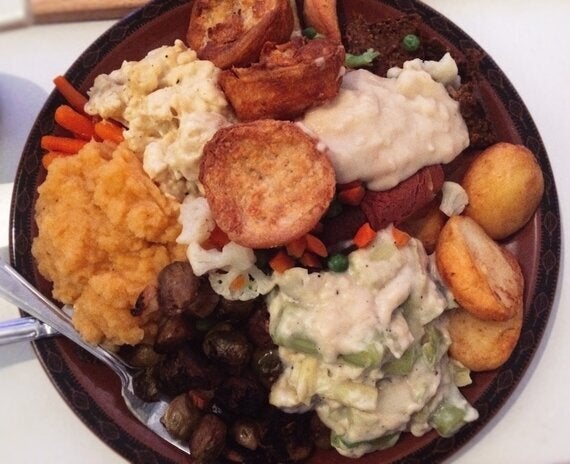 I messed around on Christmas Eve combining elements from some of the most successful recipes I've tried and this was the result. Perfectly crisp Yorkshire Puddings with that signature flavour courtesy of Kala Namak black salt. If you haven't heard of or tried this sour, sulphuric Indian salt, now is the time. Whist I have a phobia of anything too reminiscent of eggs like scrambles and omelettes with an eggy flavour, it has so many uses where it offers that much needed background note, like here in these puddings and in many Indian dishes. Not least, if you really miss your omelettes, this stuff will make them taste just how you remember. Magic. NB, the salt is not actually black despite the name, it is actually pink!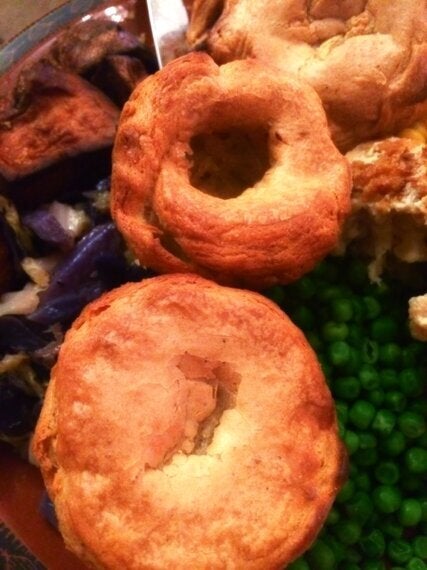 As with traditional Yorkshire Puddings, there are a couple of rules to ensure great puddings. Firstly, a really aerated batter to aid rising, secondly, really hot oil and lastly, an undisturbed oven. Don't be afraid of the oil getting so hot that it spits and smokes, just be careful not to burn yourself and make sure you open and close the oven door when pouring in the batter as quickly as possible and don't open it again until the baking time is up.
Ingredients: Makes 12 large (muffin tin) or 24 smaller (bun tin)
1/4 cup vegetable oil
6 tsp egg replacer powder whisked with 120ml (1/2 cup) water (Orgran No Egg or Ener-G)
400 ml (1 1/2 cups plus 2 tbsp) water
300 ml (1 1/4 cups) unsweetened soya milk
2 tsp apple cider vinegar
200g (a little less than 1 3/4 cups) plain flour
1.5 tsp kala namak salt
3 tsp baking powder
Pre-heat the oven to 220'C/425'F and place a teaspoon of the vegetable oil into each hole of a 12-hole muffin tin or 1/2 teaspoon in each hole of 2 12 hole bun tins. Place the oioled tin(s) into the oven while you make the batter
In a blender or with a whisk, combine the egg replacer, water, milk and apple cider vinegar until thoroughly mixed and frothy.
Into a large bowl, whisk together the flour, salt and baking powder. Slowly whisk in the liquid mixture into a smooth batter.
Either transfer the batter to a jug or use a small ladle, quickly open the oven door and pour the batter into each of the holes in the tin. The oil should be smoking hot and so the batter should start to bubble as soon as it hits the pan.
Close the oven door and bake, undisturbed, for 20 minutes then lower the heat to 200'C/400'F for a further 10 minutes. The puddings should be cooked through, golden and crisp, if not, return to the oven for 5 minute intervals.
Loosen as soon as cool enough to handle r they may stick to the pan. Serve filled with veggies with lashings of brown gravy or as part of a vegan roast dinner.