Join thousands across the country on October 24th and wear pink to raise awareness for breast cancer.
Just as each year we proudly wear Poppy pins to commemorate the individuals who fought in battles for this great nation, so too must we remember those who have lost, are fighting and are yet to fight the greatest battle of their lives against breast cancer.
As some of you may know, the month of October raises awareness for Breast Cancer, the deadliest cancer in the UK.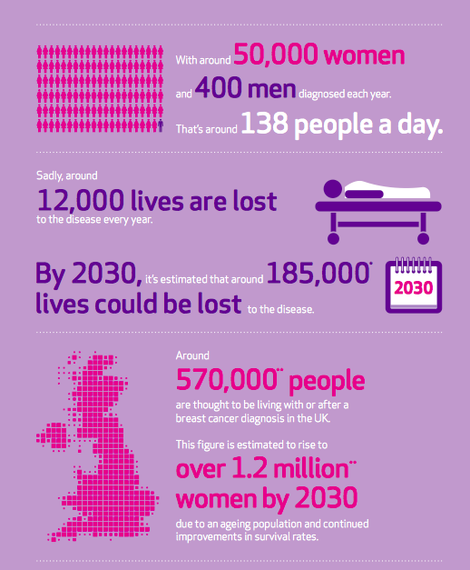 I decided to write this short piece for a few reasons:
First, to continue to raise awareness, through this month (ie it's not too late to make a difference- in any way- spreading the message below, donating to breast cancer research, or taking part in the call to action at the bottom of this article).
Second, someone dear to me was diagnosed last month, operated on recently and about to start her breast cancer treatment. I felt it was imperative to write this piece.
Third, I see men playing an essential role in helping the women of this country fight breast cancer.
Thus, my ask to men of the UK: I implore you to pass on, print off, email, retweet, post this piece to your partner, wife, daughter, niece, girlfriend, fiancé, sister, mum, aunt, cousin, loved one . It could just save their life.
A CALL TO ACTION:
1. Know your family history
A family history of breast cancer - specifically a first-degree relative (mother, sister or daughter) -- approximately doubles a woman's risk of developing the disease. Younger women who might have an increased chance of breast cancer due to family history are offered a digital mammogram to investigate breast density.
2. Schedule monthly breast self-exams and be breast aware. Women must instil a routine every month so this becomes a habit for them.
3. Understand lifestyle factors
4. Keep your mammogram appointments (from age 50).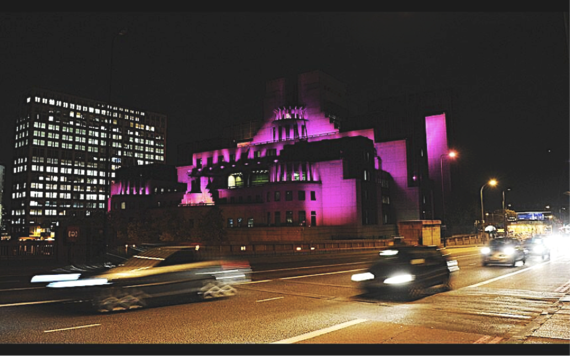 MI6 building and other Iconic landmarks turn pink for breast cancer across the UK October 23, 2014.
With a little over a week to go till Breast Cancer Awareness Month ends, share this piece to women you care about. Helping fund world-class research into breast cancer has never been more critical.
I dream of a future where breast cancer can be overcome. Till that day, we all must keep fighting for a cure.
To make a donation in the UK:
Breast Cancer Campaign: http://www.breastcancercampaign.org/support-us/donate/donate-online
Cancer Research UK: http://www.cancerresearchuk.org/support-us/donate
Breast Cancer Care: http://www2.breastcancercare.org.uk/donate
Breakthrough Breast Cancer: http://www.breakthrough.org.uk/support-us/donate-now-and-save-lives
CoppaFeel: http://coppafeel.org
Pink Ribbon Foundation: http://www.pinkribbonfoundation.org.uk/donate-now/
Against Breast Cancer: http://www.againstbreastcancer.org.uk/
Breast Cancer UK: http://www.breastcanceruk.org.uk/
The Haven: http://thehaven.org.uk/
Walk the Walk: http://www.walkthewalk.org/Fundraising/Donations
Boot Out Breast Cancer: http://www.bootoutbreastcancer.org.uk/
Genesis Breast Cancer Prevention: https://genesisuk.org/