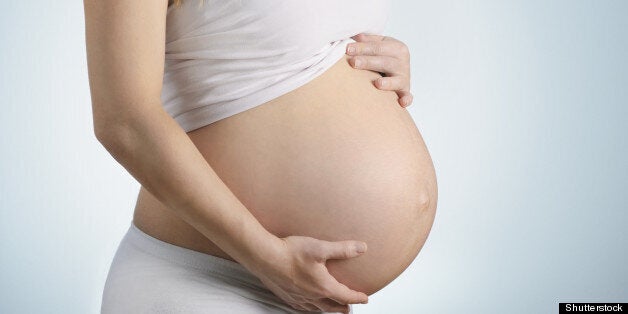 I travelled to Singapore last month to delve into several women's general health themes that I have been fascinated in learning more about. Arriving in from one of the coldest Springs London has experienced in 60 years, Singapore's warm, balmy climate was most welcome as I stepped off my overnight flight into über-efficient Chiangi Airport.
As I did not have much time in Singapore, on my second day I began to explore a few of the city's best hospitals for maternity care, an area of women's wellbeing that I have been passionate about for some time. I wanted to understand what giving birth in 'Asia's most innovative city' entailed. True to form, the city lived up to these expectations in every way.
What I found in my quest for top hospitals known for maternity care impressed me- in that there are several outstanding choices for both public as well as private maternity care. However, when numerous expat colleagues working in Singapore were asked which maternity hospital they would recommend as the best in maternity care- a vast majority said one hospital in particular - one stood out from the rest- Thomson Medical.
Despite how many outside the field might view maternity care services as a static and uninspiring arena, sceptics of innovation in maternity healthcare should look to Thomson Medical, pioneering in the fields of gynaecology and IVF in Asia for decades. Established in 1979 by visionary gynecologist Dr. Chen Wei Chen, Thomson Medical was one of the first in Singapore to introduce personalised care (its 'Thomson Touch') in a home-like environment for its patients. It was also the first private hospital to set up an IVF Clinic inside the hospital.
I wanted to witness for myself what made this hospital so special for expecting mothers.
As I toured their state-of-the-art maternity ward, I learned about a special Chinese confinement service. The concept of confinement is familiar throughout many Asian cultures. This idea of protecting the new mother from future ill health and restoring her back to health lies at the essence of any confinement food menu, whether it is based on the Chinese, Malay, or Indian practices typically lasting 30, 44, and 40 days respectively. Along with specific foods being consumed, there are traditional rituals that nowadays are given a modern twist.
And although not the first private hospital in Singapore to undertake a Chinese Confinement Menu, Thomson Confinement Foods is a new initiative developed by Thomson Medical's in-house team of experts in nutrition, that supports new mothers by delivering delicious postnatal recovery meals in the convenience of the new parent's home. Exhausted, time-poor new mothers relish the beautifully packaged bundles of nutritious goodness carefully crafted by clinical experts, together with advice from their Chinese Physician at Thomson Chinese Medicine. The 28-day menu is catered to mothers who have more discerning palates, whilst maintaining the nutritional aspects of the herbs used in preparing the meals.
Below is a list of the key Chinese postnatal ingredients used in Thomson Confinement Foods, detailing their beneficial properties and how each aids in recovery after childbirth.
Old Ginger - Dispels 'wind' and the 'cold' from the body. Also useful in supporting good intestinal digestion and overall blood circulation.

Black Vinegar - Purifies the blood and cleanses the arteries.

Pig's Trotters - Collagen-rich, and provides strength to the joints

Black Fungus - Rich in iron content, and helps to purge stale blood from the body; Alleviates dryness and promotes circulation in the body; Helps in nourishing the lungs, liver and stomach

Sesame Oil - Rich in vitamin E, iron, and calcium, and provides 'warmth' to the body. Gives nourishment through improving circulation, overall strength and vitality

Red Dates - Improves blood-cell formation, blood circulation, and strengthens the spleen.

Wolfberries - Promotes good eyesight; Nourishes liver and kidney functions; Delays ageing as it contains anti-oxidants; Boosts energy and improves internal strength

Pepper- Helps promote good digestion; Drives out 'wind'; Promotes bowel regularity

Dried Longan - Nourishes the blood through reinforcing the heart and the spleen for better blood-building functions; Calms the nerves ; Promoted restful sleep

Lily Flower - Calms the nerves that might have been stressed during labour

Dang Shen - For improving digestive system; Clears fatigue; Corrects blood deficiency; Stimulates nervous and immune system
Thomson Confinement Foods: "Infused with fresh, carefully selected ingredients and herbs, the menu serves up a modern blend of east meets west, whilst retaining rich traditional tastes of confinement favourites. From flavourful Fish and Papaya Soup, to timeless Braised Pig's Trotters in Black Vinegar and Homemade Chicken Essence with Wine; our gastronomic spread is low in salt and fat - packing a robust flavour, bursting with natural goodness and great nutritional value."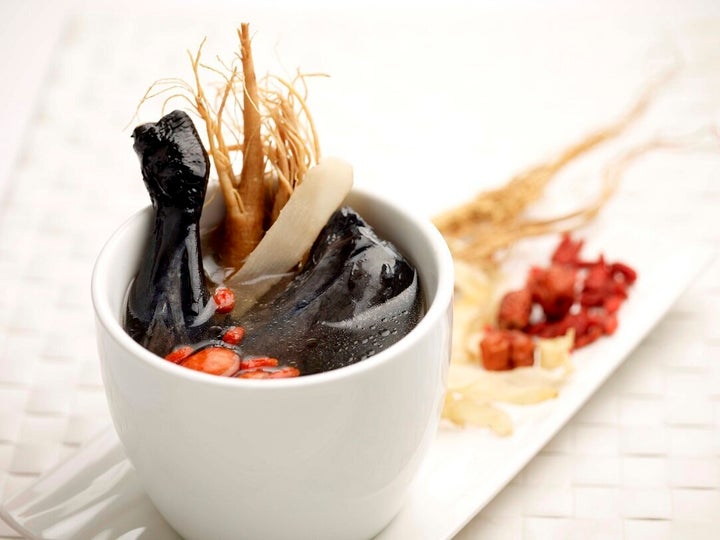 Double Boiled Herbal Black Chicken Soup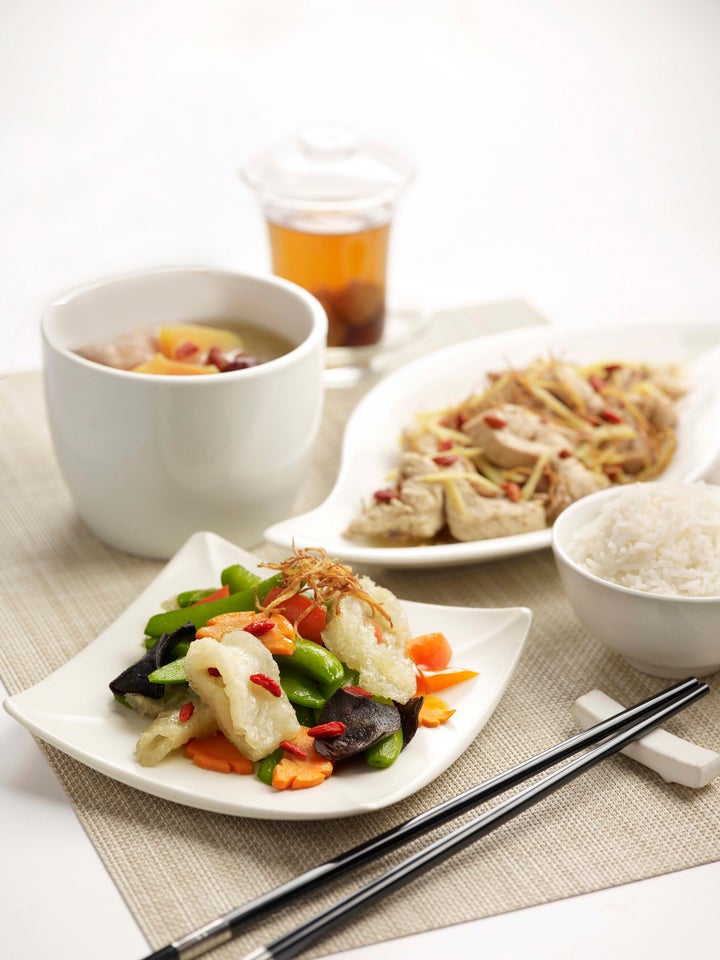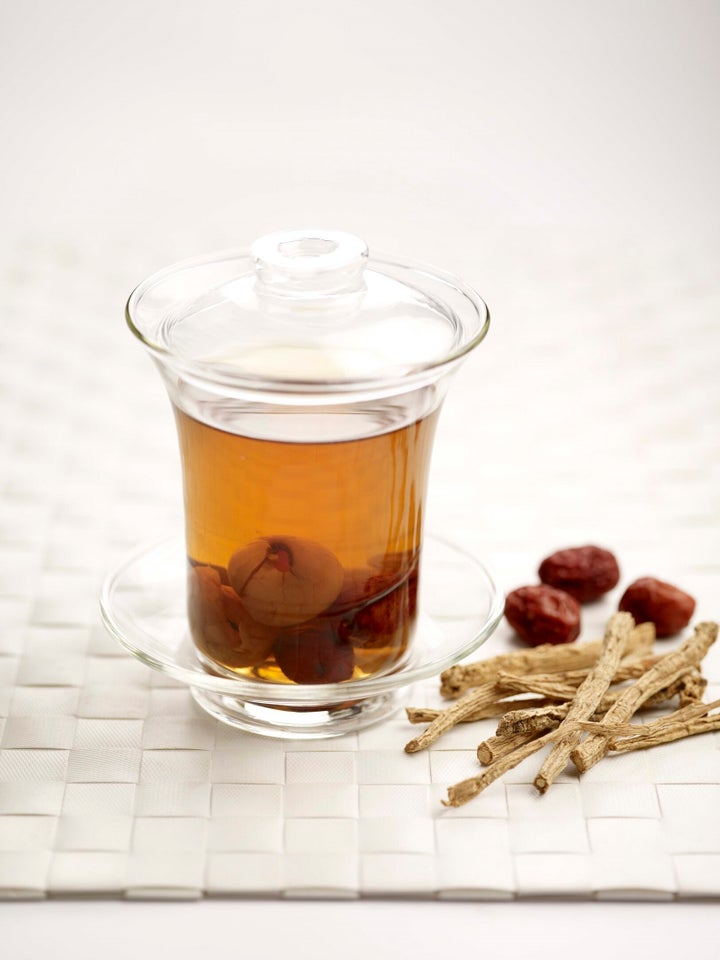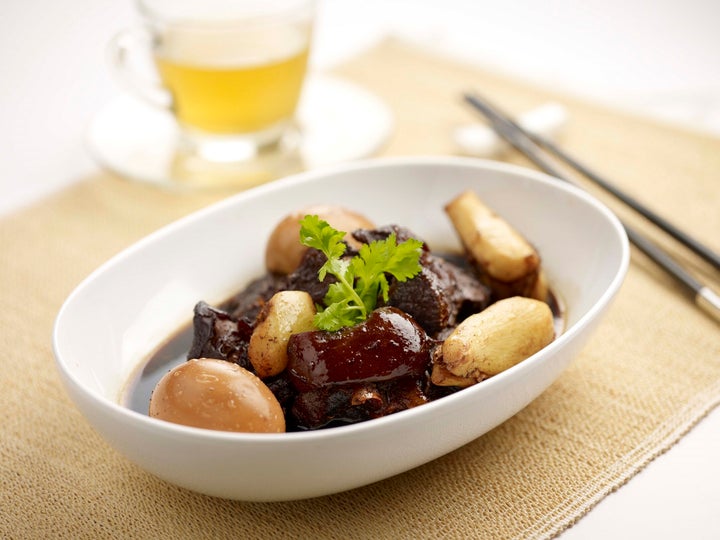 Pig's Trotters with Vinegar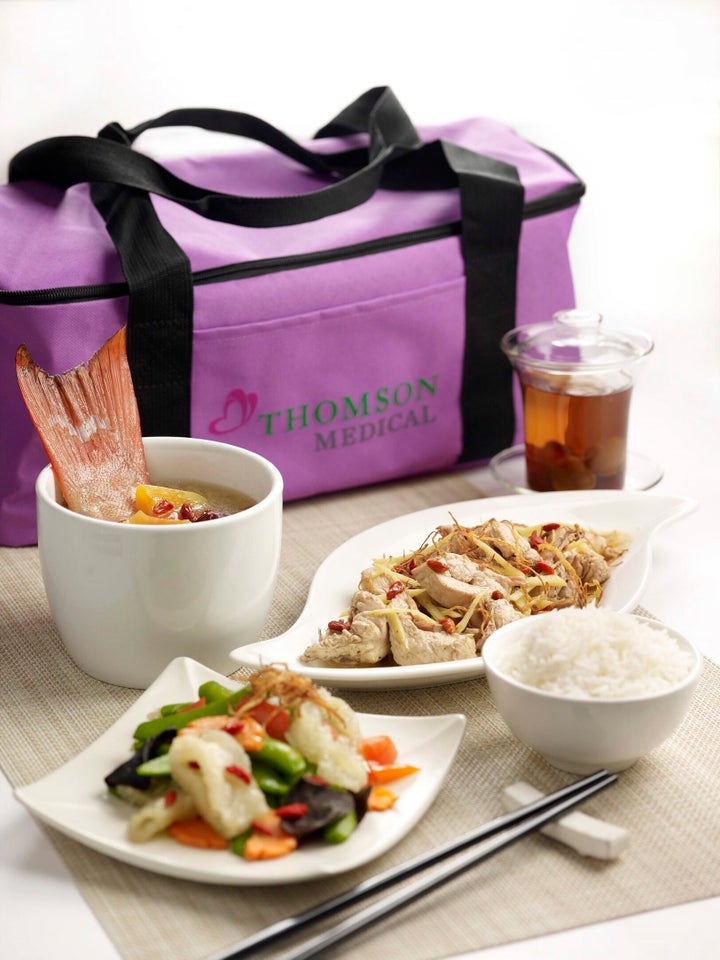 Photography courtesy of PCC Foods Pte Ltd
New parents in Singapore need not look further than ThomsonBaby.Com, from Gifts and Hampers to orders for Confinement Food and- ThomsonBaby.Com - a one-stop shop for baby planning and baby concierge services.