This week in St James's Palace, three students - one an Italian and two Spanish - received a prestigious award from His Royal Highness The Duke of York. Valeria Kormysh, Jesus Diaz and Oriol Iglesias Grau, studying at London Metropolitan University, were named the winners of the Big Idea Challenge, one of the UK's fastest growing social enterprise competitions. Their idea? To modify an iconic London bus to create a mobile support centre, complete with showers, for the capital's homeless. 'Fresh Start: the bus that changes lives' will now go forward to implementation - the prize for winning the Big Idea Challenge. Corporate sponsors are being sought to fund it, and I am sure they will be found. Soon the bus will be on London's roads, making a real difference to real lives.
Here, then, we have a clear example of how good things happen when universities join forces with the corporate world (as well as an important reminder of how EU students enrich our society). The Big Idea Challenge, run by London Metropolitan University, challenges entrepreneurial spirits to come up with solutions to some of societies biggest problems. Those who progress from the first round are matched with mentors from industry, including companies and organisations such as Microsoft, RBS, Unilever and The Prince's Trust to develop their idea into a viable business.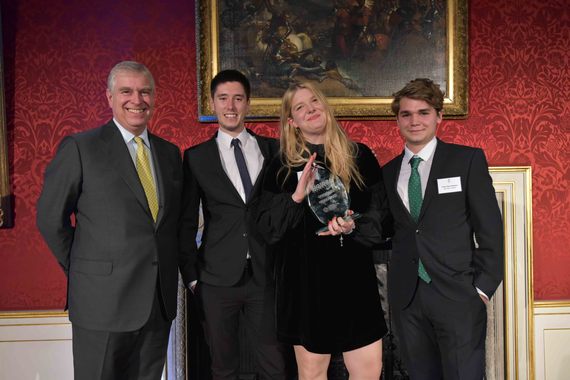 Some people would wonder why a university should be spending time running enterprise competitions with corporates. Shouldn't universities stick to research and educating their own students? My response to that question would be 'no.'
It is a question that has resurfaced recently with discussions on the Higher Education and Research Bill. One of the amendments to the Bill, proposed by the House of Lords, has led to welcome debate about what, exactly, a university is and how it should interact with wider society. This is an important question and one which comes as the UK is rethinking its Industrial Strategy. The HE Bill sought to challenge universities to work in new ways with schools and colleges, with closer relationships with business - something that the Industrial Strategy will undoubtedly influence.
I believe that universities must make a contribution to society at a global, national but also a local level. This is particularly relevant in our capital where, according to Trust for London, the poverty rate is 27%, seven percentage points higher than the rest of England, and where 680,000 children live in poverty.
Universities are uniquely placed to make a difference in their local communities, being invested with bright people with a civic outlook and facilities to inspire. This year, London Met decided to extend its Big Idea Challenge to 17 colleges of Further Education across the capital. This included bringing the teams to RBS's headquarters in Liverpool Street to work with inspirational mentors from the business world. If just one of these hundreds of pupils is inspired to start their own business, creating jobs and new opportunities for others, then we have done our job. As the Industrial Strategy discourse has made clear, our start-up community is a driving force of the economy.
Yet what of universities' most important stakeholders - their own students? Our students benefit significantly from their university's links with business. Most students choose to go to university because they want to secure a job and a career. Many universities have long recognised this and have invested time and money in developing partnerships with industry to enhance their curriculum, ensuring the courses they teach provide relevant knowledge and skills. Others have gone further. At my university, we partner with hundreds of businesses and organisations to run our Work Related Learning module - guaranteeing work related learning opportunities for all undergraduate students on all courses. This gives our students the chance to make contacts and gain experience that will give them the edge in job interviews. Without these industry partnerships, our students would not have the head start in their careers that they currently enjoy at London Met. London would be poorer for it.
Yes, universities should be globally focused. Yes, they should contribute to knowledge through their powerful research. But initiatives like the Big Idea Challenge show how those closer to home can be inspired to walk a different path. Even if they never pass through our doors.