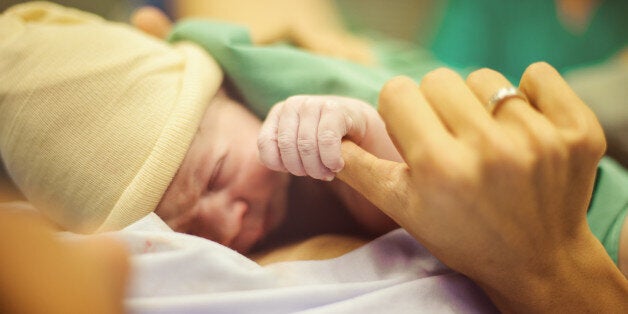 It has been an important fortnight for maternity care. We recently marked Baby Loss Awareness Week, where Parliament held a moving debate on the issues raised when the worst has happened. Vicky Foxcroft MP made a very powerful and courageous address to the House of Commons describing the loss of her daughter in tragic circumstances.
Although most births are safe, some are not as safe as they could or should be. Having spent my professional life working as part of multi-professional team caring for women in labour, I have found myself focussed on thinking about, and exploring how, we should make all births as safe, as they could and should be.
That is why myself, and my multi-professional colleagues, welcome the recent announcements from the Health Secretary, Jeremy Hunt as he launched his NHS Safer Maternity Action Plan. The new measures will provide resources for trusts to improve their approach to maternity safety, including an £8 million fund for training, with at least £40,000 available to each NHS trust in England. NHS England will also now require that lessons are learned from mistakes and shared openly across the NHS.
A particular focus of the Department's announcements was their proposed rapid resolution and redress (RRR) scheme. Namely a compensation fund for families where things have gone wrong. Compensation payments to parents for where the worst has happened is the single largest source of expenditure for the NHS Litigation Authority. Of course any steps that can be taken to quickly resolve such painful cases is definitely a good thing. However, the press attention that this element of the Health Secretary's pronouncements received has meant that the focus on the vitally important role that maternity staff can play in reducing this litigation bill and to ultimately save mothers and babies lives, has been slightly lost. Furthermore, rapid resolution and redress alone will not improve safety.
Clearly, we are seeking to create a world where safety and outcomes at birth are improved, with the happy consequence that litigation also becomes a thing of the past. In my own department we've reduced litigation costs from £25m in the decade before implementing our local training programme, to just £3m in the decade since training was rolled out; in parallel with improved birth outcomes.
That is why I want to highlight an equally important part of Mr Hunt's speech, and that was the commitment to training and innovating maternity services across England. I was grateful that the Health Secretary specifically singled out the Practical Obstetric Multi-Professional Training (PROMPT) programme that our team have been pioneering in Bristol, and which is based on our local training.
The old adage that 'practice does not make perfect, if it is the wrong practice' is certainly true and some training programmes have even been demonstrated to do more harm than good. However, when the right training is provided for all staff in a unit, the results can be dramatic.
Care during labour (intrapartum care) demands high levels of knowledge, clinical skills, kindness and teamwork from a multi-professional team. Therefore, any training provided for maternity staff needs to address all of these elements as well as providing simple tools to help staff provide the best care. We have developed a really wide range of training techniques and tools for the PROMPT package, including emergency boxes which contain treatment cards and emergency equipment to ensure that staff take the correct actions, and some simulation models that make it easy for staff to practice the management of these rare emergencies. These tools and training materials are used on a one-day local multi-professional training course that all maternity unit staff attend annually. Every member of the maternity team in the unit takes part, from the most senior to the most junior members.
We developed a 'Course in a Box' (quite literally a box containing manuals and all the multimedia materials you need to run the course) so that PROMPT could be easily shared with other maternity units who wanted to use it. In Bristol (where I'm based) we saw a 50% reduction in babies born starved of oxygen and a 70% reduction in babies born with a paralysed arm after getting stuck in the birth canal. Those statistics in themselves can't tell the story of the lives changed and the heartache prevented; the reduction in costs to our health services and society notwithstanding. We need to replicate this across the UK and ensure that maternity units are using training packages with proven effect.
Although PROMPT training originated in Bristol, the dissemination of the PROMPT 'Course in a Box' is now coordinated by the PROMPT Maternity Foundation, a registered charity in England & Wales. The key aim of the charity is to 'Make Childbirth safer, together', and with the support of the charity, improvements in outcomes have already been replicated in Australia, the US, and Zimbabwe.
PROMPT aims to make the right way the easiest way, and provides tools to help practitioners do the right thing. Therefore, the Department of Health's new commitment to maternity services is hugely significant, and a welcome step in the right direction for the NHS. I look forward to working with my multi-professional colleagues to make labour as safe as it could and should be.
Professor Tim Draycott is a consultant obstetrician at North Bristol NHS Trust with a research interest in patient safety, quality improvement and multi-professional obstetric emergencies training. He is also a Trustee of the PROMPT Maternity Foundation (www.promptmaternity.org)