Having managed and played for a local women's football team for three years, I've heard all the sexist remarks going ... "the best part of the female game is the shirt swapping at the end" and "women don't know the offside rule."
Picking up team trophies for our end of season presentation night, I was met with: "but women can't play football ... surely you don't play on those skinny little legs of yours?" I proceeded to inform him that not only do 1.38 million women and girls up and down the country (UK) play football, but we even have the vote now!
But can his and many other people's attitudes be excused? The exposure women's football gets in the UK has been poor, to say the least. It was only due to a campaign last year that led to the Women's World Cup quarter final being upgraded from the Red Button to an airing on BBC2 instead of a planned repeat of Porridge and an episode of Flog It!
The Olympic legacy and crowds of 70,000 people turning up to Wembley to watch Team GB, as well as the new Super League, are driving things forward. Women's football is most definitely on the up... and there's a real buzz in the air.
Let's look at the evidence in 2013 so far (and we're only three months in!)...
•England women's football team secured a £4,000 a year pay rise, seeing their contracts hiked from £16,000 to £20,000 and being allowed to increase the number of hours they can work in second jobs to 24 per week (from 18). The wage is little more than the daily salary of a top Premier League male player, but a victory in the eyes of women footballers.
•More and more of the UK's top female footballers have taken to Twitter to communicate directly with fans and boost popularity, including the FA's eight 'Digital Ambassadors' - one from each of the Women's Super League teams. The last Women's World Cup final became the most tweeted about event in the world with 7,196 tweets per second.
•Last week the FA received 33 applications from clubs bidding to join (or stay) in the FA WSL in 2014, as part of the five-year plan to develop the women's game.
•On International Women's Day (8 March 2013), the BBC pledged its support for women's football with a number of broadcasts scheduled for BBC Two, including the Women's FA Cup Final on May 26th.
•Queen's Park Rangers (QPR) manager Harry Redknapp threw his weight behind the women's game last week, by calling it "amazing" and admitting there is more room for females in top positions within professional football.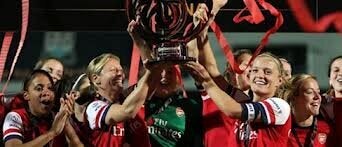 (Arsenal Ladies have won the FA WSL for the past two years. Picture: fa.com)
These changes are certainly a step in the right direction, and do lots to strengthen the good work put in by organisations such as the Women's Sport and Fitness Foundation (WSFF) in pushing for more girls and women to get active.
And then somebody comes along and tries to undo all this good work, for seemingly no real purpose, other than to boost his number of Twitter followers and provoke a reaction.
On February 21st, Alan Swann of the Peterborough Times wrote an opinion piece about ladies cricket, entitled 'Sorry ladies, but you are very dull.' In the article he writes: "Ladies football is another sport I find impossible to watch, and I'm not alone looking at the attendances of top-flight games."
Had I heard a group of people spout such opinions in a local pub, I'd have dismissed them. But Mr Swann decided to use his platform as a journalist to undermine the hard work and dedication of female athletes.
The media has the incredible power to use their platform for good. They can write positive articles that back up the positive work of the WSFF and others. In turn, spectator numbers for women's football will rise, more females will play sport and the general public will respect the many women who play football competitively for little or no pay, while balancing second jobs and families.
Nobody asks that women are as fast or strong as men, or to be compared to men at all. Football doesn't have to be a battle of the sexes. With the help of the media, little girls across the UK can attend a local club and truly believe that one day they'll make it as a professional female footballer and it be a well-paid career choice, instead of having to settle as a WAG hanging of the arm of yet another wealthy, male football star.
P.s. Swann did issue this sarcastic reply to add fuel to the fire.
Related