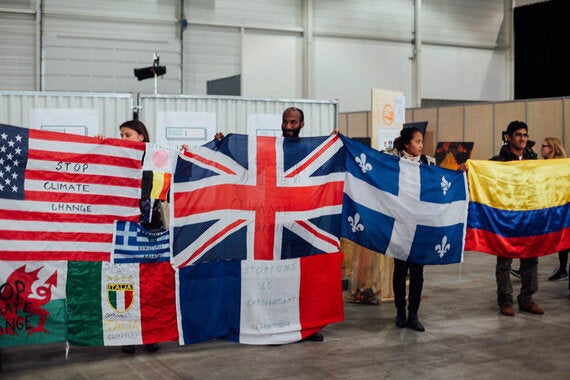 Image credit: Rachel Lees
A few stops on the RER line beyond the airport hanger that's acting as the hosting space for COP21 negotiations there's a large convention centre. Last week the centre could have been likened to an industrial holding pen for our earths future defenders, except they aren't merely waiting for the time to come when they are the decision makers and influencers, they are mobilizing themselves now.
COY is the Conference of Youth and exists as a space for young activists to come together to creatively share solutions, visions, insight and knowledge on the earth's current state of play and its predicted future. Bar a few programmatic mishaps that are to be expected from a large event ran by volunteers who all have day jobs, it's a well organized affair. And now, in its 11th year, it's clearly in the swing of things with a daily program that's fit to burst.
The day's activities span the spectrum from inspiration to technical insight and strategic planning. Allowing for spaces to simply and creatively express the concern deeply felt for our future as well as to plan how the YOUNGOS (the constituency of youth NGOs) with delegate passes to COP will tactically use their voice to influence debates and individual government representatives. It allows too for the young from nations to gather together according to their global region and express solidarity with one another, as well as share insight in to the successes of their mobilization of peers and influencers in their home countries.
'I organized a simulation in Tokyo for students and wrote an opinion paper to say we should increase youth involvement and include climate change in the curriculum,' said Kristina in attendance at COY11 and originally from Sapporo, Japan. Spearheading the content of the paper she wrote and her understanding of the importance of climate change education was research Kristina came across indicating Japan to have the highest number of young passionate about climate change but the lowest support in terms of mechanisms to take action. The penchant for Kristina was the knowledge that 'If we want the government to listen to us we need to know what we're talking about. That's why education is so important.'
Michael is from Taiwan and part of the Taiwan Youth Climate Coalition (TWYCC) and is studying international relations in the UK,
'We read about realism and how countries defend their national interests but climate change will change everything, making every country need to sit down and cooperate. That's why I'm here to witness COP21. This is really meaningful to me - that young people can express their opinions and hopes for the future. Young people are not just playing games, we do the research and know the policies - it's our future.'
With COP21 in full swing, COY acted as a charged and poignant prelude. For starters climate change will affect this generation more than any other. Secondly, it's on these teenage shoulders that our future rests. The deals and decisions that world leaders make in the coming two weeks only come in to play in five years time. It's these conscious and active young people whom will be taking leading positions in civil society and it's these young people who will be tasked with holding our governments to account - ensuring that deals made now are continuously reviewed and rigorously upheld.