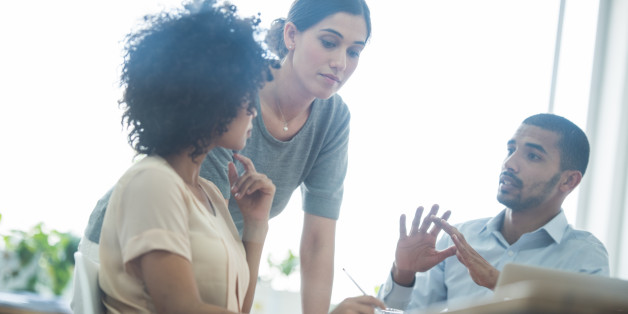 Yuri_Arcurs via Getty Images

We've barely had time to catch our breath after International Women's Day and already there's a report out delivering one big kick in the face to feminism.
A study from the University of Bath suggests that "women's pessimism" is to blame for the gender pay gap.
That's right, it's not discrimination over maternity leave or gender stereotypes causing women to be paid 18% less than men in the UK - it's our grumpy attitudes.
The study found that women "underestimate their earnings prospects", which the researchers claim leads to us having "lower expectations" than men and prevents us pushing for higher wages.
Commenting on the study, Dr Chris Dawson, senior lecturer in Business Economics, said: "If low female expectations in terms of pay is fuelled by a pessimistic outlook, then even without discrimination and progression-related issues, women will continue to underestimate themselves and continue to inadvertently accept pay inequality."
While Dr Dawson has caveated the research by saying it is "not about putting the responsibility on women", the very existence of this study - and the headlines it's generated in the media - only contribute to the culture of victim-blaming that surrounds the gender pay gap.
From Polish MEP Janusz Korwin-Mikke saying women should be paid less "because they are weaker, smaller and less intelligent" than men, to Utah Republican James Green saying equal pay would be "bad for families and thus for all of society", the world is full of men trying to justify the existence of the gender pay gap in 2017.
We do not need anyone else adding misguided ammunition to these dangerous ideals. Women are not to blame for the gender pay gap, sexism is.
Earlier this year a report from market research agency Childwise found that the gender pay gap rears its ugly head when we're just children, with girls being paid £2.20 a week less in pocket money than boys.
What's more, a separate report by GirlGuiding found that while 90% of girls aged nine or 10 think both genders have equal chances of succeeding in their chosen job, just 35% of women aged 17 to 21 feel the same.
Is it any wonder then, that when we do make it to the workplace as adults women feel a little less than optimistic?
Instead of beating women with a stick for being "pessimistic", we need to be asking why society still values little boys more highly than little girls.
We need to start celebrating women for their achievements, rather than their looks, so that girls have positive role models. We need to be introducing programmes in secondary schools to ensure girls know that they are just as capable as their male classmates of pursuing careers in any industries, at any levels.
And above all, we need to place the onus back on businesses to close the gender pay pap.
Women represent just a sixth of senior executives at the largest listed British companies and despite being against the law, discrimination due to maternity leave is still rife in the UK.
Around one in nine mothers (11%) report that they were either dismissed, made compulsorily redundant (where others in their workplace were not), or treated so poorly they felt they had to leave their job after taking maternity leave.
Faced with these facts, it's understandable that some women will not feel confident table-bashing for a higher salary - but that doesn't mean they don't deserve one.
I grew up in a household with a fiercely independent mum and that instilled in me the idea that if you want something, you better go out and get it. I've previously asked for a pay rise at work - and received it - but I'm not ashamed to admit I found that meeting terrifying as hell.
But the point is, women shouldn't have to demand a higher salary and we shouldn't have to adopt stereotypically male behaviours and, as Sheryl Sandberg would put it, "lean in", in order to rise up the ranks.
Companies should recognise and reward both women and men equally for the contributions they make to a business - nothing else. Any study that suggests otherwise is only contributing to the problem.
HuffPost UK is running a month-long project in March called All Women Everywhere, providing a platform to reflect the diverse mix of female experience and voices in Britain today
Through blogs, features and video, we'll be exploring the issues facing women specific to their age, ethnicity, social status, sexuality and gender identity. If you'd like to blog on our platform around these topics, email ukblogteam@huffingtonpost.com