With the recent alterations to the Disabled Student Allowance, the increasing demand on university mental health services and increasing referrals to the NHS; students and the mental health sector in Higher Education are experiencing numerous challenges.
Just today, Student Minds is releasing its Looking After a Mate research, which sets out to understand the form and level of support that students provide to peers experiencing mental health difficulties.
Staff and students at universities across the UK are rising to the challenges in the sector; championing support by putting their #HeadsTogether to transform the state of student mental health.
A massive range of events are taking place all over the UK, everything from information stalls to film screenings and speaker events with thousands of students taking part.
Mental Health Advisors from across the UK are running Look After Your Mate workshops on campus for students to attend. Student Minds' Look After Your Mate workshop aims to give students the skills and knowledge to know how to support a fellow student experiencing mental health difficulties and gives students the confidence to start that all important conversation with their friend.
This year the University Mental Health Day theme is #HeadsTogether, focusing on what we can do to support others, and encouraging conversations about what can be done within universities to improve mental health provisions.
We are inviting students, staff, parents, sector leaders and anyone interested in student mental health across the UK to join the conversation by making their #HeadsTogether pledge.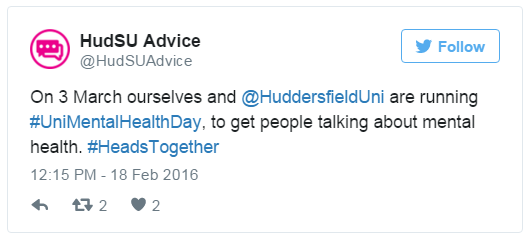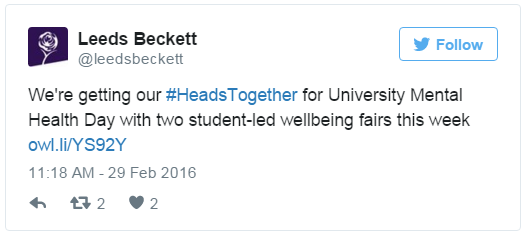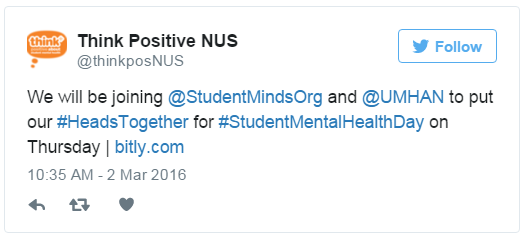 Find out what is happening near you or join in the conversation this today. If we put our #HeadsTogether we can raise awareness of the difficulties students experience with their mental health and continue the conversation about how we can transform mental health at university.