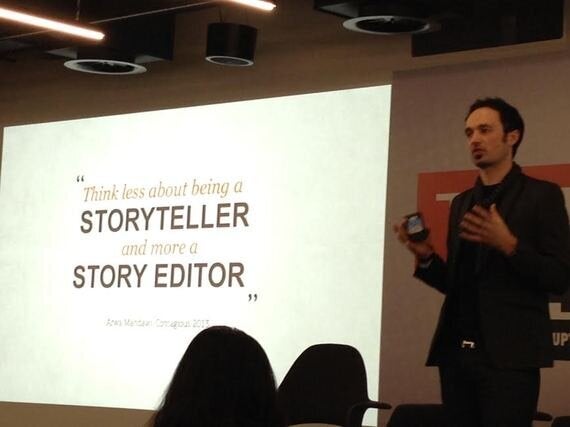 Last week, I attended The Drum's annual Four Minute Warning 'disruption day' on behalf of Raconteur.
The focus was on all things future - and the aim was to inspire The Drum's target audience (which I very much am, as I sit at the intersection of marketing - my function, and media - my industry) about the world to come as it pertains to us, and what we ought to be thinking, feeling, and doing about it.
Such events are, in fact, a looking glass. And so I reflected, as the speakers' presentations asked, 'how do we contemplate the future? And how do we contemplate the future of marketing?'
If it's the future of marketing we want to explore, the presentations' content seemed to insist, then it's actually the future of consumption that we need to understand.
The ubiquity of the internet has massively changed learning styles - consumers are learning informally, and getting knowledge from the best people available to them, no matter how far. This informal, socially oriented and technologically driven learning has created a culture of 'intrepreneurship' - a different kind of innovation that will empower consumers to actively participate in the stories that brands want to tell. The customer-brand partnership, therefore, is evolving drastically. As Sapient Nitro's Magnus Fitchett noted, today's consumers don't want to be told a story - they want to help tell the story. Co-creation, collaboration and participation are the new hot strategies that mean messages are no longer linear and shared experiences are the priority for how marketers execute. Fitchett warned against the current trend of 'storytelling' becoming 'story-yelling' and reminded the audience that a more inclusive, thoughtful approach to creating experiences will yield better results and closer engagement. Marketers, he remarked, leverage stories to change perceptions and drive behaviours. And those stories, Mel McVeigh of Opposite Days Studio noted, need to make people not multi-task, but stop and pay attention. For me, that's key - it's at the heart of what the future of marketing will look like if it's done right. Authentic, digitally empowered, seamlessly ubiquitous, collaborative, and perhaps involving some of the exciting new technological capabilities out there: touch this piece of paper to send a Tweet; explore this infographic by using a digital magnifying glass. Perhaps the future isn't about print versus digital at all, but the interface between the two, and the intersection between that interface and where consumers spend their time.
PHD's Anjali Ramachandran, whose whole role is to look at innovation, spoke about Jugaad, and its importance for how we look to the future. Roughly translated, the word means resourceful and agile innovation and thinking - a lot like what Raconteur's report on The Agile Business looked to encourage readers to think about. The 'culture of jugaad' is a developing trend that, like intrepreneurship, means planning and fixed projects are out the window in favour of fiexibility and adaptiveness.
Ramachandran summed it up best when she said, 'we live in a constant state of beta' - technology is developing so quickly that, before we can wrap our heads around it, it's changed again. But if that reality is one that we can accept - and moreso, that we can embrace - then the agile thinking and being that we can apply to our strategies, our planning, will put us ahead of the curve. It's essential to test, to try - split your data, grow your audience, write and rewrite - to live and work in that state of development and innovation as a marketer, to throw out the ideas that aren't working well and to weave in new strands of creativity or technology or strategy. Mel McVeigh insisted that ideas need to argue and compromise - and it's the drastic increase in tempo of that dialectic, and the way it can play out in real-time, that makes what the future of marketing could look like quite the silver horizon.
Popular in the Community