On the 16 March, news was spread amongst University of the Arts London (UAL) students that management had decided to cut over 800 places on their Foundation courses. Three days later, students and SUARTS sabbs are occupying management rooms at Central St Martins, King's Cross in a peaceful yet poignant protest.
Foundation courses in the arts provide students with a year in which to further their education, opportunities and creative development. These courses are free for Home students aged 19 and under. As such, they remain one of the last areas in which students can be creatively expressive, pushing the boundaries without the heavy weight of student debt hanging over their heads.
The decision to dramatically cut places on Foundation courses follows news that the government is cutting the budget for Further Education (under which Foundation courses fall. The University College Union (UCU) estimates that this cut, alongside the 35% cut to the Adult Skills Budget, could lead to a loss of 400,000 students studying at college.
By cutting funding for Further Education, and by cutting places on Foundation courses, both the government and UAL are once again undermining and devaluing student's access and rights to a free education. On top of this, a large number of teaching positions will be scrapped, meaning staff now face redundancies.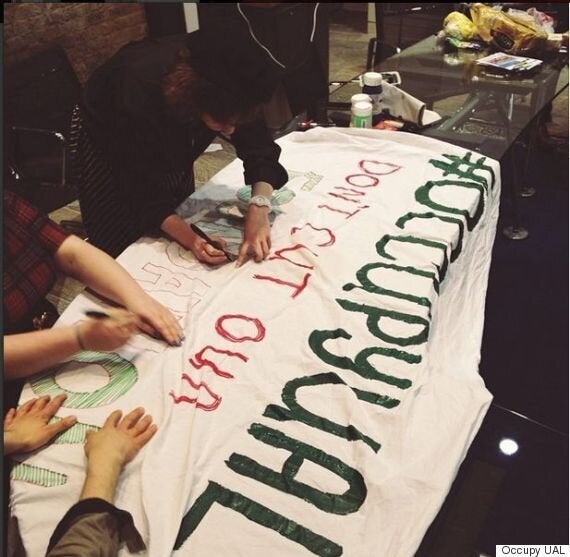 UAL is making money from Foundation courses, just elsewhere. With its new 'UAL Awarding Body', the institution accredits courses in a number of colleges across the UK in exchange for funnelling those students on to HE courses (where the real money is!). This represents the marketization of education, where the UAL brand can be outsourced as an income stream.
Thus, demand #1: No cuts to foundation courses
The notion that the university can't afford to maintain the 800 courses they're cutting becomes a cheap argument when you consider the Vice Chancellor of UAL's six-figure salary, and the £200m cost for Central St Martins' new 'campus'. It doesn't take a London School of Economics student to see that a simple reshuffle of funds might solve some of the problem.
(Coincidentally, LSE students have also been in occupation for the last few days - solidarity!)
And so, Demand #2: Democratise our university
We want greater transparency on all decision making processes at UAL, as well as total financial transparency. This year, it was quietly released that the budget for Widening Participation, the programme at UAL which works towards creating better access to arts education for people from working class backgrounds, is being cut by £500k. This, combined with the cutting of places on Foundation, courses which provide one of the few areas in which the 'attainment' gap for Black students does not exist, mean that access to arts education for students from diverse backgrounds is diminished.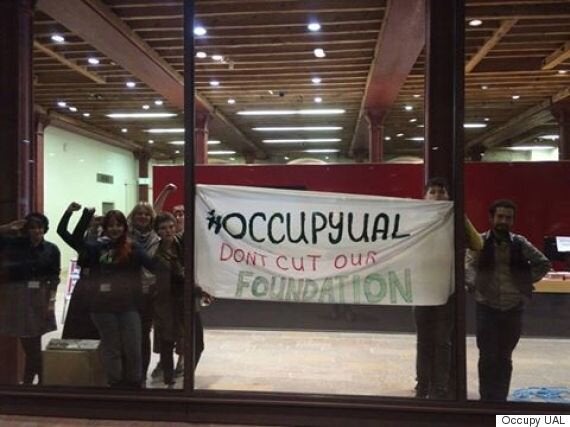 This leads us to Demand #3: No institutional racism
While our demands and concerns are centred on our anger and frustration with the institution of UAL, our fight is part of the larger struggle. Under this Conservative-led government; undergraduate fees have tripled for Home/EU students, our loans have been privatised, school curriculums have been narrowed, and bills have passed which require lecturers to report students who express 'radical' views.
Demand #4: Free education
The building in which we are occupying epitomises the notion that our university now feels and behaves more like a business than an art school. We are sitting in a fish-bowl room, with floor-to-ceiling windows, round glass conference table and chrome swivel chairs. UAL rents this building from Argent, a property developer who 'make places for people'. Argent's owner is one of the major donors to the Conservative Party. Their security, wearing the infamous red beanie hats branded with 'King's Cross' have already notified the police, and are circling the site with sniffer dogs.
So, Demand #5: We have the right to protest
This university should first and foremost be an establishment for education, not for money-making. Students should have the right not only to move in and out of this occupation as they wish, but should always have free access to the university buildings.
The cuts to over 800 placements on Foundation courses at UAL without any student consultation is unacceptable. But this forms just one of the issues students and education staff are facing and fighting against. We need to make a stand against privatisation, nepotism, commodification of education and lack of diversity now.
Related