I arrive at the QVC Beauty Bash with my cynical London reporter hat on. I'm here to cover makeup artist Laura Geller's first appearance at the mammoth event, where the shopping channel's biggest buyers are invited to schmooze the people behind the brands they love to purchase. I walk around the stalls, watching mothers and daughters get massages and makeovers, as well as the odd slightly lost-looking husband here and there.
Geller is huge in the US, QVC's biggest seller and a veritable star with a collection that is perpetually sold out - but she's not well known on these shores. In my capacity both as a model and journalist, I've met people many like Geller who have built mini-empires based largely on their personal appeal, and I can tell you: these folks don't always live up to their reputation. Most have a tendency to treat their assistants like whipping boys behind the scenes, managing to turn on the charm a millisecond before meeting the public/appearing on air. That or they turn into a hollow-eyed pastiche of the character that made them famous. This means that I'm braced for the worst when I meet Geller moments before she makes her grand appearance at her stall in the QVC Beauty Bash...
...And I couldn't have got it more wrong. Within 5 minutes in her company I want her to be my Mum (sorry Mum). Within ten minutes I've switched roles, letting Laura interview me, regaling her with the epic tale of how I met my boyfriend on the Bakerloo Line thanks to the blusher I'd just purchased (it's true!). It's a tale that the company will apparently name a product after.
This is the Laura Geller effect, and it explains why I watch hundreds of women, with an average age of around 40, queue up just to spend a minute basking in the glow of her company (and that's not just from her 'French Vanilla' highlighter).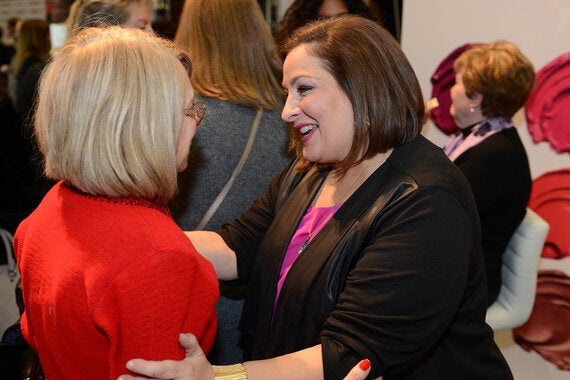 I witness these women crying the moment they get to Laura - is that common? "Oh yes. I get a lot of women saying I changed their life with make up. In fact just today, there was this lady - very tall, sort of thick set, maybe you saw her. Beautiful. She came up to me and told me that I'd saved her life. That I'd boosted her confidence with my make up to the point that she felt she could get up off of that sofa where she had been trapped for years and back out to engage with the world."
I can believe it because, frankly, I'm under the Geller spell myself, and I can sense that her effusive warmth isn't an act. Her 'bedside manner' reminds me of countless make up artists who, over the years, have somehow had me spilling my darkest secrets to them, not to mention bolstering my confidence on shoots when everyone else was treating me with disdain.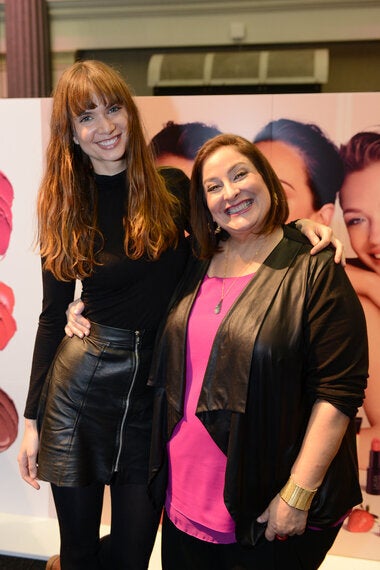 Geller worked her way up from a lowly make up artist on Broadway, making up iconic faces such as Ginger Rogers and Audrey Hepburn. "I did Paul Newman's make up and I was horrified. I just knew I had made it too ridiculously pale and I didn't know what to do with myself. He pointed to his face and said 'you think this is right?' and I just quietly shook my head, eyes wide open. He just shrugged and smirked - so cool! I also have Gene Kelly's pancake blush. I stole it...I couldn't not!" It's her experience here that led Laura to introduce the world to 'Spackle', her primer (£22), which she describes as 'polyfilla' for the face but is a bit more refined than that - their new soothing product contains chamomile and avocado to treat the skin whilst providing a good base for make up.
I'm clearly a fan of the lady, so it's a relief that the actual make up stands up to its reputation as a perennial top-seller: her Gelato Swirl Illuminator (£21) is worthy of note here: it's finely milled, velvet to touch and, like many of her products, has been baked in Italy from a cream formula so it's matt but not dehydrating.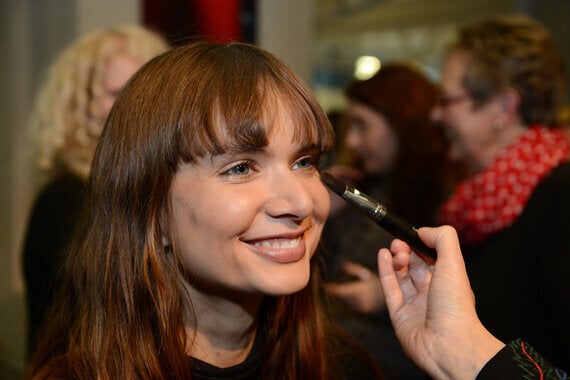 The illuminator is applied while I probably overshare with Geller
The brand is beloved by women with mature skin because the sparkle helps lift complexions and won't settle into lines, but many products span generations such as the bright coloured, hydrating baked lipsticks (£16). My hero product? I've trialled a zillion concealers for dark circles, from the priciest to the high street, and all of them either made my skin greyish white, wrinkly or both. The 'Baked Radiance Cream Concealer' in medium (£20) finally gave me what I've wanted: realistic coverage (i.e. I look better but not like a doll) that didn't enhance fine lines. It didn't budge all day and is great for any blemishes, too.