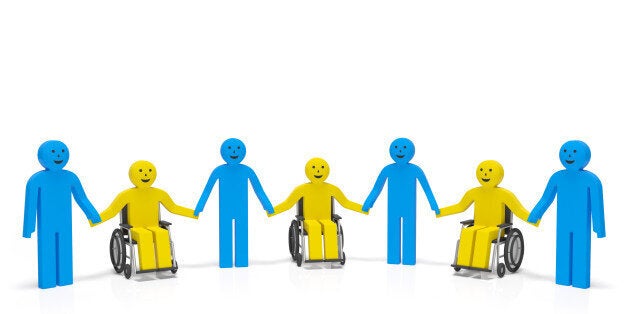 In a speech at our recent annual conference, disability rights campaigner and crossbench peer Baroness Jane Campbell stressed that the Paralympics' positive impact on disability equality is short-lived. She said: "When our government and others put their minds to progressing disability equality, we can be world leaders. For a short while during both games, disabled people were seen as active, successful citizens. A stark contrast to our general stereotype as unfortunate people who require expensive, special support - a problem to be solved by experts".
The statistics support this. Home Office data show a 25% year on year increase in hate crime (this may be good news, showing an increase in the reporting of hate crime); the police recorded 2,500 disability hate crimes last year. In contrast the crime survey estimates a true figure of 70,000 disability related hate crimes - revealing just how few people report offences.
For these reasons, the launch of a new national campaign to end learning disability and autism hate crime is vital. VODG is one of the partners in the drive, led by social care provider Dimensions, to force action on the issue.
As part of the campaign, entitled I'm with Sam (#ImWithSam on social media) there is new survey data involving people who have experienced learning disability and autism hate crime. The campaign calls for practical change, including the separation of disability hate statistics compiled by the police and others into learning disability/autism categories amongst other disabilities. It also demands a change in the law to make disability hate online a crime in its own right, and steps to make it easier for people to report incidents.
The parliamentary launch of the I'm With Sam campaign heard from people with learning disabilities and families. One person with learning disabilities said, "I am sick of being pushed around, sick and tired of people making my life a misery". We also heard why someone who uses taxis to travel but not the bus, "because I don't want to be spat at anymore". While a family member recounted an arson attack of one young man being supported to live in his own home. A restorative justice approach in this last example has helped to prevent further incidents occurring but had nevertheless destroyed the confidence of the victim.
It is true that much work has taken place over the last nine years since the deaths of Fiona Pilkington and her daughter, who were tormented to their deaths after being targeted because of the family's learning disabilities. The Home Office's recent Hate Crime Action plan, for example, is to be welcomed, as is the new law on coercive control.
But underpinning disabled people's experiences of hate crime is the existence of a culture of disrespect. These concerns are magnifying because while Brexit's impact on community integration is well known, little has been said about the possible impact of the vote on the 12 million people with a limiting long term illness, impairment or disability in the UK. We have highlighted the impact of the vote to leave the EU on social care providers and the people they support. Recent work from the charity Papworth Trust, on Brexit and disabled people, points out that the EU has been responsible for initiatives bringing a positive impact on disabled people's accessibility, participation and anti-discrimination.
So hate crime is not just a criminal justice issue; health and social care providers - and the public - have a clear role in prevention and awareness raising.
The not-for-profit care and support sector is driven by social justice; it should also be at the forefront of the social value agenda, as I have blogged here before. Care staff are on the frontline of this issue, as a testimony from the I'm With Sam campaign stresses: "As a support worker I have encountered hate crime several times against people with learning disabilities whom I supported. Although police were sympathetic, no-one was ever charged."
It is high time that existing legislation relating to disability hate crime is scrutinised to ensure that people deemed "vulnerable" are better supported and protected.
And let us not forget that if people are vulnerable, it is because of the circumstances in which they find themselves, rather than being vulnerable per se. The more we invest in supporting disabled people to feel fully included in society, the more we prevent incidents such as hate crime occurring.
Popular in the Community