I would say that I'm one of those people who enjoys cooking, but has never really found the knack of following recipes. Perhaps it's the designer in me, but when I'm left alone in the kitchen, I always have the urge to get creative and result in a recipe far from the picturesque concoction in a recipe book. So, last week when I met Gino D'Acampo for Zanussi, he demonstrated how to make two seemingly easy dishes from his new cookbook, Italian Getaways. With the Italian fire still inside me, I set out to recreate the recipes at home, and here is exactly how I got on: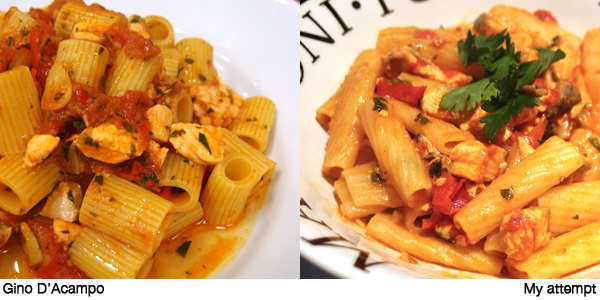 I thought it was certainly a very good attempt and I can assure you that it tasted amazing. A useful tip he gave me, was to always salt the pasta water and also to mix the sauce back into the pasta before serving. These were indeed very good tips, as it fused the flavours and made every bite equally as delicious. If you want to impress your next party with some effortless Italian, check out the video and recipe below.
Spicy Tomato & Salmon Rigatoni Recipe
6 Tablespoons Extra Virgin Olive Oil
2 Garlic cloves, peeled and finely sliced
2 medium-hot red chillies, deseeded and finely sliced
2 x 400g tins of chopped tomatoes
3 tablespoons freshly chopped flat leaf parsley
400g Salmon fillet, cut into 1cm cubes
500g Rigatoni (or any pasta you wish)
Heat the oil in a large frying pan or wok over a medium heat and stir-fry the garlic and chillies with a wooden spoon for about 1 minute until sizzling.
Add the tomatoes and parsley, stir well and simmer gently, uncovered, for 10 minutes, stirring every couples of minutes.
Carefully stir in the salmon and season with salt. Remove from the heat and set to one side.
Meanwhile, cook the pasta in a large pan of boiling, salted water until al dente. Drain well and tip it back into the same pan.
Place the pan over a low heat, pour in the sauce and stir for 30 seconds to allow the flavours to combine properly. Serve immediately.