As a designer I always enjoy dealing with a broad range of projects, but I never thought my role as Head of Creative at Tossed would result in me making low calorie underwear. However, their latest outlet, situated behind the Tate Modern, was my second store design for the company and so naturally I wanted to open with a bang. Or at least a few carefully positioned leaves.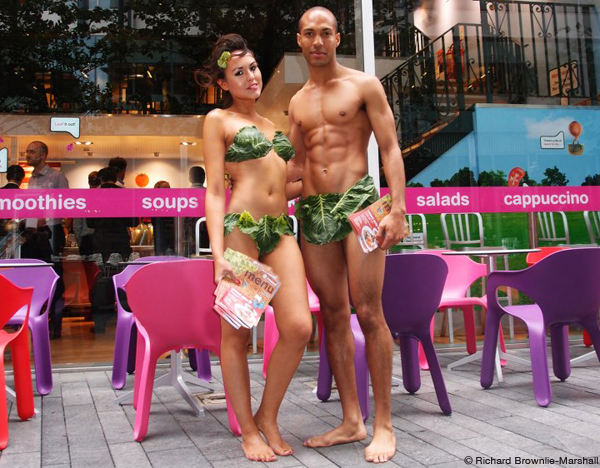 For a fun brand like Tossed, I knew this would be the perfect way to launch the store and great way to, quite literally, make healthy eating sexy. Originally I had wanted to work with lettuce leaves, but they turned out to be surprisingly delicate. So with a windy day in October, it would have most likely ended up being a big reveal of another kind! In the end I opted for baby leaf greens, which have a wonderfully dark colouring and are seasonal for Autumn. Expertly modelled by Tyson Douglas and Claire Carter, the pieces ended up adding to a mere 33 calories collectively. Tyson's trunks coming in at 11 calories and Clare's bikini only 22, so perfect for those on a diet.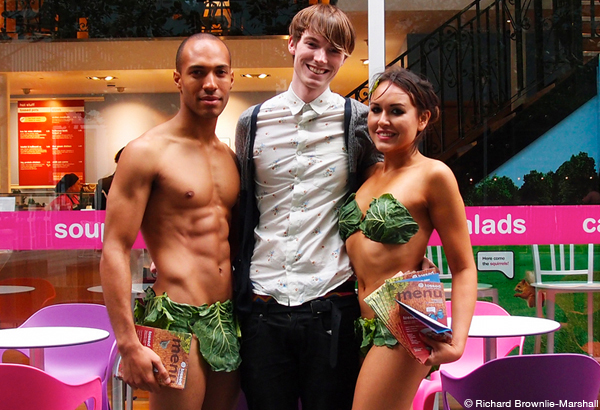 On the day of opening, the two salad-clad beauties caused quite a stir in the Bankside area, being surrounded by office workers snapping photos on their mobile phones. I overheard one guest asking if they were on the menu. I told them that the models weren't, but their outfits could be found in any of the salads or wraps, but not the same exact leaves of course!
It's often said that true fashion will stand the test of time, but sadly after about 2 hours of wear, these pieces were already on the way out. Thankfully due to their eco-fashion credentials, both were biodegradable, giving a whole new meaning to recycling your clothes.