"Those doing the "Ice Bucket Challenge" are just trying to fit in." - These are the words of critiques. But if this raising awareness and donating to charity is becoming a trend - Why wouldn't people want to be part of that and why would should they receive criticism for doing so? Conformity is not bad when we are conforming to the right things.
The "Ice Bucket Challenge" has now raised almost $80 billion. And is taking inspiring new forms:
The Rubble Bucket Challenge:
This campaign sets out to raise awareness about the war on Gaza where people are are bombed inside their homes. People are invited to pour a bucket of rubble over their head and donate to a project called "We Have A Hope" supporting children affected in Gaza.
The Rice Bucket Challenge:
This campaign began in India and asks participants to donate a bucket of rice to those who need it.
And those doing it for other causes: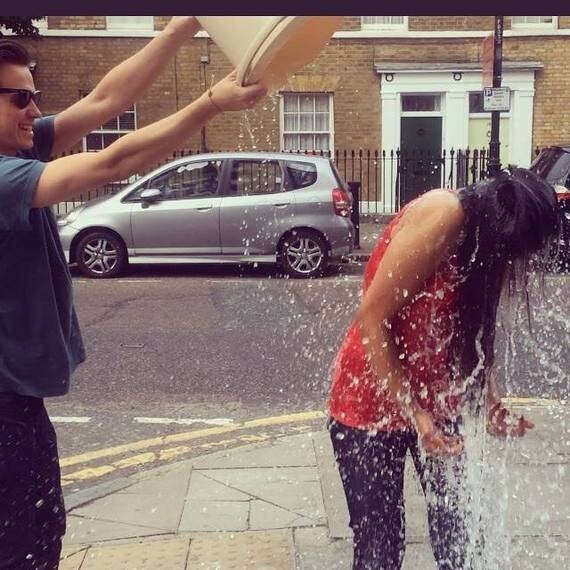 My Ice Bucket Challenge falls into this category. Whilst I didn't want to detract for what the ALS Association have done, I wished to simply use this as an opportunity to raise awareness for brain tumours which are the highest cause of cancer related deaths in 15-24 year olds - a fact I was unaware of until I was gifted a book by a girl called Kathy Webb.
The book told the journey of one of her friends, Jessica Hope Gauntley who passed away at the age of 16 from a brain tumour. Her family set up the Jessica Hope Foundation to work with research organisations such as the Brain Tumour Charity to help combat the disease but also organisations like HeadSmart who help people understand the symptoms of a tumour better so if apparent, can be found and treated earlier one - increasing chances of survival.
The book was written by Jessica's father, and two copies were given to Kathy - one for her to read and one to give to someone who might be able help raise awareness. It means a lot that Kathy chose to share the book with me. This is just a start to raising awareness for the Jessica Hope Foundation and the work they produce.
However and whatever cause you are raising money and awareness for, let it continue. Be responsible and conscientious of everything you do. The "Ice Bucket Challenge" may have been a success in terms of raising money and awareness, but certainly has been rightfully challenged for encouraging water waste. Keep thinking of ways to help others responsibly, and if you can do it in a way that's fun and creative - even better.