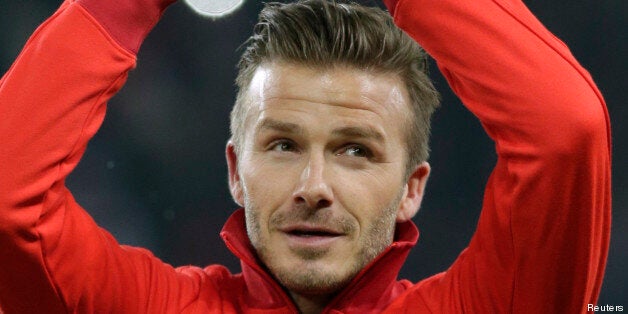 So, the day has arrived at last. An icon is to depart the game. England's "Goldenballs", the man with the most famous metatarsal the world has ever seen, he of the sculpted facial furniture with chiseled jaw and cheekbones to die for, David Robert Joseph Beckham OBE is finally to quit the game he has - more or less - adorned since 1995. Everybody is sitting up and taking notice at what is the end of an era. Leyton Orient have felt it necessary to remind the world in a timely tweet that the Coiffed One is to make his last appearance against French side Lorient - NOT the English League One denizens L.Orient. Thanks for clearing that up, lads.
My first memory of David Beckham is necessarily hazy - I was quite intoxicated, and stood high up in the away end at The Theatre of Hollow Myths as Leeds United's all-conquering youth side trampled the budding superstars of Man U into the turf on their way to an eventual 4-1 aggregate FA Youth Cup win. That was in 1993, and it was some small measure of compensation for the transition from our status of Last Real Champions to that of Man U as first holders of the Premier League Plastic Trophy. As the new era dawned, an epic career was off to an inglorious start, but it was destined to contrast starkly with the doomed efforts of that night's winners.
Since then, even so jaundiced an observer as I must admit that Beckham has scaled Olympian Heights, and on one foot, too. No less a footballing authority than the late, grating George Best described him in rather less than glowing terms: "He cannot kick with his left foot, he cannot head a ball, he cannot tackle and he doesn't score many goals. Apart from that he's all right." Not that he was bitter or anything - but maybe the fact that Beckham's earnings in any given calendar month eclipsed the entire career earnings of the self-styled "Greatest Ever" had touched a raw nerve or two. Whatever Bestie might have thought of the shortcomings of Becks talent-wise, the London boy could surely have taught him a thing or two about application, dedication and - crucially - not being caught with his pants down before important semi-final matches.
That ability to dedicate himself and make it big, on the back of a less-than-completely full box of tricks, certainly redounds to Beckham's credit. His habit of creating the most spectacular results with one swing of that cultured right foot did him no harm either. On loan at Preston as a youngster, he created a stir by scoring direct from a corner, and not too long afterwards, establishing himself in the Man U first team, he looked up from just inside his own half at Selhurst Park, and lobbed the ball mightily over the back-pedaling 'keeper Neil Sullivan to score an outrageously long-range goal against long-ball merchants Wimbledon. The most famous exponent of this type of effort up to that time had been a chap called Pele, who tried it in the World Cup; but Pele had missed.
The path to World Superstardom was not, however, always strewn with rose petals. Attitude problems surfaced, petulance would be a problem throughout most of his career (not an uncommon problem among graduates of the Man U finishing school), there were run-ins with his irascible mentor Ferguson, and he could be impulsive too. He saw a young lass on a pop video, and he decided on the spot to marry her. His judgement on that occasion at least was reasonably sound, or so it seems; the marriage is still going strong and from tacky beginnings with a wedding that would have figured large in any style guru's nightmares, the couple have built a family with their weirdly-named brood and two large fortunes securing a stable future for all concerned.
So how will Beckham best be remembered? Some will say as the archetypal Man U fan - he was born and raised in London after all, which is a headline qualification for that status. Others will remember his flirtation with the extreme edges of fashion - his famous experiment with girly clothing as he sported a sarong, for instance. But whatever he did, whatever style he either aped or created, there were millions queuing up to follow his every footstep. He had the knack of capturing the hearts of a whole generation with the totality of the Beckham package - the talent, the looks, the style, the pop-star wife. Some of it was grossly kitsch, Beckingham Palace was the venue for many sins against the Manual of Good Taste. Some of it took your breath away with the sheer, daring nerve of it - the revelation that his son Brooklyn was named after the site of his conception had people offering up prayers of thanks that the tender moment hadn't taken place in Peckham. Subsequent male children were named Romeo and Cruz and then a girl arrived to be lumbered with the curiously android-like Harper Seven. There is, after all, no accounting for taste.
Some will remember the iconic free-kicks for England, the most famous of which secured his country's automatic World Cup 2002 qualification. What people forget is that, had we been doomed to the play-offs, we might have taken Germany's easier route to the Final - but who ever knows what fate might hold? In the end, England and Beckham, together with his famously bust metatarsal, appeared in the global tournament, but for once Beckham wasn't really up to it, and it was his half-hearted, half-baked, half-fit attempt at a tackle which let Brazil in for the equaliser at the quarter-final stage, the Samba Stars going on to eliminate England 2-1.
But whatever you might think of Beckham, my fondest memories of him will be in that England shirt - not for his flashes of temper, leading to notorious dismissals, but for the massively evident pride with which he wore the Three Lions over his heart, the utter commitment and dedication with which he put himself about the pitch in the England cause, be it merely as a star player, or eventually as captain of his country. Nobody set a better example of leadership than David Beckham when he had that international shirt on, and nobody could ever doubt on those occasions that everything else - the endorsements, the mansions, the publicity stunts, the lurid tales of his off-field life - all of that was secondary to his intense, burning patriotism. If that alone had been enough, England may well have had three winners' stars to embroider above the Three Lions on the Shirt, instead of that solitary one.
So it's farewell, Goldenballs. He was a player of his times, a man who would be a superstar among superstars, someone who would attract fan fervour and inspire adulation and hero-worship out of all proportion to his essentially modest character - and some would say disproportionately to his talent too. Be that as it may, it's unlikely we will see such a phenomenon again, unless the ingredients are coming together even as we speak, and yet another cockney Man U fan is bubbling under up Salford way. You just never know.