The UK's first 'all natural' Cannabidiol (CBD) vaporiser pen has launched, it's legal, it's called MediPen and I've tried it for myself.
As someone who has lived with chronic pain and associated conditions since my early adulthood, I have tried scores of aids, medications, complementary products and stimulation devices in order to try and reduce my pain and allow me to live a fuller life. I've had the pleasure of discovering the MediPen recently and I've never tried anything quite like it!
I'm not a smoker and never have been and I was worried the product would be akin to smoking or 'vaping' but I couldn't have been more wrong. Using the MediPen was very pleasant, the product is light and well-balanced and the range of flavours I tried were spectacular. The smooth flavoured vapour is easy to inhale and doesn't contain nicotine so it doesn't catch or 'burn' the throat.
My sleep is very erratic and most of my night is filled with uncomfortable tossing and turning and inevitably staring at the roof. The MediPen has had a significant effect on me and my sleeping is considerably better. Using the product, predominately at night for the past week, I've been able to relax; I've been able to sleep and have had only one migraine (down from my usual daily migraines). Despite my very positive effects, there is no associated fatigue or impact on cognition. The effects of the product are quickly realised and although the CBD oil relaxed me, I didn't feel incapable or impaired and felt I could use the product at anytime during the day or night.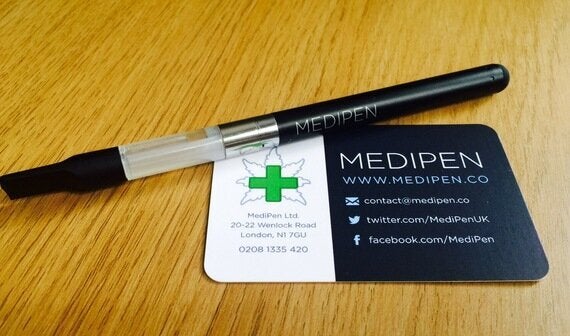 The MediPen (with a cartridge installed) is slimline, around the length of a pencil and weighs in at 22g. The unit is black in colour, comes in a fetching silver tin with a USB charger and a CBD cartridge. Retailing online at £49.97, the MediPen starter pack is only available directly from the www.medipen.co website.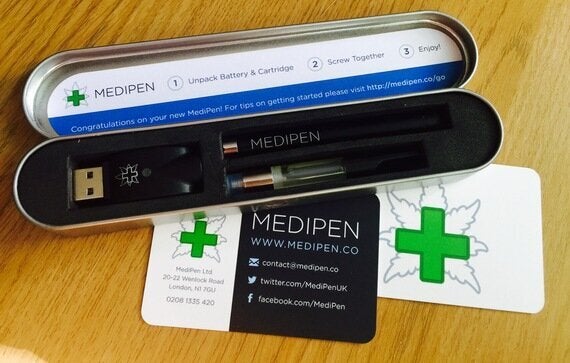 CBD is one of over 75 compounds found in cannabis and its benefits have been heralded the across the world for conditions including chronic pain, anxiety, muscle spasticity, migraines and a range of neurological conditions. CBD belongs to the group of compounds called cannabinoids and unlike THC; CBD is non-psychoactive and doesn't impair or make users 'high'.
The MediPen formula consists of CBD extracted from a medical strain of the Cannabis plant containing around 20% CBD, and coconut oil, which gives it the clean natural taste. Refills are available in 14 fresh flavours including coconut, passionfruit, mango, bubblegum and vanilla which can be purchased on the MediPen website at www.medipen.co. If you are looking for inspiration, try the coconut, bubblegum and mango!
Ps. the end of your MediPen doubles a stylus to make sure you don't need to put it down when using your phone.