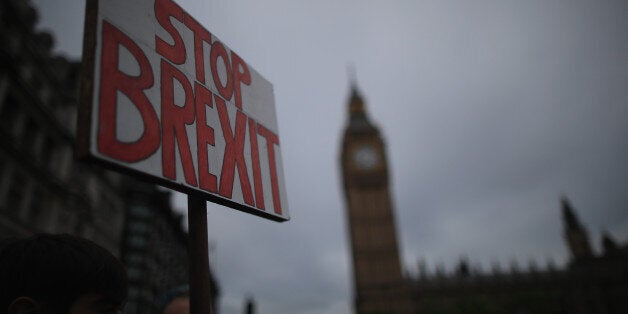 Ok I didn't have a party (I just have a lot of puns for you), but on 23 June 2016, the UK voted to leave the EU by a margin of only 3.8%. For many students, both here in the UK and across Europe, this result has not been positively received. A survey by YouthSight found 94% of all eligible students in the UK registered to vote with 87% of those turning up to vote and 85% of those voted to remain in the EU.
It wasn't just students who were unhappy with the results. Young people aged 16 and 17 were denied the opportunity to participate and engage with their democratic structures, despite young people showing an appetite for involvement.
Politicians try to tell us 16 and 17-year-olds are too young to vote. Sure, they can join the army, drive a car and in some cases get married but voting appears to be a step too far. In December last year, the government blocked plans to let 16 and 17-year-olds vote in the EU referendum by using a financial technicality to hide their fear of the young vote and voice. NUS research into why young people are disengaged from our democratic processes showed that, rather than being apathetic, young people lacked appropriate information about many aspects of our democratic and political structures.
The current state of citizenship education in schools can be improved. Citizenship education is not a statutory subject and as such, young people do not have the opportunity to understand and better engage with their civic and democratic rights. Even when citizenship education is taught in our schools, the scope of the subject is narrow and often fails to fully engage and inform young people. The importance of citizenship education has been reinforced by a recent recommendation by the United Nations to the UK to enhance citizenship education in schools and lower the voting age to 16.
Despite the shortfalls in our education system, plenty of evidence exists to prove that young people, including 16 and 17-year-olds, are very much interested in exercising their democratic and civic rights. In the 2014 Scottish independence referendum, an astounding 75 per cent of 16 and 17-year-olds turned out to vote. Reports from the Electoral Commission showed 97 per cent of those young people said they would vote again in the future. It is clear young people want to participate but something seems to be going wrong.
We have one key question. Why wouldn't the government want young people to engage with our democratic structures? Many young people voted to stay in the EU and NUS' conference, the largest student democratic event in the world, passed policy to affirm this position both this year and last year. As young people, we cannot take the threats to our democratic rights lightly, we need to organise and campaign for our rights as citizens. We need to be able to participate in the processes that affect not only our education, but our future.
Our work should not stop with the EU referendum. Instead we should work to ensure all young people are provided with both the information and opportunity to participate in our democracy. Over the next year, I will be campaigning and lobbying the government to lower the voting age to 16. I will also be working with student unions, the government and other stakeholders to improve voter registration and mitigate the risks associated with individual electoral enrolment.
Last but not least, the role of education cannot be overlooked. We as young people need our education systems to provide the opportunity for us to learn about the political process and our political rights. We need our schools to proactively champion and implement a robust, inclusive and global citizenship curriculum. But first we need the government to make citizenship education a well-funded and statutory subject for all schools in the United Kingdom.