There's something wonderful about watching a movie without reading or hearing any reviews. You have no expectations and haven't been told what to think, but given the calibre of the cast, you hope they won't let you down.
Such was the case with Eye in the Sky, a taut thriller about ethics and morality in 21st century warfare. The presence of A list stars such as Helen Mirren and Alan Rickman was a good sign, while Aaron Paul, Jeremy Northam, Iain Glen and Monica Dolan didn't hurt matters either.
The premise is simple. When assorted terrorists collect in one Kenyan house, the desire to take them out with a single drone strike is tantalising. However, the fact a little girl is selling bread in the blast radius means the remote warriors have a clash of conscience. Can they justify sacrificing one girl's life if it means a bunch of terrorists will be erased in one go, and save the lives of potential victims in a pending suicide bombing?
Juggling the numbers to minimise fatality while constantly "referring up" to different VIPs means this could be one of those yawnsome movies involving assorted phone calls, video conferences and the like, but it's a testament to director Gavin Hood that he manages to make this as gripping as he does.
Another strong aspect is Barkhad Abdi from Captain Phillips as the ground agent spying on the terrorists while trying to keep his cover. Not that easy when there's a curious villager wondering if he's playing a game on his mobile instead of operating a flying camera. For an actor that held his own in a scene with Tom Hanks, he's proved once more to be an outstanding complement to a film, adding authenticity to the proceedings.
Though EITS could work as well on the stage, it's worth a look on the big screen as events unfold in real time, a bit like that 12 part UK run of 24 which also focused on hot button topic, drone strikes.
Obviously as this was Alan Rickman's last on screen performance, it's hard not to watch the film without a poignant twang. The fact he signs off with the best scene reminds us of what an immense talent we have lost.
Laced with flashes of humour, great editing and a tense score, EITS is a thriller that engages the brain as well as the heart.
Like the remote weaponised plane at the heart of the drama, this locks you in its sights and hits its target with pinpoint accuracy.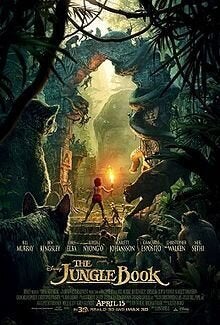 Everyone loves the cartoon version of Kipling's most famous tome. It was a 1960s classic with lush animation and some great songs.
We didn't really need a new version, though Disney seems determined to revamp its classics with a live action spin and 21st century effects.
Sadly Jon Favreau's new, live action version of Disney's take on The Jungle Book is a massive let down. I spent half the film trying to stay awake and the rest of the movie trying to make out what was going on.
One of the problems is it's so dark, visually and tonally; it looks like it was shot with a night time Instagram filter.
Okay, purists might argue that the original was equally dark, but this is just murky.
The vocal cast is excellent, from Ben Kingsley (Bagheera) to Bill Murray (Baloo), but Christopher Walken is mis-cast as the Godfather-like King Louie.
Idris Elba, Disney's current go-to guy when it comes to vocalising creatures with authority (after Zootroplis), is excellent as always; his one-eyed Shere Khan spot on as the big bad, while Scarlett Johansson does a good job as the sinuous, seductive snake Kaa.
Alas, Neel Sethi's Mowgli is a bit of a let down also, lacking that magic quality.
I'd like to see it again without an army of kids running to and from the loo, and with a better print where I knew what was what.
Let's hope Andy Serkis's pending take on the Rudyard Kipling classic is more on the money.