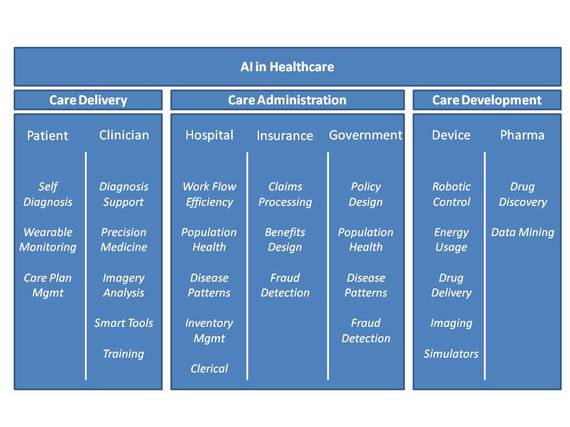 (Image: author's own)
Where will artificial intelligence fit into the delivery, administration, and development of healthcare practice, services, devices, and pharmaceuticals?
Everyone who has delivered or received health care knows that the system is human-touch intensive and very complex. It requires a prodigious variety and depth of expertise across the employee base of clinicians, administrators, and clerical staff. The depth of knowledge, complexity, cost, and labour intensity involved make it a prime target for the application of artificial intelligence to assist the humans who are struggling to make this system work flawlessly every day. Where large volumes of information and long complex processes can be encoded, they can be handled more precisely by software algorithms than by human providers. Well trained and experienced human employees still possess great variability in their level of training, depth of understanding, and ability to perform perfectly day after day. Employee turnover is a constant threat to the competency of this system. Each patient expects high-performance clinicians, knowledgeable administrators, and competent associates at every step in the care process. But this can only be accomplished consistently with a system that retains and grows its expertise over time, not one that loses ground every time an employee exits the system. This kind of consistent high performance is not the nature of a human-intensive system, it is the nature of a computerized and automated system.
To function effectively a healthcare system must perform thousands of transactions, apply deep knowledge and skills, reference terabytes of historical data, apply millions of dollars worth of equipment, and efficiently manage millions of dollars in revenue. Since healthcare is always a local community business, which cannot be centralized in a big city, it has to operate and excel with the talent of the citizens available in that community. Therefore, the volume of healthcare services available is limited not by the demand for those services, but by the limited supply of professionals available to deliver the services in that location.
This industry and its professionals are in dire need of augmentation via intelligent automation. This includes supplementing care delivery, the point of the spear of the entire system. Empowering patients and clinicians to access and apply vast amounts of constantly changing data. The same is true for care administration from the hospitals, insurance companies, and government offices that stand behind the delivery of medicine to make it affordable, accessible, and timely. Finally, there are the care developers who create new devices, machines, and medicines. All of these will become smarter and more effective by embedding intelligence into the device and even into the medicine.
This model of AI in healthcare is organized by the phases and providers of healthcare services and equipment. Its usefulness could be further enhanced through complementary models oriented around IT systems that host the intelligence, defined AI methods, and the business objectives that are targeted. Together several models would paint a rich picture of the possibilities of AI methods and tools in support of healthcare.