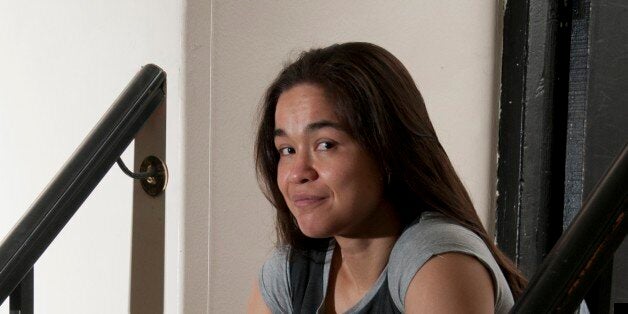 In a little under three weeks, I'll be making the final preparations before I step inside the world-famous Octagon to make my debut in my sport's most elite competition - the Ultimate Fighting Championship (UFC).
When I walk out to the 15,000 capacity crowd in Winnipeg into the lights and music of the UFC I'll be focused only on the fighter in front of me - Canadian Alexis Davis.
But ever since I got the call inviting me to join UFC in April, I've been contemplating just how far women's mixed martial arts (MMA), and I, have come in the past few years.
UFC is the leading MMA organisation, the sport that I've competing in since 2002. It's a rapidly growing sport in the UK, and is huge across the world and broadcast in a billion homes globally.
My first introduction to MMA was back in 1999, when I saw a television documentary about it. I was really intrigued by what I saw and the fitness and skill that is required of mixed martial artists across so many different disciplines, but at the time, there was almost no female MMA taking place in the UK.
The first time I saw a women's competition in the sport was when I got a DVD of "Hook n Shoot: Revolution". It was an all women's MMA event showcasing some of the sport's pioneers. It was watching that event that made me realise that this was something I wanted to be part of but I had no idea where this journey was going to take me.
By then, I was already training at a local gym, and it was shortly after that that I had my first fight in the UK.
Over the years interest in women's MMA has grown - more fans want to watch it and more women want to be involved in it. MMA is a great sport, and people take part at all levels, whether they're training for fitness and self-confidence or they wish to compete. The sport is highly physical, technically skillful and psychologically demanding - a combination which makes it so entertaining and engaging to watch.
There have been many landmark moments for women in MMA such as Gina Carano and Julie Kedzie making history as the first female bout to be aired on national television in the US. In February, women's MMA took a huge step forward when UFC established a women's division. The first ever female bout took place, which saw current champion, and 2008 Olympic judo bronze medallist, Ronda Rousey defeat Liz Carmouche in California.
Once people saw the ability of the two athletes and the quality of the competition, along with Rousey's undoubted star potential, they wanted more. The UFC has responded to this and since then there have been two more female bouts, which have been huge successes.
Myself and Alexis Davis are next. I'm looking forward to seeing how the UFC will develop the division, with so many highly skilled female fighters out there and many more talented up-and-comers looking to make an impact.
Over the next few weeks I'll be putting a lot more hard work in at the gym. This is without doubt the biggest fight of my career, and I want to put on a performance worthy of the occasion. It's a privilege to be involved in UFC and women's MMA at this point in history, and I hope we will set the standard high for all those who come after us.