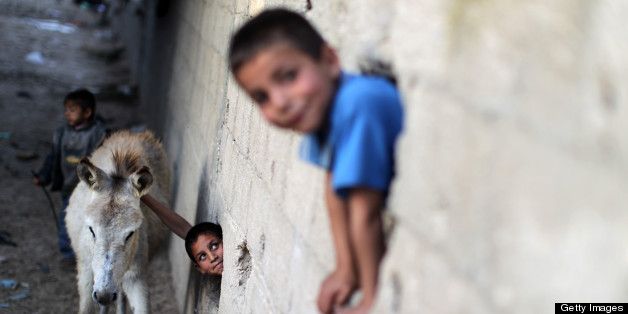 Getty Images
One week ago Save the Children announced our newest ambassador - YouTuber Charlie McDonnell. He's not a household name to anyone over 20, so why are we so excited to have him on-board?
In the aftermath of a double-dip recession which nationally has seen charitable giving down by 20%, charities need to be able to tell the public about the needs of others more than ever. They also need to be able to persuade them that they can and will help. Sadly, this is becoming increasingly difficult.
There's been a growing sense of fatigue with international development appeals over the last couple of years. Often you hear people saying that nothing seems to have changed in the 40 years since Live Aid, that if we're still seeing these stories of desperation then giving money obviously hasn't worked. In fact, nothing could be further from the truth; a huge amount has changed since Live Aid.
The number of children dying from easily preventable diseases such as diarrhoea, pneumonia and malaria has dramatically fallen - from 12million in 1990 to just under 7million in 2010. British aid has played a large part in this.
A number of criticisms have been levelled at charities and the media for perpetuating a 'myth' of Africa as a single 'country', blighted by war and starvation. We would love to tell more of the stories of success, whilst not ignoring the huge need that still exists, but often the traditional media just won't report it.
It's a source of huge frustration: the huge reduction in child deaths means that the world is at a tipping point, that we really could be the generation that stops children dying from preventable diseases but there is a risk that people will turn away from aid unless we can tell them this.
Our new YouTube ambassador Charlie McDonnell has his own huge audience, with nearly 2million subscribers to his YouTube channel. The first of his videos about his recent trip to Tanzania to see Save the Children's work on hunger there already has over 400,000 views. That's more than double the daily circulation of the Guardian newspaper and five times that of the Independent.
Yet despite his seven-figure audience, McDonnell's videos do something that a lot of traditional media doesn't: they're intimate and conversational, they feel like he's just talking to a friend which in this case happens to be you, the viewer. That allows two things: trust in what he says, which in a post-Leveson media world is of real importance, and the chance for him to tell those everyday stories that you tell to friends, ones that wouldn't make it into the traditional mass market media.
Charlie's video of his trip to Tanzania features his new friend Frank Kapeta, who was our tour guide during the trip. Frank is an amazing, inspirational 15-year-old boy. He survived severe malnutrition when he was younger thanks to the help of a local charity and now wants to be a campaigning journalist who can make sure future children in Tanzania don't suffer like he did. He's already started on that path by being Save the Children's Tanzania youth ambassador and taking part in our young reporters' scheme. He's a remarkable guy when you meet him in person but his story isn't dramatic enough to grace the front pages of a newspaper. But, thanks to Charlie, his story has reached hundreds of thousands of people.
Story-telling like this also lets us break down one of the other big misconceptions about aid, that it's colonial, a white man's hero mission. In every Save the Children programme that I've visited at least 90% of the staff are from that country and are passionate about what needs to happen to improve life for their fellow citizens. Mums I meet know what they need to help their children survive. More often than not they tell me that it's short-term help and then education so that they can learn better farming techniques and don't need to rely on others. I travelled to Burkina Faso last year where every village has its own development committee. There too, there are children like Frank who are determinedly campaigning to make changes in these countries. Last summer Frank came to London with Save the Children to meet David Cameron at the Olympic Hunger Summit so that he could tell him this directly.
It's quite a different picture from the one painted in certain newspapers which would leave you thinking that aid programmes abroad are 100% staffed by Brits sipping on gin and tonics and enjoying a colonial lifestyle.
Personally, I'm determined to use social media to help Save the Children show the work that we are actually doing, and the success that it's having. For now, it's still partially the old story-telling model. Charlie McDonnell is still the Brit arriving to visit Frank and report back to his audience overseas. Soon though, we'll be in a position where Frank himself will be able to make his own YouTube videos.
After meeting Charlie and seeing his YouTube channel, we left Frank determined to set up his own. For now he's sticking to traditional media. Through Save the Children's young reporter scheme, he presents a radio show which goes out across Tanzania about the issues facing children there. Getting his show online and onto YouTube will be difficult at the moment - the only access he has to the internet is when he visits our offices - but cheap internet mobiles for use in developing countries will be on sale within the next year or two. I sincerely hope that within a few years, Frank will be bringing you his story of how aid helped him and how we must all work together to help others. For now, we thank Frank's new friend Charlie for helping him to do this.