An Indian tasting menu, matching both whisky and whisky cocktails with highly sophisticated cooking, is on offer at the Moti Mahal restaurant in London's Covent Garden.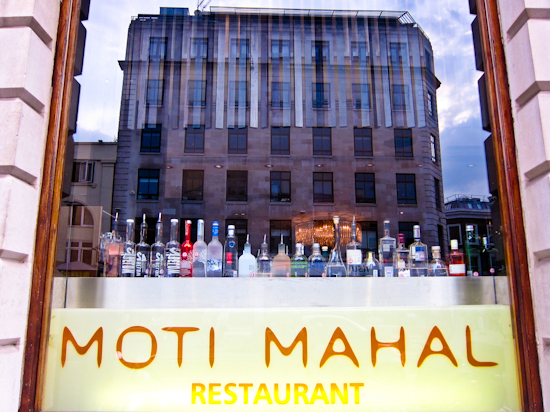 I have to say that initially I was quite dubious about the idea of whisky and Indian food but, once I got going, I realised that this was not the first time I'd tried the combination. In India, the beer is often cut with glycerine as a preservative, supposedly as a way to stop it going bad in the heat, but the upshot is that it's doesn't really taste very nice. When I was there, a couple of years ago, instead of beer, I used to order the local cheap whisky to accompany my evening dinner and I don't remember any ill effects.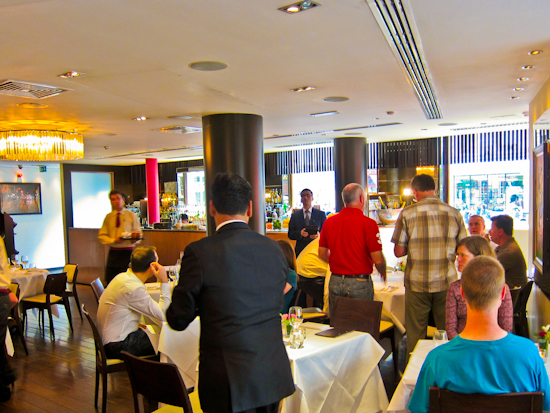 Moti Mahal is packed the night I'm there on probably one of the hottest nights of the year. My partner is slightly dubious about the whisky idea so orders a glass of Prosecco as an aperitif. Straight away a wooden platter with a couple of whole tomatoes, a red onion, cucumber, radishes, lettuce, green chillies and fresh coriander is plonked on our table. The waiter explains that we chop up what we want and add mustard oil and, whatever we choose, from a couple of mortars, one containing salt mixed with curry leaves and the other a spicy masala. This is a DIY appetiser but, unlike salads you normally get in Indian restaurants, this one is 100% fresh and we rather enjoy the hands-on experience.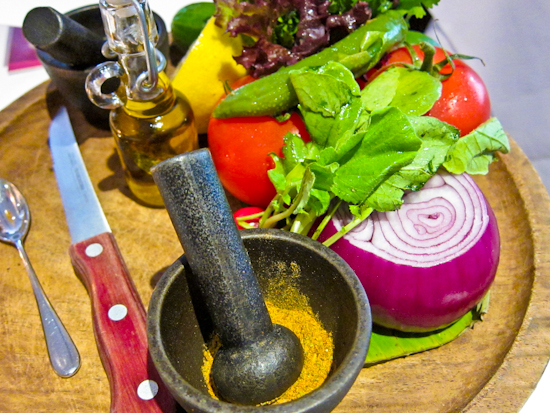 After this curtain raiser, the first of five courses arrives, Shorba, a chilled spicy tomato and watermelon soup, perfect on this warm evening. It's almost like an Indian Bloody Mary and is complemented by its matching cocktail, a Grand Trunk Road Sour. This is a variation on a normal whisky sour and consists of Cutty Sark Storm, spice-infused sugar syrup, lemon juice, Grand Trunk Road bitters and egg white. The crisp notes of citrus tone down the alcohol and perfectly offset the mild heat of the soup. There's also a cheddar naan, baked in the tandoor, but we're wary of filling up too soon, and I'm not convinced that British cheese works with Indian food.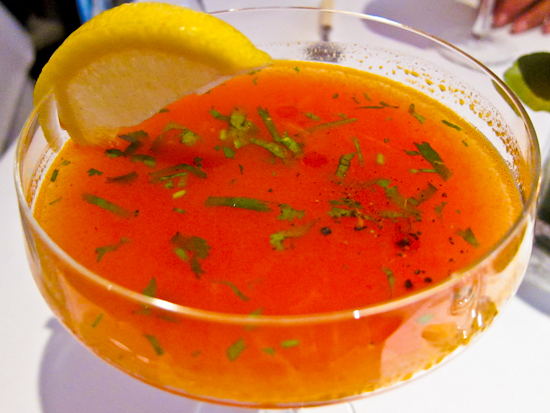 Next up is roe deer tikka served with grape chutney and a mint parantha flatbread on a piece of black slate. The chunks of venison are coated in dry spices and seared for seconds on both sides, just enough to seal but keeping them rare on the inside. They're deliciously tender, slightly gamey and the sweet and sour chutney is a good addition.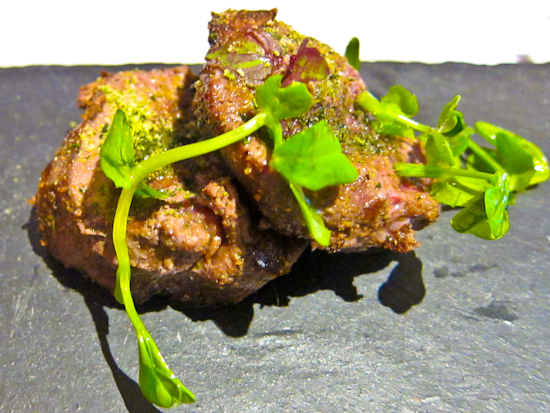 The matching cocktail is called a Hart Peat, a mix of Lagavulin Distillers Edition, blood orange juice, cherry brandy, vermouth, juniper bitters and bruised mint. Lagavulin is one of those peaty Islay malts and I think I might prefer it without the other ingredients, as the cocktail seems to battle with the meat.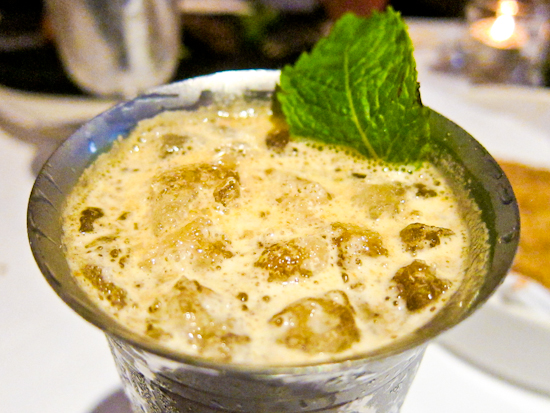 Now, fortunately, I can't say the same about the Sweet Valley Highball, a great summer drink: consisting of Penderyn Welsh whisky and dry vermouth combined with elderflower cordial and tonic water. This is a great foil for the Goan style king prawn Balchao, one of my favourite masala sauces, and as hot as it should be. Accompanying it are Sannas, steamed rice and vegetable cakes, and a coriander and walnut chutney and I'm beginning to think I'm back on the beach in Goa.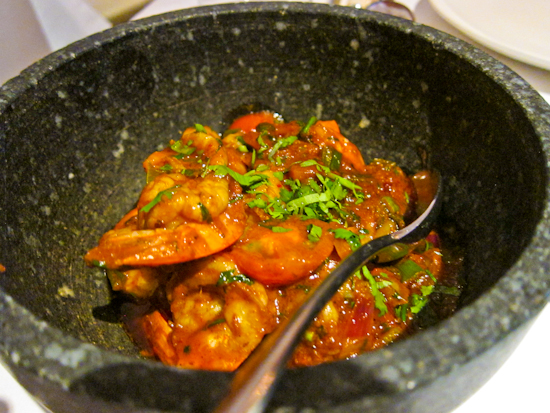 There's still one more savoury course to come and it's probably the triumph of the evening. It's wild mushroom biryani with a warm quail pickle, and pomegranate and date raita. Each of these three are special but I must single out the quail, cooked long and slow, in pickling spices and vinegar and punching way above its weight. The raita is almost a dessert, the slightly acid crunch of the pomegranate seeds offset by the sweetness of the dates and it's the perfect way to morph to the final course. The matching cocktail is a Cask Aged Old Fashioned New Yorker - Paul John single cask Indian whisky and an Old Fashioned barrel-aged whisky-steeped cherry, stirred over ice, almost straight whisky and none the worse for that.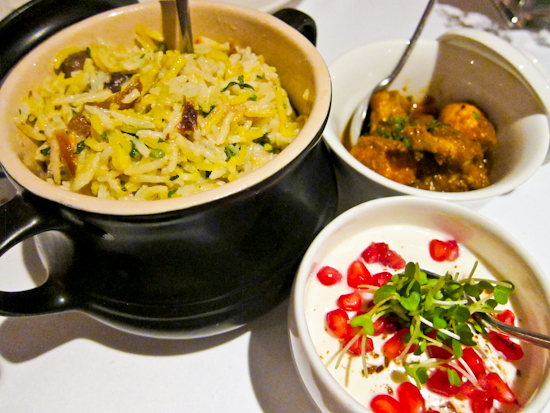 So finally to dessert - a welcome pair of two tone pistachio and macerated rose petal kulfi popsicles, with atomisers of Laphroaig 10 year old, and Nikka Coffey Grain, to spray on diferent layers of the kulfi. And if that's not enough there's the best bread pudding I've ever tasted, rich creamy and bursting with saffron and cardamom.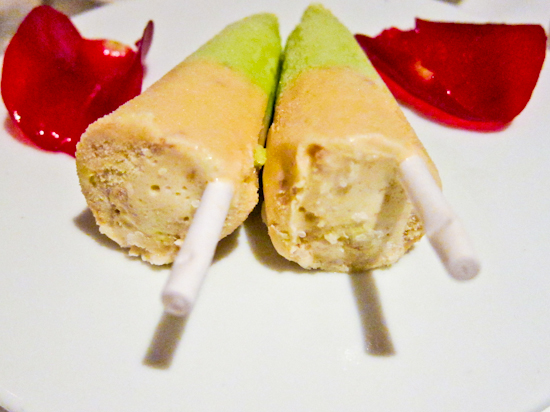 We realise the end is nigh when we get a tiny flask of Clynelish single malt, served on crushed ice, and a dash of cardamom-infused water. There's a slightly nagging feeling that we should have been drinking this all night, but then how would we be able to stagger home?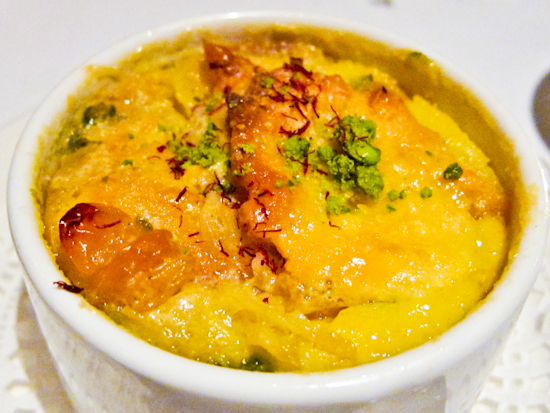 Anirudh Arora's cooking at Moti Mahal is of a very high standard indeed and, although I'm not sure that whisky will ever replace beer or wine as the beverage of choice, it's certainly an interesting experiment and one I would happily try again. Of course there are other menus on offer, including full a la carte and I would still encourage you to get along to his restaurant in Covent Garden to sample some of the best Indian food in London.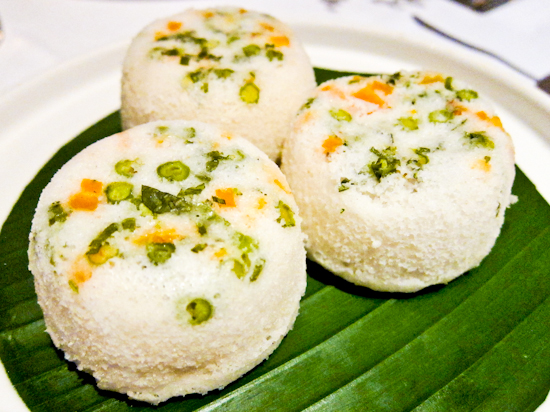 The five-course pairing menu costs £120 per person for food and matching whisky. Alternatively, dishes can be enjoyed individually off the a la carte menu with prices ranging from £11 to £25.
All pictures copyright Rupert Parker