For 13 years Madrid Fusion has been the most important event in the international gourmet calendar and 2015's theme was Travelling Cuisines, featuring chefs from Finland, the Philippines and China, as well as Spain.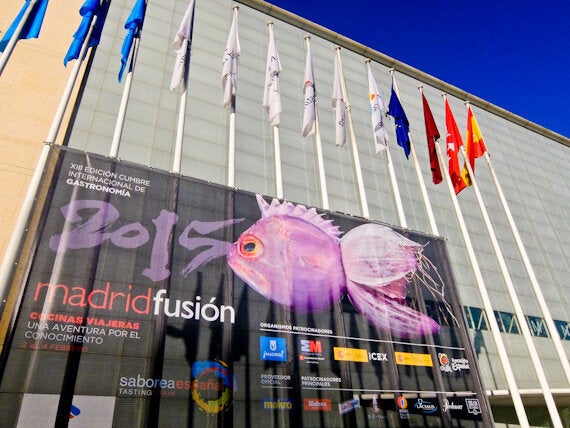 We've all heard of those grand Chinese banquets with innumerable courses including delicacies like sea slugs and bird's nests, but at Madrid Fusion this year I caught a glimpse of the future. Goods from China dominate our shops but my suspicion is that Chinese food is going to take over our restaurant menus - and I don't mean chop suey and egg fried rice.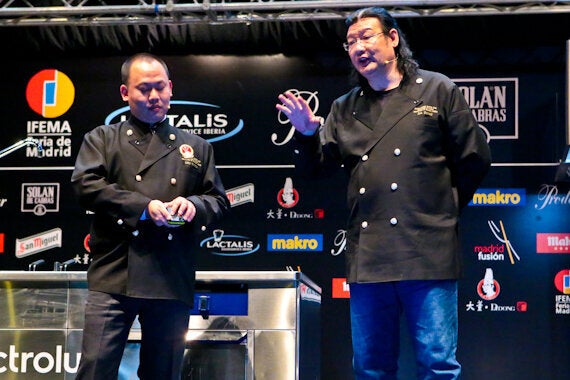 The undoubted star of the show was Zhenxiang Dong, a giant of the Chinese culinary scene, towering above everyone else at over six feet. He opened his first restaurant, Dadong, in Bejing in 1985, but now has an empire of over 5000 employees and countless outlets. Although he became famous for his Peking duck, he's now moulding a synthesis of Sichuan, Cantonese, Huaiyang and Shandong cooking to create what can only be called Chinese modernist cuisine. He says he uses elements from Western Art and Zen Aesthetics for visual inspiration but his flavours derive from different elements of Chinese regional dishes.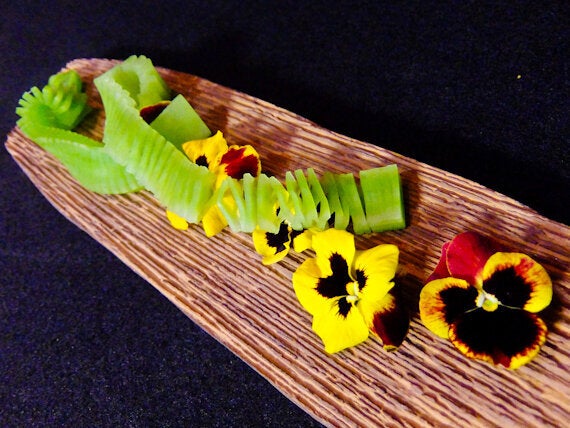 I had a taste of what he can offer at a seven course tasting dinner he cooked for over 100 people. He started with Shanghai crab and roe terrine, a signature dish made from hairy crabs, marinated whilst still alive in soy sauce, rice wine, mao-tai liqueur and Sichuan pepper. He detaches the roe and flesh from their bodies, mixes and freezes them in a mould, then serves them with small slices of avocado. This was as about as far from sweet and sour pork as I could imagine.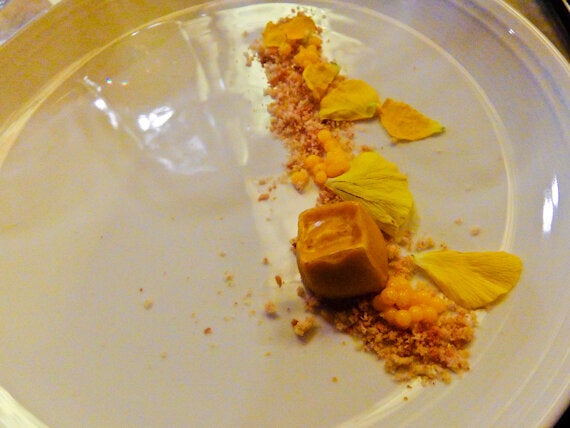 Other courses including black truffle and shredded bean curd with cuttlefish sauce, Wagu beef with Sichuan pepper, plus preserved vegetables, and lobster noodle with traditional Bejing Bean paste. There's an immense richness and variety in the products that are available in China, and it makes you realise that we in the West are dealing with a much smaller palate of flavours. For far too long, Chinese food has been seen as something you only find in takeaways but Mr Dong shows that it's gearing up for fine dining.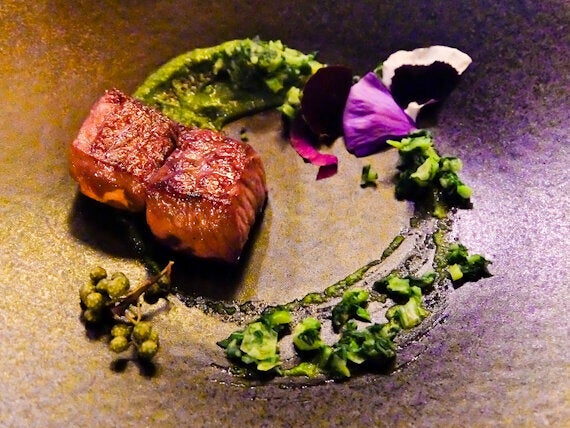 In previous years I witnessed a huge amount of tweezer and flower arranging, as chefs prepared their pictures on a plate, but in 2015 this was less evident. There was still room for the weird and wacky - live fish were brought on stage and Spanish chef Angel Leon demonstrated how he takes blood whilst keeping them alive. He uses this as in ingredient in his sauces in his Restaurante Aponiente, in Cadiz, and perhaps they can be labelled "no animals were harmed in the making of this sauce".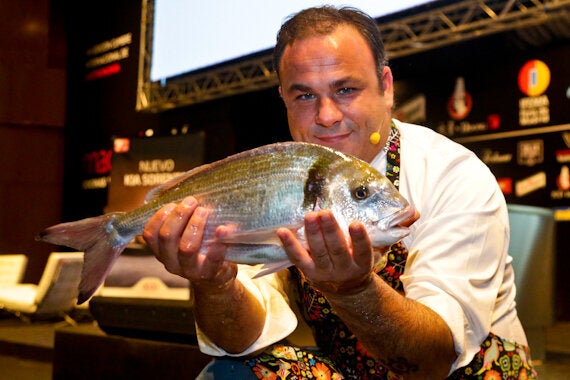 Tom Sellers, the only British chef here, with a distinguished CV which includes working with Noma's Rene Redzepi, cooks at Restaurant Story in London. He's interested in what he calls the "narrative" side of food and believes memory is stronger than palate. His signature dish is that old British favourite bread and dripping - although in this case the dripping is in the form of a candle made from beef fat. As it burns, of course it melts and you dunk pieces of his warm homemade sourdough bread in it. His take on bubble and squeak involves mashed Apache potatoes,with turnip halves, topped with small brassicas, in a small puddle of pitch-black coal oil.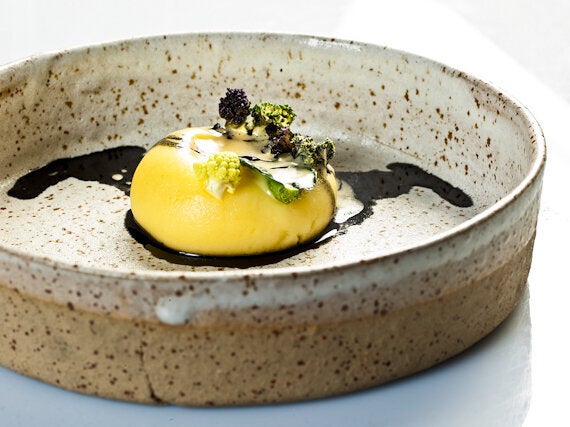 A couple of chefs from Finland pointed out that, although they see themselves as part of the new Nordic cuisine, there are differences. Finnish food has strong Eastern European influences and, because they're not on the Atlantic, there's little use of seafood. Filip Langhoff, from Helsinki's Ask, showed he was going back to his roots using carrots, beetroot, kohlrabi and Jerusalem artichokes, all organic.
He stores the veg in sand for the whole winter, and also preserves them in salt or vinegar. Unlike the Spanish he believes that you should be able to look at the plate and tell immediately what you're eating. I liked his starter of tartare of smoked reindeer heart served with turnip, onion and apple puree. His fellow Helsinki chef, Jari Vesivalo from Olo, also cooks with local ingredients and demonstrated his pine bark crumble with birch syrup dessert - a shame I didn't get a taste.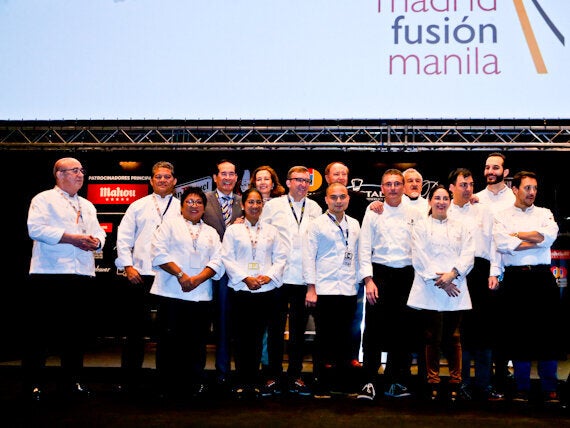 Finally there was also a large Filipino presence at the summit and Madrid Fusion is actually staging an Asian summit in Manila, at the end of April. There's 370 years of common history between Spain and the Philippines which, of course, has left its mark on the food. It's interesting that this is perhaps the reason why, unlike its Asian neighbours, it doesn't use chilli peppers. Instead vinegar, soy sauce and salt are major components, particularly in its signature Adobo dishes, but this style of cooking was around long before the Spanish arrived. The conference will explore these diverse influences, with discussions and demonstrations and should deliver a fascinating taste of Filipino food.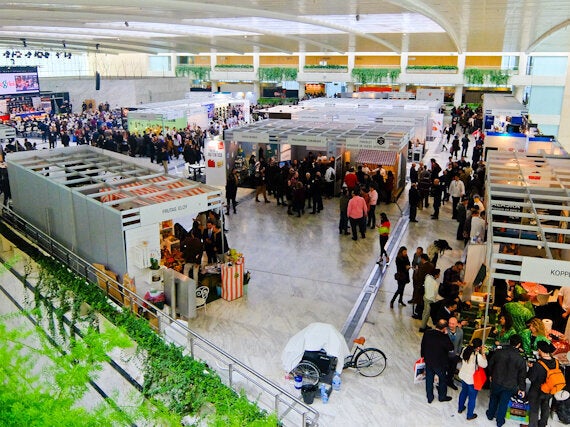 Madrid Fusion Manila will take place between 24 -26 April in the Philippines.
The 14th Edition of the Madrid Fusion International Gastronomy Summit will take place in early 2016 in Madrid, Spain.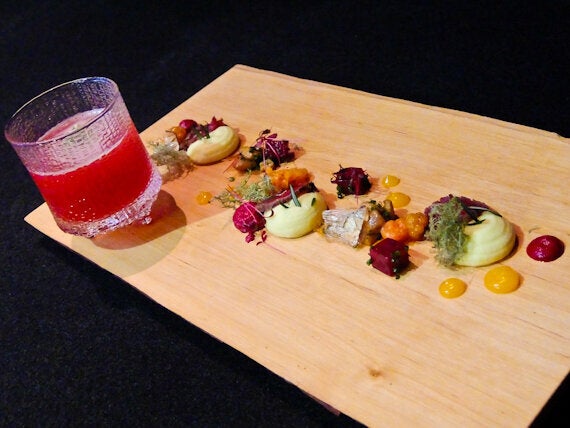 The Pullman Hotel is walking distance from the conference centre.
Click here for more information about Madrid.
Click here for tourist information about Spain.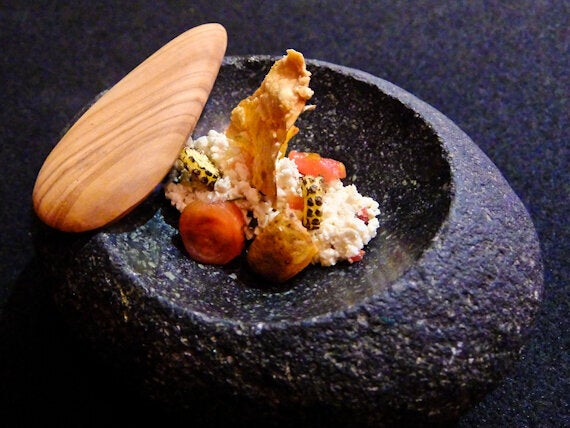 All pictures copyright Rupert Parker and Madrid Fusion.
Related