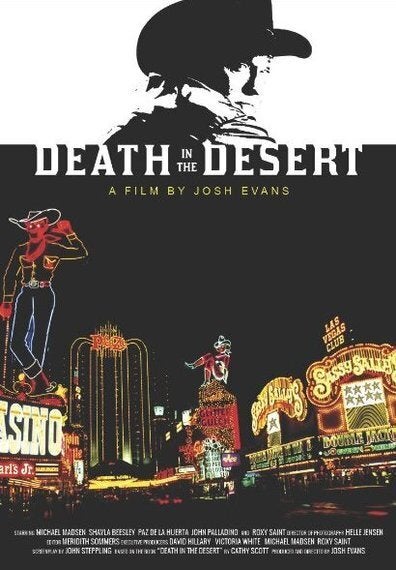 American filmmaker Josh Evans' new movie Death in the Desert is a classic. I was privileged to get an exclusive preview of this brand new film. The prolonged panoramic and panning landscape shots burn into your mind with the light and the dark and the shadows. The cast and the characters they play are captivating as is the dark and addictive story.
The film is based on the true crime book by Cathy Scott Death in the Desert: The True Story of Money, Murder and Mystery in Sin City about the death of Ted Binion (Ray Easler in the film). I was originally introduced to Josh Evans through Cathy Scott, a fellow writer, and interviewed him last year about his novella Gold Star. It was a pleasure to speak with him again, this time about his latest film.
"I was immediately drawn to the Death in the Desert story because Cathy Scott sent it to me and I know she's a hard-nosed, down-to-the-facts writer. And since legitimacy is what's important in true stories - although in this case it was bit of a hybrid - a carnal story works so great in cinema, a story about greed, lust and lost souls trying to make their dreams come true in a town as seductive but as vapid as Vegas. It was immediately a story I wanted to tackle," Josh told me.
Death in the Desert Trailer
Ray Easler is a legendary casino owner and a cocaine and heroin addict who falls-in-love or falls-to-abuse Kim Davis, a stripper. He steals Kim away from her working life and her flatmate and enmeshes with her in a dysfunctional relationship, which turns into a love triangle when Kim meets Matt Duvall, the man Ray hires to bury $20 million of his fortune deep in the Nevada desert.
Death in the Desert opens with a sparkling, red shoe spinning that also appears at the end of the film. I remember every Christmas watching The Wizard of Oz as a child and as a former heroin addict, I've so often thought 'stop the world I want to get off.' The unanswerable question of how Ray Easler died becomes less important as you see how he lived.
Like Michael Madsen, who plays Ray Easler, told me, "The whole thing will forever be in conjecture. I don't think anybody's ever going to really conclusively understand what happened. There's more than one answer. Everybody played a part in what happened to him, so I don't think there is a conclusive answer."
And he's right; when you live life in that way, death can come from many angles. "I think Ted was a product and a victim of Vegas. You have to have thick hide to make it there, to live and breathe there. The very nature of its existence is based on the hypothesis of gambling. It's a gamble to be there. To use a silly metaphor, it's all about the throw of the dice. For anybody who's there, at the end of the day, you better hope you throw snake eyes."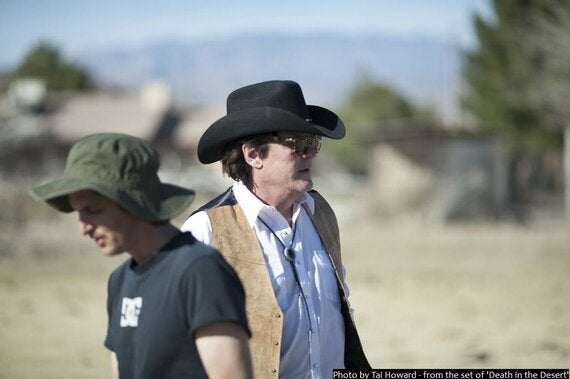 Filming finished in Las Vegas earlier this year, having shot during the month of February and into early March. Josh had been in Las Vegas since last August, preparing to film and getting to know the real Las Vegas. "Shooting was definitely an adventure," he told me. "Some locations fell through at the last minute, which always poses a challenge. But we were fortunate to find even better locations to replace them. The Grand Hotel and the Sapphire Gentlemen's Club were both last minute and now looking back, I can't imagine the film without them."
It was important for Josh to show an authentic side to the city - "one that hasn't always been shown in other Vegas movies I've seen," Josh told me, elaborating that Las Vegas is a definite character in the story. "The city of Vegas has so many aspects to it - there are relatively newly constructed suburbs, which I never knew about, and also downtown, which is on the rise and has an interesting metropolitan energy about it. In the desert, you would never expect such a diverse, artistic place. Besides all of that, there is this overwhelming sense of nature. It's as if Vegas is sitting in the middle of a crater, surrounded on all sides by mountains. When you combine these facets, it makes for an incredible setting to tell a story like this one. In a way, Vegas reminds me of what Los Angeles used to be - a place out in the middle of the desert where you can do whatever you want and no one will ever know about it."
I'm somewhat (under-exaggeration) of a fan of Michael Madsen with my favourite role of his being 'Mr Blonde' in Reservoir Dogs, one of my favourite films. I asked Michael what attracted him to the role of Ray Easler. He told me that he always responds to playing a character who actually lived, a story about something that actually happened. "I can only compare it to Donny Brasco, because I played Sonny Black and I wanted to tell his story. I felt the same about Ted Binion and was happy to play someone where the story's based on actual events." Michael describes Ray Easler's personality as "self-destructive" and he is certainly that. Michael explained that he is "curious sometimes about the reasons why people are so destructive." He said, "Through the process of making the picture, I eventually came to conclusions about Ted's reasons for self-destruction. I think it was a loneliness in not being able to measure up to the enormity of his father and realising he was always going to be compared to his dad, Benny."
Perhaps that 'not good enough' feeling is what drives Ray to abuse and ridicule Kim (played by Shayla Beesley), making her feel the same. As someone who has also been in the sex trade and experienced partner violence, not leaving those damaging relationships has oftentimes been due to a feeling that I didn't deserve better, which maybe Kim fostered too. Ray despises the men who ogled Kim when she was dancing, conveniently forgetting that he himself was once one of them. When Kim gets too close, he pulls away. His low self-worth won't let him belong anywhere that would accept him.
Only the Lonely is the perfect track for the film. Originally a song by The Motels, the cover version for the movie was produced and arranged by Chris Goss and Roxy Saint and performed by Roxy. As Josh says, "It captures the emotion of the film."
Only the Lonely Song Clip with Stills
So what's next on the cards for Michael? Something completely different as Monty Python would tell you. "Right now I'm doing a comedy for Ben Stiller for Comedy Central. I don't know if that's a good thing to leap to after doing a Vegas film. I'm going to Brazil to get my footprints in the concrete with Jacqueline Bisset. And I just finished a film in Istanbul about the occult. Las Vegas will put a person in a trance. I got really caught up in it. I didn't want to leave. It's a very strange cortex. I was out at the Red Rock Hotel and every morning I'd see Vegas out in the distance. It's almost like it shouldn't be there. But everybody in Vegas has always been friendly to me. I used to go there before they blew up the Sands, before they made major changes. I've always been treated well. There's no place like it on earth."
And what's next for the as yet unreleased film Death in the Desert? Josh Evans explained that, "This movie, because it's an independent film, was made with very little if not no interference. It was a complete collaboration with the DP (director of photography), editor and writer, and for the most part we were left alone. The price of that is now it's time to shop the film and find the best way to get this movie out to the public. I'm very excited to share it with people, because while it's not fun to live these lives that the movie is about, it is exciting to watch them acted out. To me, the movie is like a round-trip ticket to Vegas. You really get the experience -- the lust, greed and bright lights."
I expect Death in the Desert will be in cinemas in the UK soon as well as the US and globally, and I know it will be a story that stays with many of the millions of people who will see it.