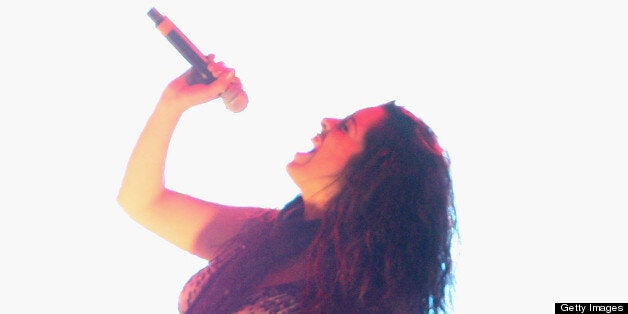 I moved to London from Spain in 2008 with no money, no contacts and no idea what I was doing with my life! A few weeks later I had got through to the first rounds of X Factor and the reality of what I had done was starting to become clear... With no UK residency, the panic was on to get an address and an ID so I could continue in the competition and follow my dream to be a singer.
Through the generosity of friends I made it through (by the skin of my teeth) and began a journey that some of you may have witnessed. My journey hasn't stopped and it is still proving to be quite the adventure. I now live in London and in just a few weeks, I will be releasing my debut UK single The Night. I am about to perform to huge crowds again, as I am appearing as part of the Celebrities on Ice UK arena tour, the live version of the ITV show Dancing on Ice.
The tour kicks off this weekend in Birmingham. We have had the final rehearsals at the NIA Arena itself - not quite the same as rehearsing in a little room with just a piano and a mirror... although it's a feeling I have had before. I know that as soon I am standing on that stage, my heart is going to be pounding like a drum. Exactly the sort of adrenalin rush I love. It has truly been a joy to have been asked to participate in this tour. I love the dresses! And the songs! And I get to sing my new single... it's called The Night and I wrote it a few months ago. It's been such a roller coaster. Meetings with the team who are putting on the show have gone on until the early hours of the morning. I can't deny that for the last few nights I have been dreaming that I was late for my stage call! I guess it just the excitement of knowing that the countdown has begun.
As an artist you go through different stages of your career, one that requires you to be on the road and under the limelight. The other one where you hide yourself for many months whilst you write music and prepare the new material that describes where you are, both musically and artistically. It's almost like bears when they hibernate - that first step into the light is quite blinding and you get quite fearful, but at the same time I can't wait to see the sunshine and to enjoy all the beauty that will be around. I am really excited at what there is to come... and with all of this there will of course be more song ideas and more sleepless nights!
We just did the photo shoot for the cover of the new single with the incredible Jason Joyce. I was so nervous, as he has photographed some of the biggest names in the industry like Adele and Rita Ora. But after our meeting, prior to the shoot, I knew it would go smoothly... he is a true gent. We had seven different shots and looks to do in just a few hours. The team was insanely 'on it' and I got to wear some really beautiful and artistic creations from Dolce & Gabbana to Vivienne Westwood... some of my favourites. I always have to give the final touch of eye make-up as I am quite particular and OCD about my mascara and eye liner. We had no time to eat so it was beetroot, ginger and lemon juice on the go. The result? Grab the papers this weekend and tell me what you think?
The Night by Ruth Lorenzo is out on June 15. Ruth will be singing her new single and her now legendary rendition of Prince's Purple Rain on Celebrities on Ice from this weekend in Birmingham (19-21 April), then Cardiff (26-28 April), Glasgow (3-5 May), Carlisle (10-12 May), Manchester (17-19 May), Newcastle (24-26 May), Scarborough (31-1 June), Northampton (7-9 June), and Bournemouth (13-15 June).
Related