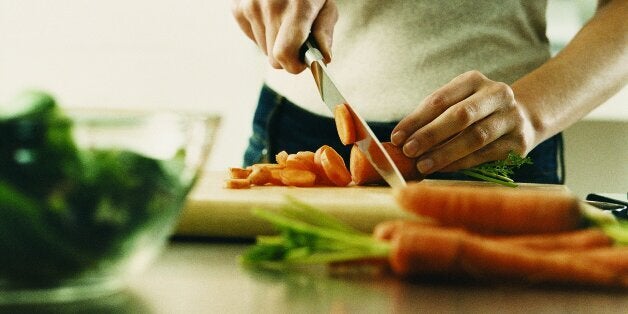 Last Christmas was the first time I had volunteered with Crisis. It was the perfect opportunity to volunteer, as I found myself alone in London during the festive period with my family already gone on holiday.
Working with food, it was natural for me to choose the kitchen roles and so I signed up to do four cooking sessions in the North London Centre from Christmas Eve through to Boxing Day.
Many people give their time to help the homeless during the Christmas period. The great thing about volunteering with Crisis is that they are a non-religious charity, which brings together people from different backgrounds and ethnicities all wishing to make a difference to those less fortunate especially at this time of year.
Feeding 300 people, plus 100 volunteers, three times a day for ten days, isn't a simple task. Food donations (some of surplus food) lined up the dance studio in the college where we were based. Lead chefs, a little like in the invention test on Masterchef, would make up the menu from the produce available. I was in charge of preparing the vegetarian dishes that, despite the many cooks, few volunteered to make.
I met Eric, a young Malaysian studying in London, on my first shift. He was helpful, fast and efficient but I remember him most for creating beautiful boxes out of tin foil for people to be able to take leftovers with them to avoid food waste.
He was there again on Christmas Day. Around us, tens of turkeys were being roasted, potatoes peeled and veg prepared. I asked him if he would be willing to help me make the vegetarian dish. Ambitiously, I decided to make vegetable pies. It may sound like a simple task but we needed to make a hundred portions. That meant making a very big quantity of pastry to roll out without rolling pins to cover four industrial sized baking trays full of vegetables. We had fun choosing the ingredients to cook - selecting from the many crates of produce lining the dance hall. "Can you make me a vegetable gravy?" I asked him. Initially he wasn't keen to be solely responsible for it but, with a bit of encouraging, ended up doing a great job. I then decided I would like to cook with him again.
We knew we did well when non-vegetarian people came back for seconds of pies after eating their turkey meals.
At the end of the evening I gave Eric my card and told him it would be great if he would come to one of the monthly supper clubs Eat Club runs not far away from the college. I also suggested he could lead one of the supper clubs teaching us how to cook Malaysian food. That again took a bit of encouraging but after several chats to his mum in Malaysia he managed to put together an exciting menu for an event.
Our Malaysian supper club was a sell-out. The food was tasty, different and very pretty. The evening was also a great success due to the charm and charisma of our session leader. Eric is now back in Malaysia starting his career and I'm sure he will do well.
We recently ran another supper club celebrating festive Greek food with a young Greek architect I met at an event about food waste. Another young person keen to cook and share great food.
It was great to come across all these young people looking to make a difference through food and cooking. With a new year on the way, I hope for more such great meetings...
HuffPost UK is running a fortnight-long focus around helping others this Christmas. Giving Back will shine a light on the organisations and individuals making a difference in their community, tackling issues such as loneliness, homelessness, food waste and financial struggle. We'd also love to hear your stories.
To blog for Giving Back, email ukblogteam@huffingtonpost.com. To keep up to date with our features and find tips on how you can make a difference this Christmas, follow the hashtag #GivingBack.
Related