Roll neck, polo neck, turtle neck sweater - call it what you will, this classic sleek staple isn't going anywhere. Understated but bold, a black roll neck (my choice of name) is a winter style go to for any body shape.
I find the V neck hard work; it either sits too high on my chest resulting in a slightly butch look, or way too low with cold hard cleavage in your face, neither of these are an issue for the versatile roll neck. It simply caresses your body in all the right places, elongating the neck while gently nipping at your waist - no wonder Marilyn Monroe adored them. Her breathtaking curves were every bit as alluring in a fitted jet black roll neck teamed with Capri pants, as they were wrapped in satin dresses. The roll neck defined her shape beautifully and without revealing an ounce of flesh, was totally captivating.
Being an hourglass lady myself, I need to be surgically removed from my roll neck between November to February. Like Marilyn they give me an eye watering rack, dainty waist, and blonde hair sits in striking contrast against the deep black of the neck, like keys on a piano, they are perfect partners. The styling possibilities with this chameleon of a piece are endless and will suit everyone. For casual but savvy days, team a loose fitting jumper with super skinny black jeans, or make like any off duty model and go hell for leather, pants; the balance is perfect. For the office, tuck a thin ribbed or gorgeous cashmere number into a black leather skirt - any style: pencil, mini, and full body 50's style midi, the effect is striking and effortless, " Oh this? Just something I threw on." Smug style on a Monday morning? Check. For a playful modern twist on the Sixties look, place one underneath a pinafore dress be it denim, pleather, a shocking red or winter floral print and resurrect Twiggy once again.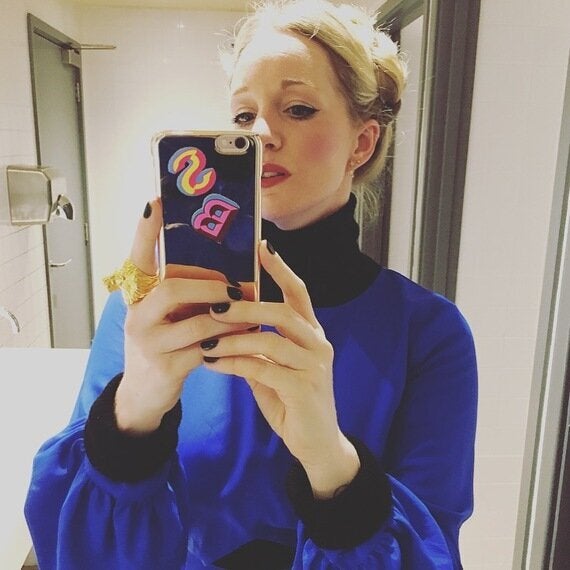 Making a summer dress a winter win; add that roll neck.
I always love Laura Bailey's take on the roll neck. Her usual whimsical eclectic mix of pastels, delicate prints, and flashes of gold flecks stand out in pretty feminine defiance against the black roll neck she places underneath, a perfect combination of soft and hard. And let's not forgot another timeless partner for the black wonder: a black biker jacket. Possibly the perfect match of cool, the roll neck and biker belong together like Miley Cyrus and licking something.
It's not just curve bombs that suit the black stuff either, slender and boyish figures also fair favourably when scooped into this blanket of chic. Another devotee was of course the timeless beauty, Audrey Hepburn. Her elfin features and delicate frame were a visual gift to us all, but when dressed in black her striking elegance and beauty were simply unforgettable.
Another trick, and a personal zero effort, maximum style impact of mine is to wear a fabulous massive furry faux coat over an all black ensemble. I rocked this look day in day out in New York this spring and even got papped. I was wearing a classic slim fit roll neck, black leggings, and nondescript ankle boots - nothing groundbreaking about that, but the black against my deep red cookie monster like coat, had Manhattan hooked on British Style. Any colour fur will blend perfectly with black as a canvas: pastel pink, mint green; once you go black, you'll never look back.