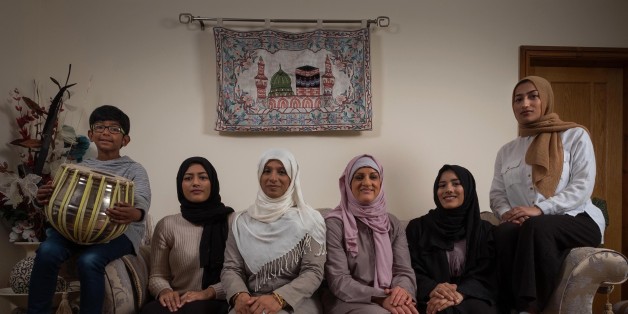 Channel 4
I inadvertently became involved as a participant in My Week As A Muslim, whilst actually trying to help researchers find a suitable family! I was very reluctant to participate, as I believed that I might be misrepresented or scenes edited out of context.
The final decision took me about a month and I performed a Muslim prayer known as 'Istikaarah' whereby I asked God for guidance. I spoke to other Muslims who had recently filmed in programmes made by the Executive Producer Fozia Khan, and they reassured me they were not mispresented.
The key researcher Mahi dealt with us very sensitively and professionally, ensuring that I was never pressurised into making any decisions. These combined factors persuaded me to go ahead and attempt to act as an ambassador for my community. I also realised that this might provide a golden opportunity to highlight positive aspects of Muslim communities that are generally understated as well as exploring prejudice within our society.
I was given very limited information about Katie until she arrived at my home and did not even know her name. I was aware she had some negative perceptions and opinions about Muslims, but when I initially met her she did not come across as a malicious person and she was very pleasant with a smile on her face. We began the filming the day before the atrocious Manchester Arena attack and Katie and I watched the shocking footage together. At that point Katie had mixed feelings about whether she should continue. We had a discussion and we both felt that we should not let terrorism defeat us and stop us in our tracks. Katie was worried that she might become a target dressed as a Muslim woman which was an important realisation. I explained that my attire is part of my identity and I must carry on in the outside world carrying this fear. We both decided to continue with the further five days of filming.
The programme made me realise that there are genuinely decent people out there who lack the opportunity to engage with the Muslim community. Thus their opinions are based on the commonplace demonisation of Muslims, which is generally perpetuated by the media. Katie was willing to learn about the environment she was immersed within and therefore changed many of her former negative opinions. I also believe that in order to break down barriers, engagement is a two way street between communities. We did not agree about everything but it is not necessary to calibrate our opinions and we can amicably agree to disagree. However it is important not to judge a book by its cover.
Finally, following the release of the trailer the very positive message emerging from this film has been overshadowed, albeit commenters have not yet viewed the film. Katie's transformation was a disguise, using cosmetics so she was unrecognisable within her own community. This also afforded Katie an immersive experience so she could blend within the predominantly Pakistani Muslim community that she was introduced to. Katie's prosthetic nose was not synonymous with any particular nose type and regular teeth and contacts were also used to enhance her disguise.
Indeed, there is an extremely legitimate historical critique of 'black facing' but Katie's makeover was never conducted in a disparaging manner and it certainly was not to mock any ethnic group nor was it for entertainment purposes or to create a caricature. I am confident that once viewers go on the journey with Katie and me, they will appreciate that this authentic experience assisted Katie to conquer her ignorance and fears about Muslims.
My Week As A Muslim is on Channel 4 on Monday 23 October at 9pm.