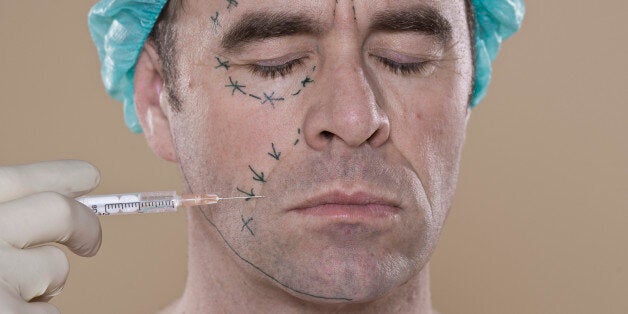 A report from the British Association of Aesthetic Plastic Surgeons (BAAPS) indicated that 4,614 men underwent cosmetic procedures in 2015. Though they accounted for a minority of cosmetic surgery operations in the UK (51,000), the number of men choosing to go under the knife has nearly doubled since 2005.
As so-called 'daddy makeovers' continue to rise, the word from surgeons suggests this may be nudged by the decline of the hipster. The once popular bushy-bearded 'hyper-masculine' (or 'lumbersexual') aesthetic is falling out of favour, replaced by the more sleek and sculpted adonis that graces the covers of men's fashion magazines.
The age of unapologetic male beauty
There's no doubt that in 2016, men of all ages are taking care of their physical appearance more than ever before. Just a few years ago, the tabloids revelled in the sensation of a number of high-profile male celebs undergoing hair transplant procedures, condemning the 'metrosexual male' for splashing out on expensive beauty products. Now, as terms like 'manscaping', 'Bro-tox' and the 'Menaissance' come into the mainstream, what changes can we see in the landscape of male cosmetic surgery?
Male grooming businesses are now promoting a whole range of clinic-based procedures from wrinkle reduction and dermal fillers to teeth grinding. Leading men's mag GQ also checked in with a piece on how to cheat age in the age of bro-tox. Quoting Dr Michael Edelman, a leading Manhattan dermatologist, the article suggests we might now be in the Age of Unapologetic Male Beauty, and the once outlandish procedure or feminising frivolity is now becoming more of a routine upkeep.
Plastic vs cosmetic surgery
The procedures, techniques, and principles of cosmetic surgery are entirely focused on enhancing a patient's appearance - improving aesthetic appeal, symmetry, and proportion are the key goals. Plastic surgery, by contrast, is intended to correct dysfunctional areas of the body and is more reconstructive in nature. These procedures range anywhere from septoplasty - the procedure to repair a deviated septum - to skin tightening procedures that follow weight loss surgery (up an estimated 20% in males this year so far).
Orthopedic surgeries can serve both a cosmetic and medical function too. Dr Guichet is the pioneer of a leg-lengthening technology known as the Guichet Nail. By surgically implanting a metal rod, patients are able to increase their height and relieve disabilities associated with congenital short stature and malalignments. Thanks to the association of height with masculinity, such surgeries have been popular with men all around the world.
So what type of surgeries are men having?
Despite a boom in male surgery over the past decade, the men of 2014 largely eschewed cosmetic enhancements - possibly influenced by the preference for the more rugged, facial hair-sporting look - with male figures decreasing by 15% overall. Nose jobs, which were previously the most popular procedure for men, plummeted by as much as 30% and all male procedures, in fact, took a tumble.
Now, theory goes that as men ditched the facial hair and oversized checked shirts, they may have uncovered forgotten-about double chins and 'dad bod' bellies. That's fueled an epic 20% rise in male liposuction and a 13% jump in 'man boob' reductions in a single year. In 2016, men also underwent substantially more facial procedures, with face/neck lifts and rhinoplasty climbing 14%, and brow lifts surging by 15.5%. Among ageing men, reports show blepharoplasty (eyelid surgery) is the most common procedure, as well as removing the turkey neck (loose skin under the chin) - two procedures intended to make us look younger.
So there's a new advent in the landscape of male cosmetic surgery, but will the pursuit of perfection stop there? Perhaps not. As the New York Post reports, male cosmetic surgery may be moving further south, as men are being drawn to a new form of cosmetic surgery that truly takes balls: botoxing scrotums.
HuffPost UK is running a month-long focus around men to highlight the pressures they face around identity and to raise awareness of the epidemic of suicide. To address some of the issues at hand, Building Modern Men presents a snapshot of life for men, the difficulty in expressing emotion, the challenges of speaking out, as well as kick starting conversations around male body image, LGBT identity, male friendship and mental health.
To blog for Building Modern Men, email ukblogteam@huffingtonpost.com. If you would like to read our features focused around men, click here