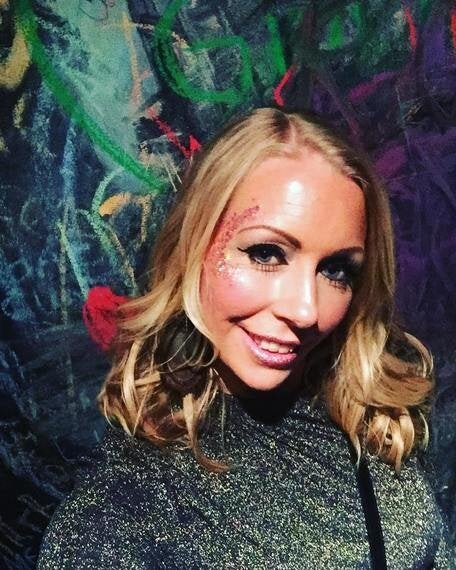 I love to party - the whole process of pondering which outfit to wear for weeks in advance, which accessories; perhaps buying a blingy new pair of heels, selecting false eyelashes and face glitter whilst out shopping, head tilted as I cradle my iPhone on one shoulder, chattering away to my mates as we come up with a group game plan for the forthcoming shindig.
I love clubbing; I pride myself on the fact that there's barely a cool club in London I've not frequented and had never been turned away by a clipboard-bearing Door Diva...until of course I went happily trotting up to the red ropes of the Mummy Club, beaming away expectantly, eager to come in and join the fun.
The glamorous young MILF on the door took one look at me - looked through me into the depths of my empty barren womb - and promptly declared: "You're not on the guest list...you can't come in," before turning on her stiletto heels and dismissing me with a flick of her wrist. Oh. Never one to be beaten down so easily, I had several attempts at IVF before returning to the Mum Club once more. Again, I was turned away. "Your name's not down, you're not coming in..."
"Not even with a mate who's a member?" I begged, my dignity rapidly being replaced with desperation. "I'm not expecting a freebie, or even concessions, I'll pay full whack" I whined.
"Uh uh," replied the door staff sternly - all the commotion attracting quite a crowd of Mum Club regulars; members who were by now regarding me suspiciously through narrowed eyes. Who was this Non-Mum imposter, attempting to infiltrate the Mummy Club? What was she doing here?
Crestfallen, I slunk off homewards, yanking off my false eyelashes as I blinked back tears; scrubbing off my Glitterlips on the tube. I was devastated to be turned away. I vowed not to be beaten...
Years later, feeling strong and positive once more, I made a conscious decision not to let the whole experience of being turned away from the Mum Club continue to get me down. I had a lightbulb moment - an idea so obvious that I instantly wondered why I'd not come up with it sooner: I'd open my own club.
This club would be exclusively for women who'd also been turned away at the entrance to the Mummy Club; those who had done everything they could think of to be allowed entry: eating the right foods, hanging around with mums, trying to look like a mum even, before turning to fertility treatment as a last resort - but for whom the doors to the club remained resolutely closed. Then I decided to open the door a bit wider: to allow other women into the club, ones for whom The Mummy Club was never an attractive venue, but who would like to hang out with other Non-Mums anyway.
My club? The Non-Mum Network.
It may just be a virtual club at the moment - picture a chic and bijou little members-only establishment: expensive but comfy oxblood leather sofas; soft lighting; free-flowing cocktails being served by hot bartenders; an achingly hip DJ spinning tunes in an alcove - low-level at first before ramping up to fever pitch as we all get relaxed and tipsy, confiding in one another in the chill-out area. Who knows, one day I might have a real life Non-Mum Network venue - a physical place for childless/childfree women like me to meet other women for lunch or workshops. I'm dreaming big.
If you've also been denied entry to the Mum Club, the one club you most wanted to get into, whilst everyone around you is breezing into it just by flashing a wristband, fear not. Search on Facebook for the Non-Mum Network under 'groups' or just click here to go straight to it. It's a closed group so everything said in there is for members' eyes only. I've also got a Non-Mum Network public page.
So if you're not a member of the Mummy Club, come and join us instead. We've got bouncers on the door to keep the mums out, just in case a few try to slip in under the rope, as I did with their club. You need never feel alone as a Non-Mum again...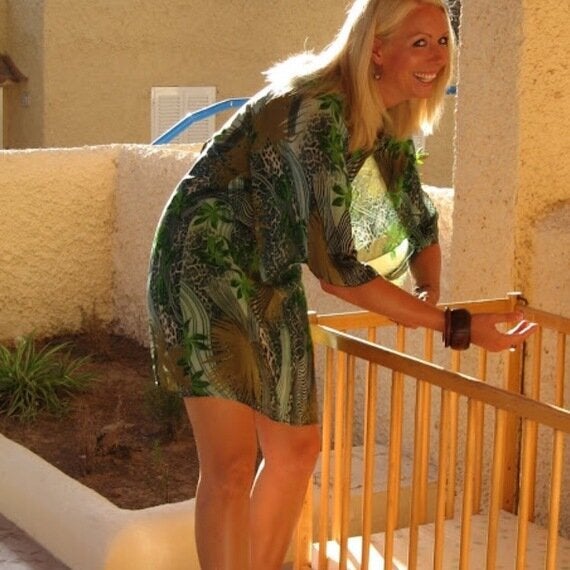 Ibiza 2006: smiling with my imaginary baby (I didn't realise at this point my Non-Mum status was permanent)
Facebook: Samantha Jane Walsh
Instagram: wanderingblonde76