As a nine-year-old in 1998, Catholicism was an unwanted but integral part of growing up. My family weren't (and aren't) strict Catholics but thought it traditional and prudent to set me in good stead prior to my teenage years. Sunday mass, altar boy duties and attending a Roman Catholic primary school made the commitment an unavoidable chore and unlike Homer, I was dismissed when making a stand.
It was at that age I discovered through the official Manchester United magazine the legacy of the 1958 Munich air disaster. I was vaguely aware of it - chiefly through the 93-94 United season review video which reflected on the passing of Sir Matt Busby - but despite being a walking United almanac I was not well versed in it. That swiftly changed and suddenly I was able to reel off the names Byrne, Whelan, Pegg, Colman, Bent, Jones, Taylor and Edwards.
A United nut since 1995, I had been to Old Trafford twice already but the awe of the ground did not fully register until 7 February 1998, the day after the 40th anniversary. United faced Bolton Wanderers, and as that week's Match magazine indicated, the game would kick-off at the unusual time of 3.15pm to allow the club the opportunity to pay its respects to the 23 who died.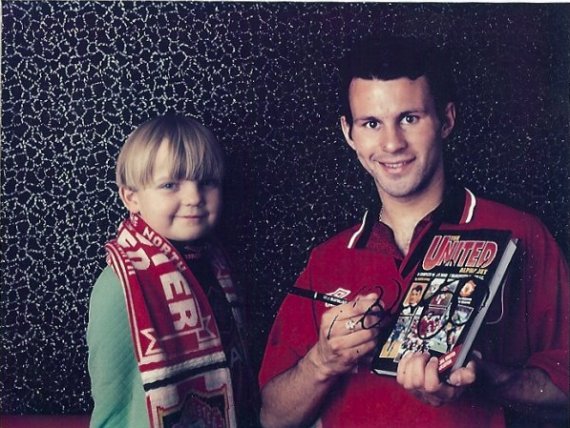 Curtains: a souvenir from the author's first trip to Old Trafford, February 1996
As the game loomed the magnitude of what happened four decades previously intensified. When Eric Cantona retired the previous summer it felt like a family member had died, but 39 years previously eight footballers of the back-to-back English champions and European Cup semi-finalists had perished in the snow. Eerily, later on in the 1997-98 season Leeds United's plane crash-landed at Stansted Airport as Captain John Hackett averted another tragedy. One of the great 'what ifs', mercifully English football was spared another disaster.
On the morning of the Bolton game the media was concerned about the possibility of the away supporters ruining the minute's silence. Despicably, Leeds fans disrupted a minute's silence for Busby during their televised match with Blackburn four years earlier while Bolton fans had a penchant for chanting Munich slurs. What happened on 6 February 1958, it transpired, could also be used as a stick to beat your club with.
My birthday was the day after the Bolton game and I won the coach's £20 lucky dip on the journey up but I was quietly melancholic. The level of excitement on my two previous trips to Old Trafford surpassed meeting Mickey Mouse in Florida aged six but understanding what happened in Munich and the indelible mark it left on the fabric of the club wore heavily.
The atmosphere at Old Trafford was also heavy. The usual pre-match rancour had been downgraded to quiet reflection and it wasn't because of Tony Cottee's recent winner for Leicester at the ground. My mum and dad had taken me on a tour of the stadium two years earlier - probably my first (vague) educational foray into what Munich represented - so we returned to the Munich clock, this time surrounded by emotional supporters.
Inside the ground it was as sombre as it was sobering. The previous day United's players had attended a memorial service at Manchester Cathedral and a 23-year-old Gary Neville would later remark how emotional it was watching Duncan Edwards' mother light a candle for her son. On a dispassionate and professional level, it was destined to count against the starting XI.
Come the tributes, Sir Bobby Charlton was flanked by Bolton's great striker Nat Lofthouse. Even at nine I had developed a puerile hatred for Lofthouse on the basis of his goal in the '58 Cup final when he poleaxed Harry Gregg. The 'hatred' had turned to 'respect'.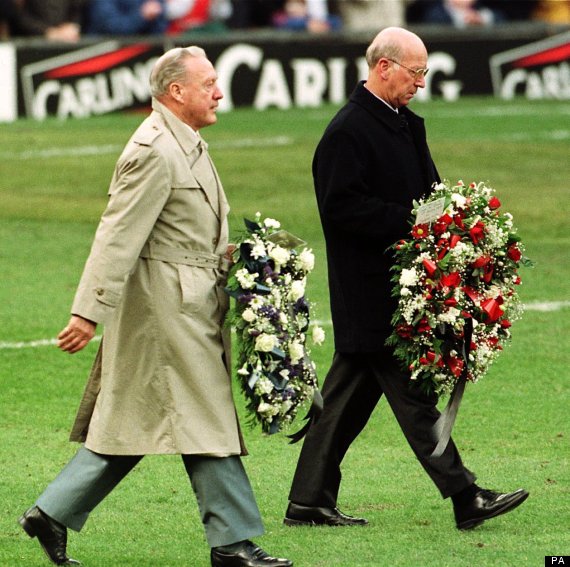 Charlton and Lofthouse carry wreathes to the centre circle
And it was during the minute's silence that something seminal happened. Football as a religion can be a tiresome and hackneyed metaphor but I felt more of a belonging to my club in those 60 seconds than I had than to my 'belief' during dozens of mass services. It could have been so different had my mum, an Arsenal fan until my seven-year-old self became upset at her celebrating a Dennis Bergkamp winner against United (cruelty worthy of an NSPCC phone call), been more forceful. As great a club as Arsenal is, they do not stir you like United.
The result was inconsequential. United had lost two successive league games and were on the cusp of a third defeat before Andy Cole intervened with a late leveller, but the experience of 7 February 1998 was invaluable as a United supporter. It cemented a lifelong commitment.
Ten years on, my dad and I attended the commemorations for the 50th anniversary as United faced Manchester City. The club had since changed for the worse thanks to the Glazers' 2005 takeover and the rampant commercialism which has infested football, yet Munich reminded the loyalists that in spite of the jester hat-wearing, camera-phone-wielding half-and-half scarf clowns a proper football club lives on.
That afternoon there were echoes of the tribute to Busby in 1994 as a lone piper emerged playing 'We'll Never Die'. United's unique homage was wearing a replica of the Busby Babes' kit, which was an emotive sight for a 20-year-old let alone those who saw the Babes in person. Again there were fears the minute's silence would be disrupted by the visiting section but again it was well observed as a sea of scarves emerged to give Old Trafford's theatre a dream-like quality.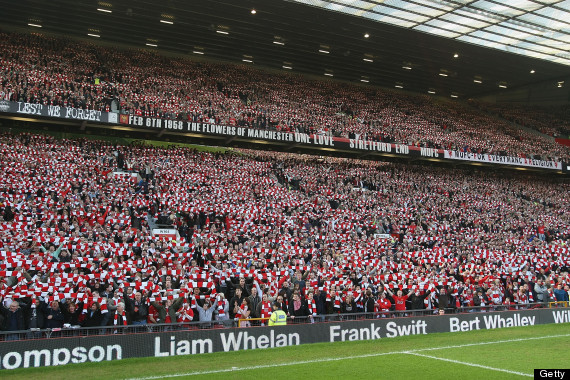 United supporters display their commemorative scarves
United disastrously froze to deliver one of the most infuriating displays seen by any supporter of any age. Munich was supposed to inspire the players rather than deter them. Perhaps it is an unfair observation but after the ground grieved Busby in '94, Cantona showcased a magical eulogy.
Aptly though United would go on to win their third European Cup 50 years after Munich and 40 years after the Old Man's special night at Wembley. Long since a poor Catholic, in Moscow I was reduced to prayer as John Terry stepped up and God, disapproving of a serial sinner, played his part. It turned out the chore was worth it.