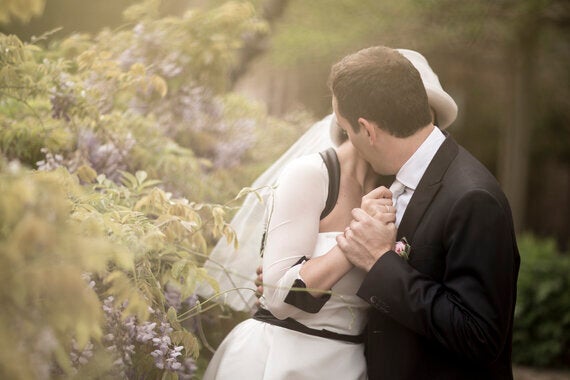 Last September I asked the love of my life to be my wife. She said yes, and so began a year long exponential learning curve.
Let me get one thing out of the way first. I can't wait to be married, I can't wait to be a husband, to have wife and to spend my life with the one I love...but getting married is a bloody nightmare!
Everyone tells me that once the day comes it'll be amazing and all the stress (and money spent) will be worth it but we're now eight weeks before the wedding and the list of things we've yet to organise is still huge (and growing).
We decided that we didn't want the standard hotel wedding where you pay for a package and it's all organised for you, we thought "Yeah, we're creative types, we could totally design and organise our wedding from scratch"...oh how I look back on the young, naive, newly engaged fools we were with pity.
The first thing you learn when you are planning a wedding is that everything costs double what you thought it would cost. The average UK wedding, not including honeymoon and rings, currently costs £21,000...I'll let you mull that over for a second... That's including the millionaires that have unlimited funds and the elopers who tie the knot for next to nothing. Here are some things you could buy for £21,000.
1. A brand new BMW 1 series sports hatch
2. A 10% deposit on the average UK house
4. A three year degree (average UK tuition fees)
5. A top of the range BMW K1600 Motorbike (this one hurts the most)
I could go on but it would make too depressed to do so.
When you mention the word "wedding" to suppliers, their eyes widen, they rub their palms together and I can hear a till in the background going "Kerching!". It's just the way it works unfortunately, while couples are willing to pay a premium to make their day perfect, suppliers will continue to charge what they know people will pay.
And it's not all about the money. We decided to "dry hire" a venue, which means you hire the empty shell of the venue and supply everything yourself. That means caterers, band, bar staff, alcohol, soft drinks, cutlery, crockery, table linen, decorations, flowers, candles, dance floor, P.A system...even as i'm writing this blog I'm thinking of more things to add...the list goes on.
Planning a wedding should not be undertaken lightly. Most of us will never have planned anything so complex in our lives, and I have huge respect for event planners and wedding planners who do it every day. I had no idea how hard it would be.
However, there is good news. I have come out of this process with a nugget of advice, a tiny piece of knowledge that we discovered the hard way and I'm passing it on to you...gratis.
THIS IS YOUR WEDDING DAY!
Don't do anything just because you think it is expected of you, don't do anything for the sake of someone else, don't invite anyone just because you feel like you should. Lots of people will offer help and advice which is greatly appreciated, but ultimately it's up to the two of you to get everything sorted, You are the only people who can make final decisions. Your wedding day should be about you as a couple and it should reflect your personalities. It's so easy to get carried away with how your wedding should look and what you should have when you compare it to others that you've been to and to those in the wedding magazines. Every now and again, step back and remember why you're drowning in paper work and bills. It's all about sharing your day with the ones you love...nothing more, nothing less. And what better way to start married life than with a huge party?!
Good Luck and see you on the other side.