London property prices are now rising at such a speedy rate, people are reportedly taking on longer commutes and buying houses in towns such as Colchester and Wellingborough. Spend more time travelling to work and you can make a saving of up to £380,000, according to research by Lloyds Bank.
However, before you forsake inner city, high-cost convenience for space and a mortgage you can afford, it's worth considering what it's actually like to do a daily commute.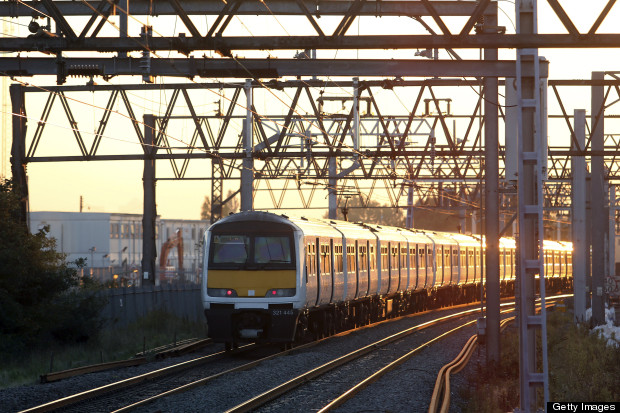 I travelled from Ipswich to London, Monday to Friday, for 18 months between 2011 and 2013. On paper, it seemed completely doable - an hour or so each way is nothing! But in practice, it was a nightmare that left me angry, depressed and broke.
Here are five things to expect from commuting before you chuck it all in for a reasonably priced house in the country (ish)...
1. Expense. Yes, your house is cheaper, but your monthly travel costs? Extortionate. Rail season passes are the most overpriced way to travel since Ryanair started trading (it's just never the deal it seems to be, right?). You're talking hundreds every month - my Abellio Greater Anglia pass wasn't far off £700. And it goes up every year - not that you'll see any improvement in service, time-keeping or cleanliness to justify the increase. Get used to giving a whole load of cash to a business that basically hates you.
2. Standing. So, you've forked out hundreds for a season pass. Now prepare to stand for at least two hours everyday, because paying the overpriced fee doesn't actually guarantee you a seat. If you manage to grab a spot on the floor outside the loo during rush hour you'll be doing extremely well.
3. Being late for everything. The timetable claims you'll be in London or home within an hour, but the reality is commuter trains and the lines they run on are knackered. Double the journey duration rail companies claim and you're closer to the truth. The delays are a daily lesson in how to bottle up a depressing level of frustration. You'll find yourself being about an hour late for work or home thanks to a million and one reasons. Signal failures, weather, short staffing, electrical failures, sheep on the line and even chemical spills (okay, that only happened once but it made me miss my anniversary). You can't guarantee you'll be anywhere on time and end up spending your life stuck in limbo between London and home. The bars on commuter trains do a roaring trade - everyone's so bloody fed up the best thing you can do for yourself is get a little bit blotto. Also, the Sunday night fear - ahead of it all starting again - is brutal.
4. Filth. The trains smell putrid and tend to be littered with papers, coffee cups and partially uneaten takeaways. The loos are another level of pure nastiness - that's if they're working. Expect journeys where there's a single working toilet servicing the whole train.
5. Complete dissatisfaction. Train staff are miserable because they get routinely blasted by the customers, but it's not like the person serving your coffee or punching your ticket is to blame for the mind-bogglingly poor service. They're fed up, you're fed up and there's no end in sight. So, my advice? Try before you buy. Check out the rail service where you're moving and don't assume it "can't be that bad". It can - trust me.