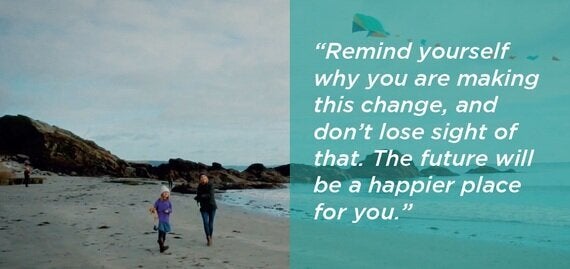 No one goes into a marriage thinking it will end in divorce, but sadly almost half of all marriages in the UK don't make it.
The period straight after the Christmas holidays can be one of the peak times for couples to start divorce proceedings - so much so that the media has dubbed the first working day after the festive break "divorce day". The reasons for this spike in breakups are hard to pinpoint, but perhaps the financial stresses of Christmas, family arguments and an increased consumption of alcohol can all play a part in bringing struggling relationships to an end.
So for some people the start of 2017 will be incredibly challenging. Although everyone's circumstances are different, as a divorce lawyer my clients are often at one of the lowest and most difficult times in their lives: the future can seem frightening and unknown, and it's my role to help them to put the pieces back together.
Usually the decree absolute marks the end of my work with my divorce clients, however, recently I have been getting back in touch with some of them to find out how they are getting on now. With them all I have found they are in a much better place in their lives: some are in new relationships, one has had a baby with her new partner and others have been able to rediscover themselves and focus on the things that make them truly happy in life.
I was interested in finding out how they coped during the divorce process and if they had any advice that could be shared with others in the same situation. Here are their tips for surviving divorce:
Tell your friends and family and let them support you.
Remember to take care of yourself: eat well, try to get enough sleep and take some exercise.
Counselling may help you to understand what is happening and find ways to cope and move forward.
Ask your friends for recommendations when you choose a solicitor, and if you don't feel like they are the right fit for you, don't worry about changing.
Try not to get angry - find someone who can help you gain perspective and be a levelling influence on you.
Let go of the bad things and avoid blaming yourself or your partner for things that are in the past.
Take legal advice early, as it may save you time and money in the long run.
Find balance in your life. It is okay to enjoy doing other things and taking your mind off what you are going through.
If you have children, be honest with them about what is happening and explain it is not their fault; hiding things means they will imagine the worst.
Remember that nothing lasts for ever. Things will get better - you just need to hang in there until they do.
So no matter what your circumstances are, if you find yourself starting 2017 with a divorce, please have faith that even if life seems bleak now, it will get better. You are not alone and there is help and support available for you. Sometimes the hardest parts of life can be the start of a new beginning.
Sarah Atkinson is a senior associate in the family team at Stephens Scown LLP. The team has received the top ranking from independent legal guides Legal 500 and Chambers UK. Stephens Scown was recently named the UK Law Firm of the Year at the British Legal Awards. To contact Sarah please call 01872 265100, email solicitors@stephens-scown.co.uk or visit www.stephens-scown.co.uk
Related